New Facilities Foster Research Collaboration, Excellence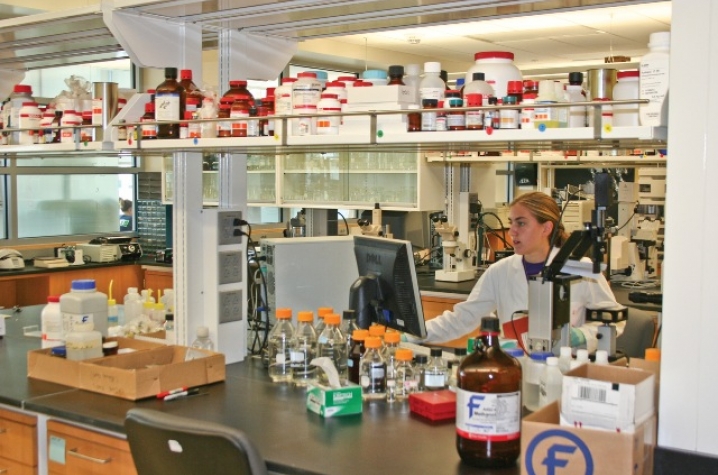 LEXINGTON, Ky. (Oct. 7, 2010) --  The move earlier this year to new research facilities by faculty, staff and students in the University of Kentucky College of Pharmacy continues to aid in propelling UK's pharmacy research program to the forefront of pharmaceutical science research in the nation and the world.
The research facilities, located on the third and soon the fourth and fifth floors of the college's new building, is home to some of the nation's brightest and most knowledgeable scientists in drug discovery and drug delivery. Faculty, staff and students began moving to the new facility in December 2009 and the third floor research facility was completed and occupied in March 2010. Overall, the $134-plus million building, represents a 75 percent increase over the previous facility.
A highlight of the new research facilities is the open laboratory concept which fosters information exchange and multidisciplinary collaboration among research teams. "Research is heading in the direction of the open lab concept," said Robert Yokel, professor of pharmacology and toxicology in the Department of Pharmaceutical Sciences and former associate dean of research and graduate education for the college from 2003 until March 2010. "We are already there."
Research in the College of Pharmacy often overlaps with other efforts at UK. For instance, Dr. B. Mark Evers, director of the Markey Cancer Center and professor and vice chairman of research in UK's Department of Surgery works with College of Pharmacy faculty on experimental therapies to treat cancer. Physicians, engineers and pharmaceutical scientists like Yokel, collaborate to develop nanoscale materials suitable for use in humans that can target and kill cancer cells without killing healthy tissue.
Additional research at the College that may impact the future of cancer treatment includes the work of Tonglei Li, associate professor in the Department of Pharmaceutical Science. Li joined the faculty at the UK College of Pharmacy in 2002 and has a background in chemistry and pharmaceutics. His vision is for a new and improved way to deliver anti-cancer drugs that are less toxic, have fewer side effects and a higher efficacy that could improve survival rates for breast cancer patients.
 
Li works with nanocrystals to target and identify cancerous tumors and deliver chemotherapy treatment to the diseased tissue while leaving healthy tissue unharmed. This is beneficial since current cancer treatments often come with harmful side effects to the patient that can include neurotoxicity, cardiotoxicity and nephrotoxicity (kidney damage), limiting the effectiveness of the treatment and affecting patients' quality of life, Li said. 
Li added, solubilizing agents used in the compounds in current drug therapies can be toxic and cause severe reactions and the lack of stability of the drugs is problematic as they are susceptible to self-destruction or disintegration during preparation, storage or even during the administration state. A promising approach to address these challenges is to take advantage of the fact that blood vessels surrounding a tumor are leaky so that it is possible for nanosized drug crystals to enter the tumor but not healthy tissue, Li said.
Another unique aspect of Li's research is the clinical possibility of building theronostic systems - therapy plus diagnosis - that allow both detection and treatment of solid tumors with the same dosage. "Imagine a system that not only kills tumor cells but also reports the treatment outcome," Li said. "We have tested hybrid drug nanocrystals with imaging agents integrated as a dual-modality system for concurrently diagnosing and eradicating breast tumors." The biggest virtue is that drug nanocrystals - being crystalline - possess the best physical and chemical stability and thereby have the best chance to translate into clinical applications."