Report Shows Success of Substance Abuse Treatment Locator Website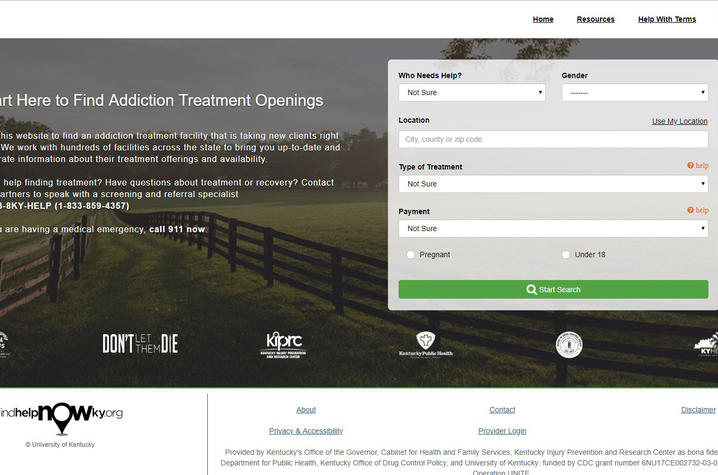 LEXINGTON, Ky. (March 15, 2019) – Preliminary data shows that the Find Help Now Kentucky website, a near real-time treatment locator for substance use disorders, has had 70,000 individuals seeking help from the site since February 2018.
The site was created in April 2017 by Terry Bunn, Ph.D., director of the Kentucky Injury Prevention and Research Center and associate professor in the University of Kentucky College of Public Health, who was seeking to create a better way for people to access treatment for substance use disorders.
The Find Help Now Kentucky website's  locator guides individuals to facilities with available treatment openings. It also takes into consideration the substance(s) being used, payment options including commercial and public insurance programs, gender identity, preference for in- or out-patient treatment and needed co-occurring treatments such as mental health care, plus 30 more criteria. The site also provides daily availability information for treatment openings to enable rapid admission to substance use disorder treatment programs.
While it wasn't a surprise to find that many of these searches originated from Fayette and Jefferson counties, the state's two largest cities, it was a revelation to find that the third and fourth most frequent searches came from people in Floyd and Hardin counties, Bunn said.
The report also found that 40 percent of the people who were searching were friends and family of those with substance use disorders and one-third of the people utilizing the website are health professionals including providers, drug counselors and others.
Based on these findings, Bunn and others responsible for the maintenance and marketing of the sight will begin to focus their energy on ensuring providers and other professionals working with people with substance use disorders know about the site and know how to utilize it in their work, she said.
Additionally, Bunn and her team are working with the seven states that border Kentucky to help them build their own websites.