Sustaining the Next Generation of Energy Innovators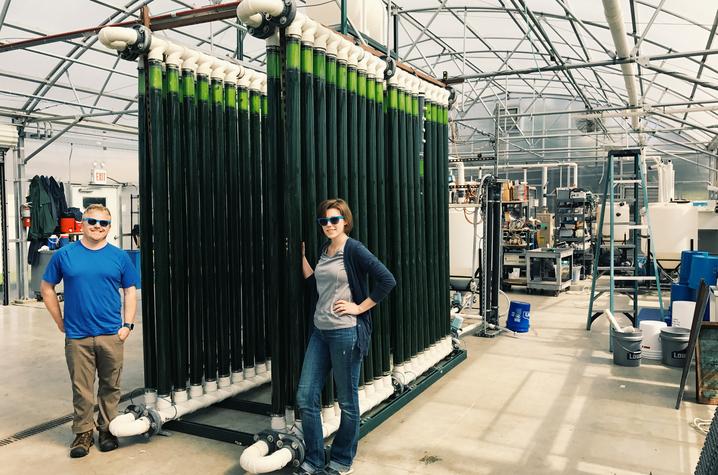 LEXINGTON, Ky. (April 25, 2017) — Michael Wilson has many passions.
There's his affinity for whitewater kayaking. It doesn't take too much arm twisting to convince Wilson to head to the mountains for a weekend of camping and riding the currents.
There's his love for science and discovery. Getting into the laboratory to discover or build something new – that will always be appealing.
But it is another of Wilson's passions that will keep him busy in 2017. Wilson received his third consecutive University of Kentucky Sustainability Challenge Grant earlier this year, and the project has him energized.
"This grant is what a major research university should be all about," said Wilson, who is a research engineer at UK's Center for Applied Energy Research (CAER). "It will allow us to bring in five undergraduate students from a broad range of disciplines to create a novel interdisciplinary research program. It will allow students from various academic interests to pool their skills and know-how to attack a real issue around sustainability. I can't wait to get started."
Wilson is in the midst of recruiting students (http://ukjobs.uky.edu/postings/142465) to take part in this unique program. Students will be recruited from a variety of campus programs, including engineering, chemistry, sustainability and design – just to name a few. In addition to being directly involved in the day-to-day execution of research both on campus and at CAER, this cadre of students will be exposed to regular scientific seminars, in-depth lab tours, design thinking/iteration and professional development opportunities that will include resume formatting and interview etiquette. 
This project will leverage educational assessment tools that can help evaluate the academic progress of the students as well as evaluating their knowledge of the importance of research, design processes and sustainability. In addition, the research data generated from the project will be utilized to prepare a National Science Foundation (NSF) proposal that will seek to develop a more formal undergraduate research experience at CAER.  
The Sustainability Challenge Grant program was created to engage multidisciplinary teams from the university community in the creation and implementation of ideas that will promote sustainability by simultaneously advancing economic vitality, ecological integrity and social equity. In the first three years of the program, 20 projects have been awarded a total of $500,000 to pursue transformational, sustainability-driven projects on the UK campus and beyond.
Wilson has received funding for sustainability projects each of the first three years. The first two projects involved a collaborative UK team that was designing a sustainable bus shelter with Martin Summers from the UK College of Design that incorporated advanced design concepts, solar-power generation, water collection systems and energy/sustainability education.
Wilson also wanted to extend thanks to those who helped and contributed to this effort. 
"A huge debt of gratitude is owed to numerous collaborators, students, and co-workers for contributing to any progress made; and especially Dr. Mark Crocker for his support in this endeavor."
The new project builds upon Wilson's past experience in research and undergraduate research mentoring, with the hope of expanding and enhancing a sustainable undergraduate research program at UK.  
"I look forward to learning as much from the students as they will learn from this program," Wilson said. "To me, that's the exciting part. Getting a chance to teach and learn alongside these students is why I enjoy doing what I do."