UK CAER's Biofuels Group Receives $2M to Support Novel Emissions Research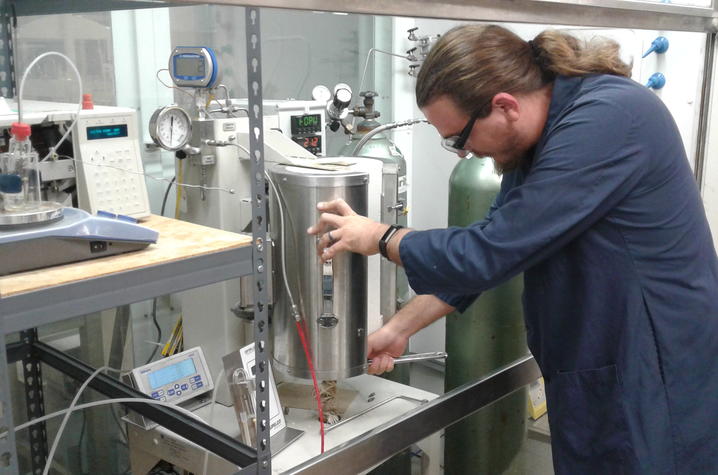 LEXINGTON, Ky. (July 19, 2017) — The University of Kentucky Center for Applied Energy Research's (CAER) Biofuels and Environmental Catalysis Group has received a $2 million U.S. Department of Energy (DOE) grant to develop new emissions technology for low-temperature gasoline.
The project is titled "Research and Development of Novel Adsorber Technology to Address Hydrocarbon and Nitrogen Oxide Emissions for Low Temperature Gasoline Applications." As part of the grant, UK CAER will be partnering with the University of California, Berkeley, Purdue University, Oak Ridge National Laboratory and the Ford Motor Company.
This research project seeks to solve a problem with vehicle emissions. As internal combustion engines become more efficient, their exhaust gas becomes cooler. However, catalytic converters need to be warm to start efficiently removing pollutants (specifically nitrogen oxides and hydrocarbons).
With national emission standards for vehicles becoming more stringent, it is increasingly important to remove these pollutants from exhaust gas when a vehicle is first started, in other words, when the exhaust gas is still cold.  
"To accomplish this goal, we are conducting research on a class of materials (zeolites) that can effectively trap pollutants until the vehicle's catalytic converter is warm enough to convert them to harmless products," said Mark Crocker, associate director of UK CAER's Biofuels and Environmental Catalysis Group and professor of chemistry. "If successful, this technology will play a critical role in creating cleaner and more efficient vehicles."
The grant was funded by DOE's Vehicle Technologies Office, and reasserts DOE's commitment to advanced, energy efficient transportation technologies. Work of this type will improve the nation's energy security, help consumers and businesses save money on transportation energy costs, and strengthen U.S. economic competitiveness. All told, DOE invested $19.4 million in 22 new cost-shared projects across the nation.