UK Center for Excellence in Rural Health Presents Research at Conference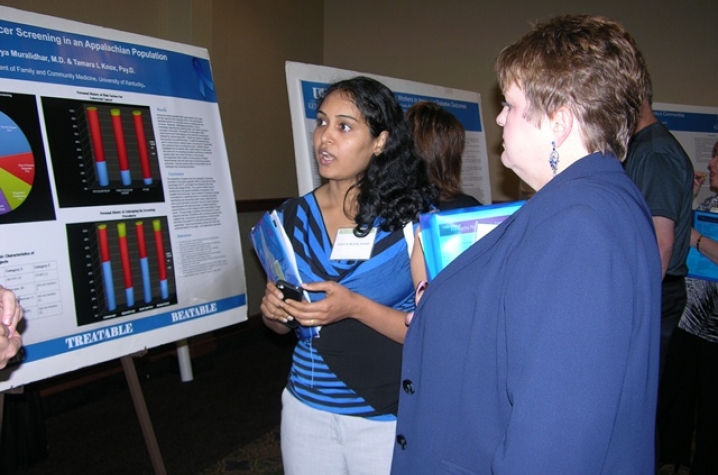 HAZARD, Ky. (Sept. 13, 2012) –  University of Kentucky Center for Excellence in Rural Health (CERH) faculty and research staff presented research posters on rural health topics at the 14th Annual Kentucky Rural Health Association (KRHA) Conference, held in Bowling Green, Ky., Aug. 16 – 17.
"KRHA's poster session provided an excellent forum in which to disseminate new knowledge about diabetes self-management education, colon cancer screenings, and health workforce studies as they relate to our rural communities in the commonwealth," said CERH director Fran Feltner.
Dr. Vidhya Muralidhar, a third-year resident of UK's East Kentucky Family Medical Residency Program, presented findings from her interviews with patients to examine attitudes toward various types of colorectal cancer screenings.
"We have national awareness initiatives to improve colon cancer screening rates.  This is even more important at the local level for Kentuckians in Appalachia, where the rates of colon cancer deaths exceed state and national averages," said Muralidhar.  In the Kentucky River Area Development District, 142 colorectal cancer deaths occurred between 2004 and 2008, according to the Kentucky Cancer Registry.
Diabetes has also become a growing concern in Kentucky, particularly since 68 out of 120 counties have been identified by the Centers for Disease Control as part of the "diabetes belt" that sweeps across15 southeastern states and has type 2 diabetes diagnoses equal to or greater than 11 percent in the adult population over age 20.
"This type of information helps us guide and prioritize our research," said Feltner, who presented a poster examining how the efforts of certified diabetes educators (CDEs) might be optimized through the use of community health workers (CHWs).
A CDE is a trained healthcare professional who is certified to teach people to become better self-managers of their diabetes, through instruction in meal planning, blood glucose control, physical activity and healthy lifestyle choices.
According to Feltner's poster, Kentucky has 257 publicly listed CDEs, but only 48 of them are located within the 68 "diabetes belt" counties. "Serious challenges exist in reaching the large number of people needing self-management education, especially in counties like Breathitt and Floyd that have diabetes rates higher than 14 percent, combined with a maldistribution of CDEs and a lengthy process to achieve the1,000 hours of education experience necessary to qualify for the certification exam," she said.
Community health workers, such as those with Kentucky Homeplace, live in the communities they serve and are generally recognized as trusted members of the community who are both familiar with the local culture and knowledgeable of resources. They are trained as advocates to provide access to medical, social and environmental services and to deliver education on prevention and disease self management. 
Feltner chose to research the linkage of CDEs and CHWs based on the success of the Improving Diabetes Outcomes (I DO) study that concluded in June 2012. The "I DO" poster was presented by Kentucky Homeplace staff and detailed the CHWs' support role during diabetes self-management education classes led by a registered nurse in a group setting.  CHWs demonstrated their ability to identify and enroll participants – particularly the hard-to-reach population – obtain informed consent, administer study instruments and lend support to the DSME.
The final poster, presented by William Bates, indicates Kentucky has a shortage of general surgeons in some rural counties when compared to national norms, as well as a maldistribution in which rural and smaller communities are the most underserved. "Considering a general surgeon can add between one and two million dollars to a hospital's annual revenue, this has serious implications for the economic viability of many community hospitals across the state," said Bates.
Kentucky is not alone in the general surgeon shortage. Some states like Tennessee, Texas, Illinois, New York and New Jersey have targeted international medical graduates who are general surgeons to help fill the gap. Increasing reimbursement and incentives to locate in underserved areas, as well as increasing medical students' exposure to rural-based medical campuses and community-based general surgeon mentors, have potential to increase interest among medical students in choosing the general surgeon specialty.
 "I commend the KRHA conference organizers for hosting the research poster session. It has given many researchers not only the chance to share findings, but also the opportunity to connect with peers and policy makers with whom we can collaborate to turn this knowledge into real improvements for rural Kentuckians," said Feltner.
The UK CERH was established by Kentucky legislation in 1990 to address health disparities in rural Kentucky, including a chronic shortage of health professionals and residents' poor health status. The center accomplishes this through health professions education, health policy research, health care service and community engagement. For more information, please visit the CERH website at www.kyruralhealth.org.