UK CLIK Program Helps Expand Winter Gardens in Appalachian Schools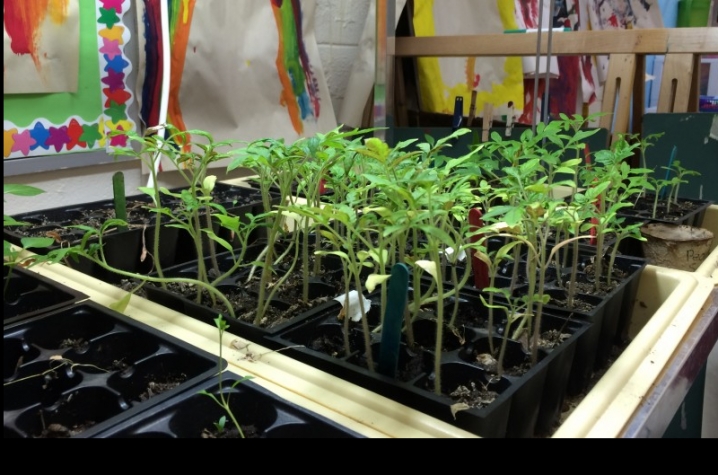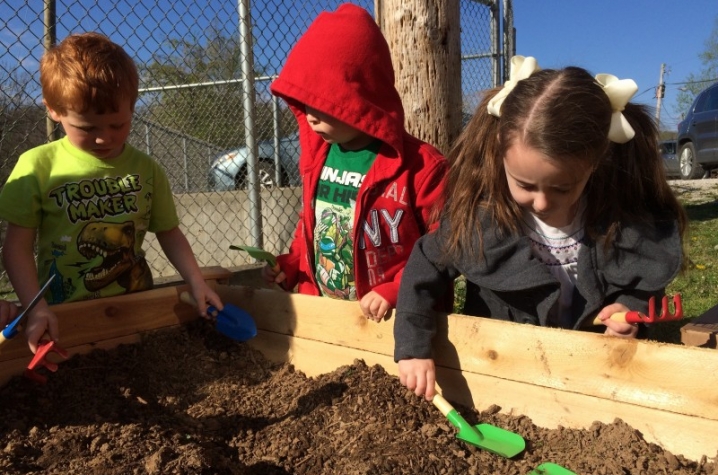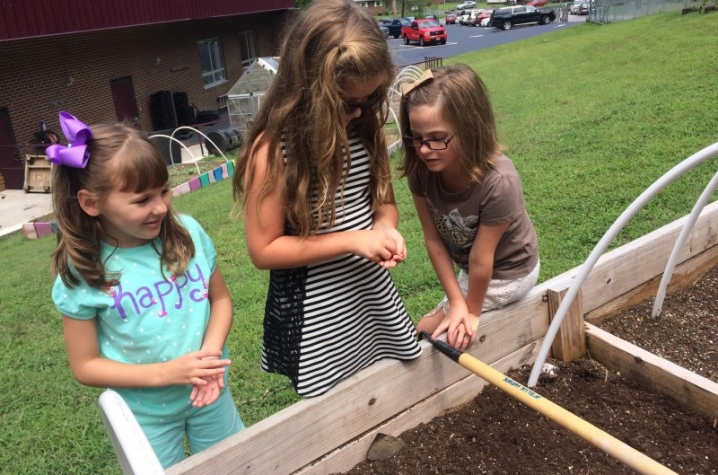 LEXINGTON, Ky. (Nov. 17, 2016) – If you ask Kelli Thompson how to get kids to eat their veggies, she'll tell you that the secret is to have the kids grow the vegetables themselves, preferably from seed.
Thompson, a project leader with the Kentucky Valley Education Cooperative (KVEC), has learned this trick through her work with winter gardens at K-12 public schools in Bell, Leslie and Pike counties. KVEC funded the first winter garden at Pikeville Elementary School in 2014 after students conducted a community problem-solving project that identified the need for fresh, affordable vegetables in the winter. 
According to a 2013 report from the Centers for Disease Control and Prevention, more than 40 percent of Kentucky kids consume fruit and vegetables less than once daily.
"Students seeing their vegetables go from a seed to the table is very effective for changing eating habits. When they go through that growing process, it's like they own it, and they're more willing to taste it and try it and develop a palate for it," Thompson said.
The winter garden at Pikeville Elementary, led by teacher Traci Tackett, consists of large, raised beds protected by low tunnels that the students helped build. The students are also responsible for planting the seeds, tending the garden, and harvesting the produce, including turnips, cabbage, and carrots. Some garden beds are organized by purpose, like a "coleslaw garden" or a "stir fry garden." Cafeteria staff incorporate the harvest the into "student-grown" school lunches that are advertised to students and parents and are known to tempt diners into second helpings. The students who manage the garden get to take some of their veggies home. Surplus produce has been sold at the farmer's market by Pikeville high school students, as well.
"We really want to raise awareness of different types of vegetables other than the normal corn, beans, and potatoes," she said.
The garden was so successful in its mission to increase vegetable intake that the local supermarket noticed a spike in sales of winter produce. One teacher at the elementary school said that when she was passing out candy canes before winter break, a student asked to have turnips instead. The students who started the garden went to on to win the community problem-solving statewide competition.
"As far as projects that reach out into the community, this one probably did it faster than anything I've been involved in, and I've been in this business 28 years," Thompson said.
The impact of the winter garden at Pikeville Elementary School prompted Thompson to expand the program. In this endeavor, she received funding and training through the Community Leadership Institute of Kentucky (CLIK), a program offered by the UK Center of Excellence in Rural Health, the Kentucky Office of Rural Health, and the community engagement and research core of the UK Center for Clinical and Translational Science. The program is designed to enhance community research and capacity-building competencies among community leaders who make decisions that affect health. Participants receive intensive training at the Center for Excellence in Rural Health in Hazard, Ky., as well as a $2,500 grant to support a specific project.
"CLIK provided a lot of really good training," said Thompson. "It allowed me to learn how to collect specific data when you do these types of projects. And, monetarily, CLIK allowed us to expand this project by reaching reach out to three other schools last year."
Those schools included Pike County Central High School, led by teacher Johnna Compton; Leslie County High School, led by teacher Kim Sumner; and Middlesboro Elementary School, led by Principal Tony Maxwell. The gardens at Pike County Central High and Middlesboro Elementary were damaged by a windstorm last year and are re-launching this year.
Based on the research training she received through the CLIK program, Thompson is gathering an array of data on the impact of the new gardens.  Students will complete pre- and post-project surveys about their vegetable consumption and preferences, parents will be surveyed by phone, and the number of cafeteria servings and farmer's market sales will monitored. 
Nancy Schoenberg, co-director of  the CCTS community engagement and research core, provides academic leadership for the CLIK program. "Kelli's project is a great example of an extremely important community-initiated idea capable of improving the health of children and their families," Schoenberg said. "We helped Kelli to establish a rigorous and testable design for her project, so that at the end of the day, she has empirical evidence through pre- and post-test data to promote her innovative project in Pikeville and beyond."    
At each school, the winter gardens complement the curriculum content in a variety of ways. At Pike County Central High School, for example, home economics students learn how to prepare the vegetables, physics students designed low tunnels to protect the crops, earth and space science students manage the composting, and biology students plant the garden and collect data.  At Pikeville Elementary, students are working with engineers to develop an irrigation system. They've also helped established a garden at a local homeless shelter, and even developed instructional videos after realizing that literacy was a barrier for some people to understand written instructions.
"There's curriculum content throughout these projects and the kids have really taken a deep dive into the learning process," Thompson said. "The gardens take a different twist in each school but the basics are still there — vegetables are healthy for us, and vegetables can be grown in winter."
The UK Center for Clinical and Translational Science is supported by a Clinical and Translational Science Award from the National Center for Advancing Translational Sciences at the National Institutes of Health. 
MEDIA CONTACT: Mallory Powell, mallory.powell@uky.edu
UK is the University for Kentucky. At UK, we are educating more students, treating more patients with complex illnesses and conducting more research and service than at any time in our 150-year history. To read more about the UK story and how you can support continued investment in your university and the Commonwealth, go to: uky.edu/uk4ky. #uk4ky #seeblue