Students from UK and Beyond Devote Their Summer to Research Involvement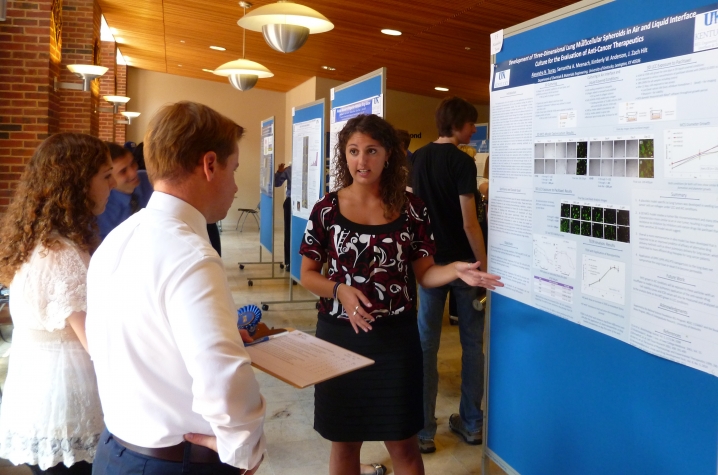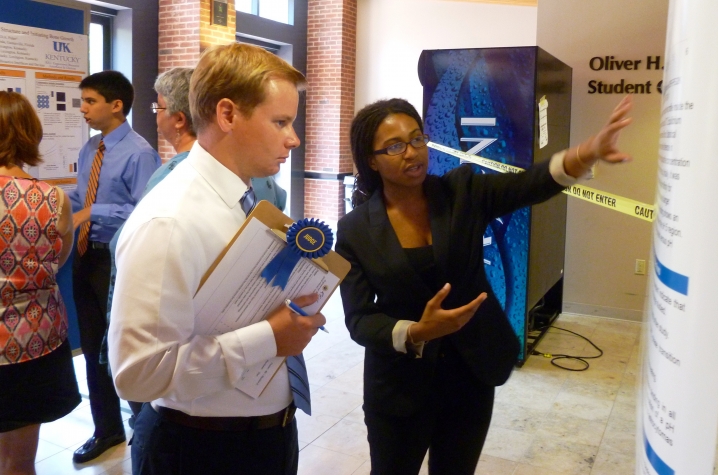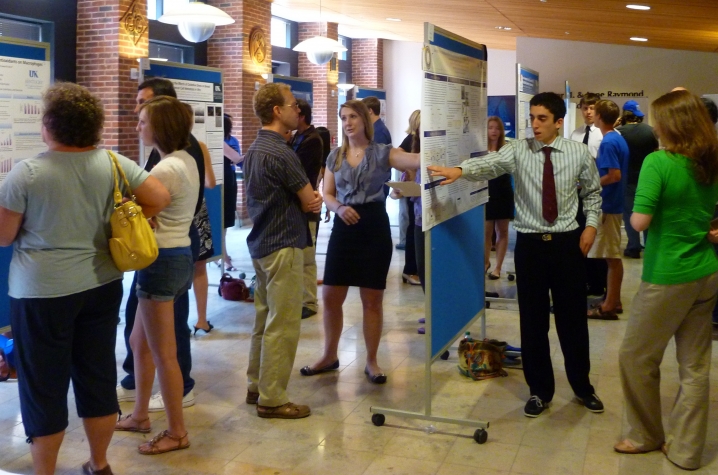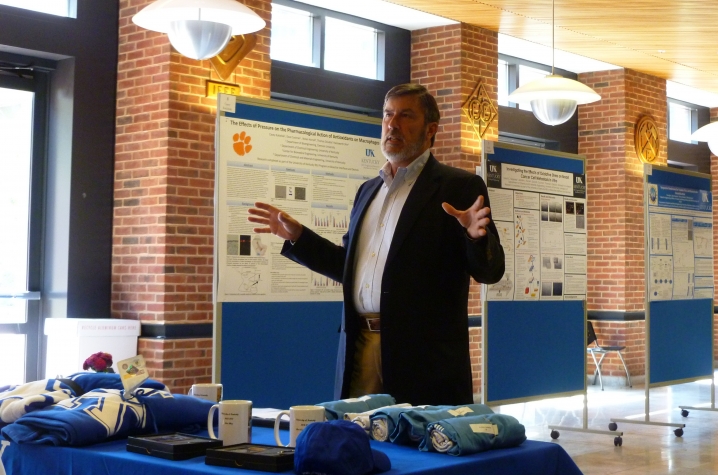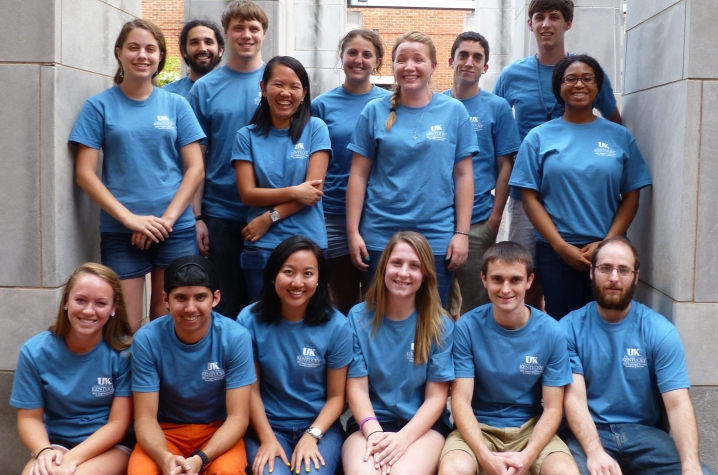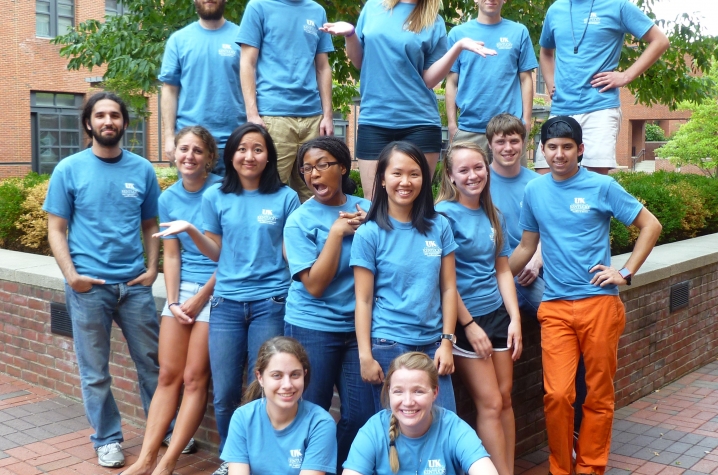 LEXINGTON, Ky. (Aug. 9, 2012) — The National Science Foundation and the University of Kentucky College of Engineering recently recognized 15 undergraduates for their hard work in an intense summer research program. The Research Experiences for Undergraduates, or REU, is an active 10-week program at UK where undergraduates from around the country come to UK to conduct research in engineered bioactive interfaces and devices with the help of UK faculty, graduate students, research staff and other undergraduates.
Now in its fourth year, REU incorporates the intensive research activities with field trips, workshops, and other social activities for the students. And it's not just open to UK students — undergraduates in engineering programs from all across the country are eligible to participate in the selective program.
"I learned a lot about what graduate school is all about, and what research is all about," said Ben Brummel, a senior from the University of South Carolina. "I learned what it was like to live the life of a grad student. We spent 40-50 hours a week in the lab with our advisors, working on our projects. That's what I hoped to get out of this program."
In addition to experience, Brummel also has something tangible to show for his efforts.
"Working under Dr. Eitel, assistant professor in the UK Department of Chemical and Materials Engineering, I built a prototype of a ceramic microfluidic calorimeter for biosensing. Hopefully I will get a paper published, and I can present this at a number of future conferences."
The REU program held an awards ceremony for the students last week, where they all participated in a poster competition that displayed their various projects. Carey Smith, CEO of Lexington-based company Big Ass Fans, gave a keynote address.
The students were judged by UK graduate students and post doctoral scholars, and awards were based on their ability to convey their research via poster, to answer questions on the subject matter, and to demonstrate an understanding of the research. 
The award winners were:
1st Place Poster Competition: A tie between David Spencer and Alexandra Tsoras, University of Kentucky
2nd Place Poster Competition: Joshua Borrajo, University of California - Berkley
3rd Place Poster Competition: Nkolika Egbukichi, Portland State University
Best Oral Presentation: Lindsay Gray
Best Research Blog: Stella Shin
Full list of students who participated in REU this year:
Naveed Bakh, Vanderbilt University, Department of Chemical Engineering
"Polymerization and Characterization of Cells in Suspension"
Joshua Borrajo, University of California - Berkeley, Dept. of Chemical & Biomolecular Eng. "Amine-Functionalized Stöber Nanoparticles for Next-Generation Biofuel Development"
Benjamin Brummel, University of South Carolina, Department of Biomedical Engineering
"A Low Temperature Cofired Ceramic (LTCC) Microfluidic Calorimeter for Biosensing"
Stefani Cleaver, DePauw University, Department of Physics
"Multiphase Drug Release Through a Loaded Biodegradable Hydrogel Composite System"
Nkolika Egbukichi, Portland State University, Department of Molecular Biology
"Determination of pH and Temperature Dependent Membrane Binding of Topotecan in Thermosensitive Liposomal Formulations"
Kiva Forsmark, University of Minnesota – Twin Cities, Dept. of Biomedical Engineering
"Development of a Mucoadhesive Bilayer Patch for the Mitigation of Friction-induced Oral Pain"
Lindsay Gray, University of Kentucky, Department of Chemical Engineering
"An Improved in vitro Model for the Study of Endothelial Cells Using Micropatterned Surfaces"
Casey Kukielski, Clemson University, Department of Bioengineering
"The Effects of Pressure on the Pharmacological Action of Antioxidants on Macrophages"
Sarah Negaard, University of Kentucky, Department of Chemical Engineering
"Investigating the Effects of Oxidative Stress on Breast Cancer Cell Metastasis In Vitro"
Thao Ngo, Arizona State University, Department of Chemical Engineering
"Responsive Membranes for Tunable Flux and Biomolecule Immobilization"
Pablo Palomino, University of Florida, Department of Materials Science Engineering
"Developing an Injectable Drug Delivery System for Supporting Bone Structure and Initiating Bone Growth"
Harrison Sapper, Vassar College, Department of Chemistry
"Electroporation of HL60 Cell Suspensions with Membrane Electrodes"
Stella Shin, University of Arizona, Department of Chemical Engineering
"Intracellular Uptake and Distribution of Block Copolymer Cross-linked Nanoassemblies"
David Spencer, University of Kentucky, Department of Chemical Engineering
"Multiple Macromer Hydrogels for Multiphase Drug Release"
Alexandra Tsoras, University of Kentucky, Department of Chemical Engineering
"Development of Three-Dimensional Lung Multicellular Spheroids in Air and Liquid Interface Culture for the Evaluation of Anti-Cancer Therapeutics"
Faculty advisors this year included Tom Dziubla, Kimberly Anderson, Brad Berron, Steve Rankin, Dibakar Bhattacharyya, Zach Hilt and Barbara Knutson from Chemical Engineering; Rich Eitel and Bruce Hinds from Materials Engineering, Christine Trinkle from Mechanical Engineerin; David Puleo and Hainsworth Shin from Biomedical Engineering; and Brad Anderson, Younsoo Bae, and Heidi Mansour from Pharmaceutical Sciences.
The program is directed by Kimberly Anderson and Zach Hilt, both professors in Chemical and Materials Engineering.
For more information about REU, visit nsfreu.engr.uky.edu/
MEDIA CONTACT: Jenny Wells, (859) 257-5343; Jenny.Wells@uky.edu