2019 Breathitt Lecture to Explore Contradiction of Freedoms in Today's Social Media Age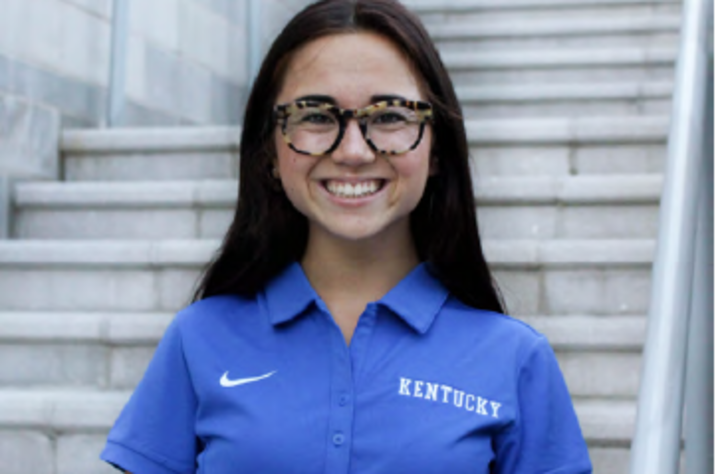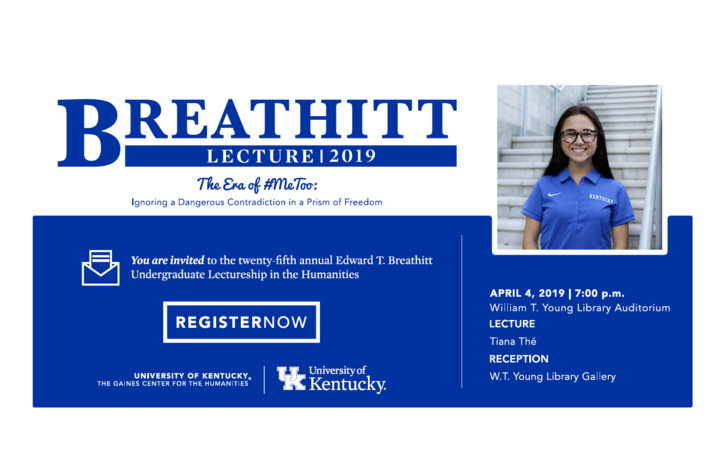 LEXINGTON, Ky. (April 1, 2019) — Tiana Thé, a University of Kentucky philosophy, political science, and environmental and sustainability studies senior from Lexington has been selected to deliver the 25th annual Edward T. Breathitt Undergraduate Lectureship in the Humanities beginning 7 p.m. Thursday, April 4, in the UK Athletics Auditorium at William T. Young Library. Thé's lecture will explore how the internet in this social media age is the catalyst for the propagation of both positive and negative messaging surrounding women's freedoms. This event is free and open to the public. 
Established to honor an eminent Kentuckian and an outstanding UK alumnus whose interest in higher education and the humanities was exceptional, this lectureship is awarded to an undergraduate whose qualities of mind and spirit have been expressed eloquently on one or more of the basic concerns of the humanities.
Thé's talk, titled "The Era of #MeToo: Ignoring a Dangerous Contradiction in a Prism of Freedom," examines the good and the bad side of the pursuit for freedom in a social media era. Thé will look at how the internet gave wings to the #MeToo movement's message but is also the source of viral dissemination of messaging that distorts society's perception and treatment of women in a violent, but subtle, way.
As part of her presentation, Thé will reflect on the deleterious effects of this phenomenon on the everyday lives of her and her peers.
Thé was nominated for the Breathitt Lectureship by Associate Professor of Philosophy Natalie Nenadic, who had this to say about her student, "Tiana is exceptional in her strengths of mind, spirit and well-roundedness. She embodies that inspiring combination of the university's highest academic standards, its commitment to diversity and inclusivity, and its cultivation of fine, poised, young people who care for their larger communities and toward which they can use the gifts of the education and opportunities that UK has given them."
The Breathitt Lectureship is presented by the Gaines Center for the Humanities. The student speaker is chosen through an application process that includes a lecture proposal submitted by the student to an independent committee of readers.
In recognition of her selection to deliver the Breathitt Lectureship, Thé will receive a commemorative award and a $500 honorarium. A reception will follow the lecture in Young Gallery.
Registration for the Breathitt Lecture is encouraged but not required. Individuals planning to attend can register here. 
Thé  is the daughter of Jeannie and Hiang (Shung) Thé. Her family moved back to Lexington in 1999 after living in Indonesia – Hiang and Tiana's birthplace.
At UK, Thé has maintained a 4.0 GPA while being extremely active outside of the classroom. She has previously served as a senator and the vice chair of the Academic and Student Affairs Committee of the Student Government Association, and currently serves the organization as its first assistant director of sustainability. She is a member of UK's Student Sustainability Council, the President's Sustainability Advisory Committee and Kappa Alpha Theta. She has also worked with DanceBlue since 2016.
Thé has interned with UK's Office of the President and also works as a harpist. She was crowned UK's Homecoming Queen last fall.
Upon completion of her three bachelor's degrees at UK, Thé hopes to work in environmental law here in Kentucky.
Founded in 1984 by a generous gift from John and Joan Gaines, the Gaines Center for the Humanities functions as a laboratory for imaginative and innovative education on UK's campus. The Gaines Center is designed to enrich the study of the humanities as an intellectual activity and as a means to self-betterment. The center offers courses and sponsors activities that appeal to faculty and students in all disciplinary fields.