How to Navigate the Mental Health Conversation With Your College Student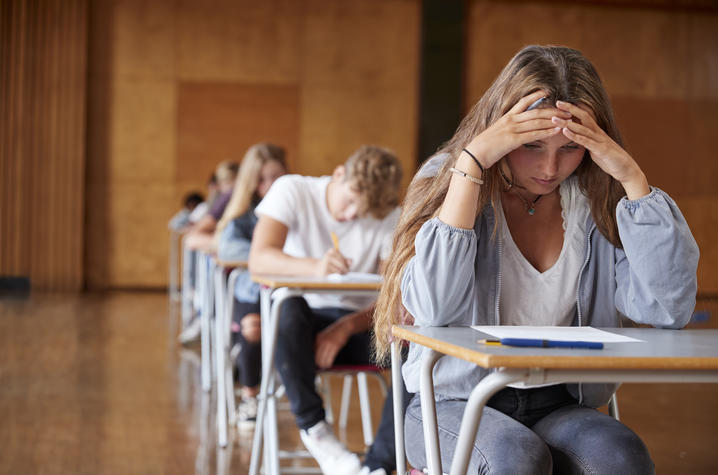 LEXINGTON, Ky. (Aug. 23, 2019) — This week, enthusiasm radiated through campus as more than 5,000 freshmen became part of a new family — the Big Blue Family.
For incoming students, there's anticipation at the thought of new-found freedom and apprehension when it comes to leaving the familiar behind. The transition to college can be emotionally challenging as life away from home, friends and the predictability of high school becomes reality.
For an increasing number of first-year students, the culture shock can have serious consequences. In fact, a study by the American Psychological Association found that 1 in 3 teens faces a mental health disorder during their freshman year.
Supporting Your Child's Mental Health — From a Distance
Upon hearing that staggering statistic, as a parent, you're inevitably going to worry about your child's well-being.
How do you plan for and manage this life-changing transition, and how do you know when to intervene and lend support? These are just a few of the pressing questions on the minds of UK parents.
Mental health and wellness remain a priority for the University of Kentucky. In an effort to help families adjust during the 2019 fall semester, we enlisted the help of UK experts ⁠— Julie Cerel and Mary Bolin.
Cerel, a licensed psychologist and professor in the College of Social Work (CoSW), specializes in suicide prevention and directs the Suicide Prevention and Exposure Laboratory in the CoSW. Bolin, who is also a licensed psychologist, is the director of the UK Counseling Center (UKCC).
Cerel and Bolin's professional advice on how to navigate tough situations and difficult conversations can be found in the Q&A session below.
UKNow: It seems as if college students today are more stressed than previous generations. If so, why is that?
Bolin: For many years, college students reported symptoms of depression at a higher rate than anxiety, but that has reversed in the past 5-10 years. Incessant time on social media ⁠— viewing the highly-curated images of celebrities or peers ⁠— is being considered as one of the contributors to elevated anxiety. This is related to a deep sense of needing to "do more" or "be more" in order to be accepted.
Additionally, this is the first generation of students who grew up with school shootings being reported on a 24-hour news cycle. Particularly for students, the daily experience of stress may lead to fatigue which impairs their healthy function in academic and interpersonal environments.
UKNow: What are the indicators that a student may be dealing with anxiety and/or depression?
Bolin: Be aware of any behavioral changes ⁠— withdrawing, skipping classes or other activities, and increased use of alcohol and other drugs. Students often self-medicate in an effort to feel less distress. Also, be on the lookout for significantly increased or decreased communication with the parent or other significant persons.
UKNow: How can parents best help their college-age children cope with anxiety and depression?
Cerel: If the student has an existing history of symptoms and/or treatment, contact the University of Kentucky Counseling Center (UKCC) to explore community referrals for long-standing needs for individual therapy. Many students have evaluated the massage chairs, meditation or time with a therapy dog as some of their best self-care practices. The University Health Service (UHS) clinicians in behavioral health can also be a key resource for students.
UKNow: How important is it for students to have a reliable support system?
Cerel: Social support can help people thrive, and it often comes from different people in our lives. This includes emotional support and tangible support, such as help managing finances, doing laundry or cooking meals. At UK, support can range from peers and faculty, academic advisors and coaches, residence life professionals and student organizations, to the staff of centers such as the Martin Luther King Center, the Office of LGBTQ* Resources, Student Support Services, The Study or the Center for Academic Resources and Enrichment Services (CARES). 
UKNow: What role should parents play in this support system?
Bolin: Unless the situation is a true emergency, try a process that may require some time.
Help the student define/narrow the concern.
Generate options for a solution.
Be a sounding-board.
Support the student in planning how to implement the chosen option.
Follow-up to see how the plan turned out.
UKNow: An immediate reaction might be to intervene if a student is having trouble academically or with a roommate. Can that be more hurtful than helpful?
Bolin: It's recommended that parents encourage students to make direct contact with the appropriate authority — the faculty member, academic advisor or resident advisor. While self-advocating may be initially uncomfortable for the student, it's also a key life skill to begin practicing in the safe environment of college.
UKNow: What advice would you give to parents about maintaining balance?
Bolin: It's important to find a balance between challenge and support. Because it's unfamiliar to do some life tasks for themselves, students may default to "I can't." Parents can support, encourage and reward the student's efforts to resolve issues on their own — even if the outcome isn't perfect.
However, if parents become aware that their student is not functioning well on a daily basis, and the student is not accessing available support resources, parents may contact the UK Residence Life staff for a welfare check on students living on-campus. Additionally, parents can contact the Community of Concern with non-emergent reports.
UKNow: What advice would you give to parents who have concerns about a long wait for mental health services at UK? How can their child get seen if they are in a crisis or how can they help lend support?
Bolin: Understand that a mental health "crisis" typically involves a suicidal plan, plan to harm another person, recent sexual or physical assault or stalking, grief over a recent death, hallucinations, or a medical emergency. Students who indicate those experiences will be seen for initial consultation at the UKCC as soon as possible.
During the 2018-2019 academic year, the average wait time for an initial mental health appointment (crisis or non-crisis) at the UKCC was about 45 minutes. Clients seen for Initial Assessment (IA) and scheduled for follow-up at UKCC had that follow-up appointment scheduled an average of 10 calendar days later. With UKCC's tiered services model, other mental health resources — such as drop-in workshops, The Relaxation Room, "Let's Talk" at 4-6 campus locations — have been made available and utilized for students already assigned, or waiting for assignment, to on-going services at UKCC.
Some students will have acute and/or chronic mental health treatment needs beyond the scope of UKCC services, and the UKCC clinical care coordinator may assist with referral to the appropriate resources.
UKNow: What should a parent do if they are concerned their child might be thinking about suicide?
Cerel: If you are worried about your child, directly ask them if they are thinking about suicide. There is no risk this will put the idea in their head and can often show that you are worried and want to help. Concerns of imminent suicide risk — if the student has indicated they want to die, have a plan, have lethal means available and/or have previously attempted suicide — require a call to 911.
To reach UK Police directly from a cell phone, dial #UKPD or #8573. For a brief consultation appointment with the UKCC, call 859-257-8701. Non-emergency concerns may also be addressed by calling the National Suicide Prevention Lifeline at 1-800-273-8255.