UK Has League-Best 78 Student-Athletes on SEC Winter Sports Academic Honor Roll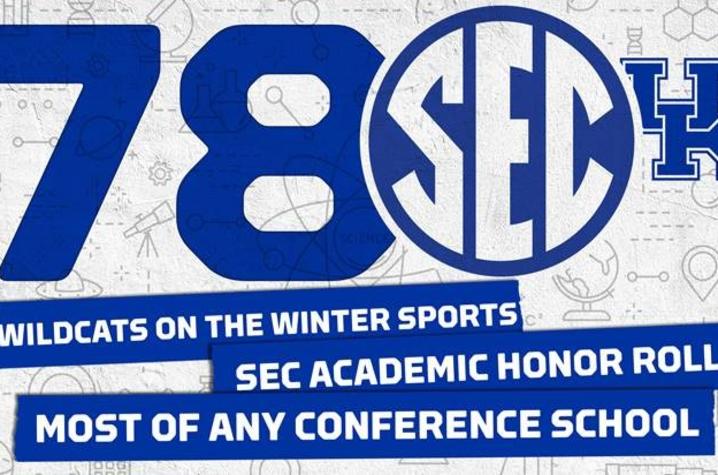 LEXINGTON, Ky. (April 29, 2019) — Student-athletes at the University of Kentucky combined to earn a total of 78 spots on the Southeastern Conference Winter Sports Academic Honor Roll, the most of any school in the SEC, the league announced recently. 
In addition, UK had the most honorees in the sports of women's basketball (10), gymnastics (14) and women's swimming and diving (25). The men's swimming and diving squad was second in that sport with 19 qualifiers.
The Winter Sports Academic Honor Roll is based on grades from the 2018 spring, summer and fall terms. Among other qualifications, a student-athlete must have a 3.0 grade-point average for the entire year (or entire career) to earn a place on the honor roll and completed at least one full academic year at the institution.
The number of students on the honor roll continues a cascade of good academic news and bodes well for the continued long-term success of UK student-athletes. Other success:
UK athletes have a composite grade-point average above 3.0 for 13 consecutive semesters.
UK has never incurred a penalty in the 14-year history of the NCAA Academic Progress Rate.
UK athletes have broken or tied the school record for graduation rate every year since the NCAA established that statistic in 2005.
Kentucky representatives on the SEC Winter Sports Academic Honor Roll:
Student-Athlete – Sport – Major
Brad Calipari – Men's Basketball – communication
Jonny David – Men's Basketball – kinesiology
Ogechi Anyagaligbo – Women's Basketball – psychology
LaShae Halsel – Women's Basketball – marketing
KeKe McKinney – Women's Basketball – social work
Maci Morris – Women's Basketball – kinesiology
Taylor Murray – Women's Basketball – public health
Amanda Paschal – Women's Basketball – psychology
Paige Poffenberger – Women's Basketball – biology
Kameron Roach – Women's Basketball – kinesiology
Jaida Roper – Women's Basketball – psychology
Tatyana Wyatt – Women's Basketball – psychology
Madison Averett – Gymnastics – kinesiology
Katrina Coca – Gymnastics – kinesiology
Danaea Davis – Gymnastics – kinesiology
Sidney Dukes – Gymnastics – marketing
Mackenzie Harman – Gymnastics – human health sciences
Alex Hyland – Gymnastics – kinesiology
Mollie Korth – Gymnastics – kinesiology
Alaina Kwan – Gymnastics – journalism
Katherine Marianos – Gymnastics – marketing
Megan Monfredi – Gymnastics – psychology
Hailey Poland – Gymnastics – merchandising, apparel and textiles
Aubree Rosa – Gymnastics – communication
Allison Snyder – Gymnastics – agricultural and medical biotechnology
Katie Stuart – Gymnastics – merchandising, apparel and textiles
Hanna Carr – Rifle – agricultural and medical biotechnology
Morgan Duerr – Rifle – biology
Ian Foos – Rifle – social work
Carmen Fry – Rifle – merchandising, apparel and textiles
Mason Joachim – Rifle – psychology
Cathryn Papasodora – Rifle – integrated strategic communication
Hailee Sigmon – Rifle – career and technical education
Jason Spaude – Rifle – agricultural and medical biotechnology
Wyatt Amdor – Men's Swimming and Diving – marketing
Bowen Anderson – Men's Swimming and Diving – biology
Shane Anderson – Men's Swimming and Diving – biology
Matthew Beach – Men's Swimming and Diving – kinesiology
Connor Blandford – Men's Swimming and Diving – computer science
Glen Brown – Men's Swimming and Diving – accounting
David Dingess – Men's Swimming and Diving – accounting
Austin Haney – Men's Swimming and Diving – civil engineering
Jason Head – Men's Swimming and Diving – kinesiology
Jarod Kehl – Men's Swimming and Diving – anthropology
Chase Lane – Men's Swimming and Diving – kinesiology
Seb Masterton – Men's Swimming and Diving – kinesiology
Daniel Orcutt – Men's Swimming and Diving – business management
Hank Siefert – Men's Swimming and Diving – finance
Nick Smith – Men's Swimming and Diving – business management
Mike Summe – Men's Swimming and Diving – finance
Josh Swart – Men's Swimming and Diving – marketing
Alex Taylor – Men's Swimming and Diving – kinesiology
Peter Wetzlar – Men's Swimming and Diving – accounting
Bailey Bonnett – Women's Swimming and Diving – elementary education
Kayla Churman – Women's Swimming and Diving – biology
Courtney Clark – Women's Swimming and Diving – marketing
Emma Dellmore – Women's Swimming and Diving – public health
Lauren Denham – Women's Swimming and Diving – community and leadership development
Lauren Edelman – Women's Swimming and Diving – management
Kailey Francetic – Women's Swimming and Diving – kinesiology
Geena Freriks – Women's Swimming and Diving – dietetics
Ali Galyer – Women's Swimming and Diving – marketing
Jaida Garrett – Women's Swimming and Diving – psychology
Hayley Griesser – Women's Swimming and Diving – communication sciences and disorders
Jaclyn Hill – Women's Swimming and Diving – kinesiology
Cara Hudson – Women's Swimming and Diving – clinical leadership and management
Olivia Huffman – Women's Swimming and Diving – psychology
Paige Kelly – Women's Swimming and Diving – kinesiology
Morgan Lakes – Women's Swimming and Diving – human health sciences
Sarah Loheide – Women's Swimming and Diving – human nutrition
Haley McInerny – Women's Swimming and Diving – marketing
Lizzy Merriman – Women's Swimming and Diving – kinesiology
Payton Neff – Women's Swimming and Diving – psychology
Alex Nelson – Women's Swimming and Diving – psychology
Alaina Potts – Women's Swimming and Diving – accounting
Asia Seidt – Women's Swimming and Diving – kinesiology
Meredith Whisenhunt – Women's Swimming and Diving – psychology
Madison Winstead – Women's Swimming and Diving – human health sciences