UK Nursing Student Promotes Ghanaian Culture and Student Mentorship at Ms. Ghana USA Competition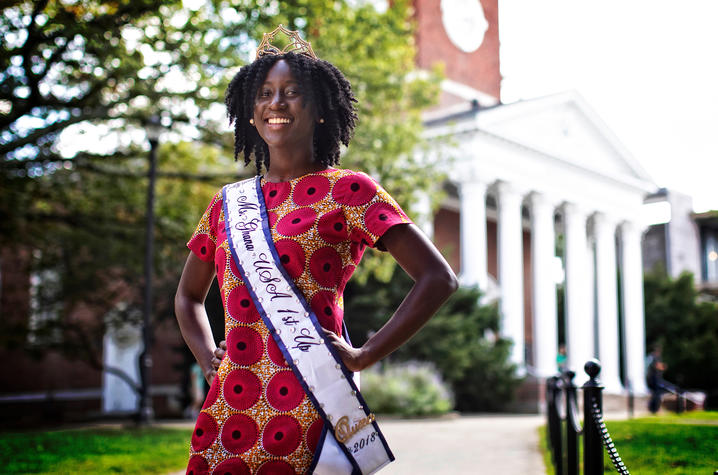 LEXINGTON, KY (Sept. 21, 2018) - When College of Nursing student Nana Ntodi was looking for a platform and resources to launch a student mentorship platform in her native Ghana, she found the perfect opportunity in the Ms. Ghana USA pageant competition.  
"This was my first pageant - I wanted to do it because it would provide me with the appropriate resources to implement my project, and it combined my Ghanainan and American cultures."
The Ms. Ghana USA competition promotes young women with strong interests in education, humanitarian issues, and Ghanaian culture. Ntodi represented Kentucky, and was named first runner up.
Born in Accra, Ghana, Ntodi relocated with her family to the United States in 2007. As a student at UK, Ntodi serves as a mentor in two scholarship programs, and as a previous mentee herself, she can attest to the positive impact a mentor can have on a student. With the resources provided to her by the competition, Ntodi launched the InspireMe Initiative, a mentorship program that will pair students of underprivileged areas of Ghana with mentors to help them everything from school work to college application and job connections. It is Ntodi's hope that this mentorship program will encourage more students to pursue academic opportunities.
"Sometimes we all need that little source of motivation, or simply just having someone to look up to," said Ntodi. "I believe this mentorship program will make a great difference in the lives of students and will increase the amount of students who further their education."
Ntodi plans to partner InspireMe with The Rebecca Foundation, a literacy and education program founded by Ghana's first lady Rebecca Afuko-Addo, and the Girls Education Initiative of Ghana, which provides academic and financial support for girls and applicants with special needs so that they can access higher education and professional opportunities.
After graduation this December, Ntodi will travel to Ghana to launch InspireMe. She then plans to return to Kentucky where she continue to support on her initiative while working as a nurse in the Labor and Delivery department of UK hospital.
The Ms. Ghana USA organization was founded in 2009 to promote young women of Ghanaian heritage in providing an avenue for achieving career goals and to carry out social and humanitarian initiatives. For the past nine years, Ms. Ghana USA has been able to successfully implement programming and humanitarian plans with the support of its queens, sponsors and contributors.