Women's Basketball Player Trades Her Jersey for a White Coat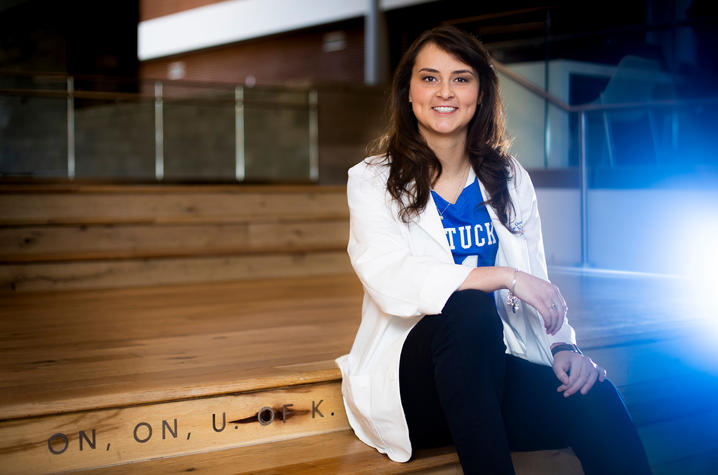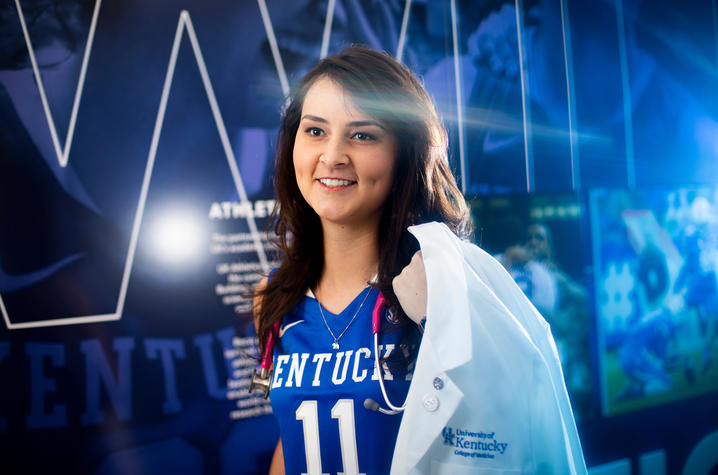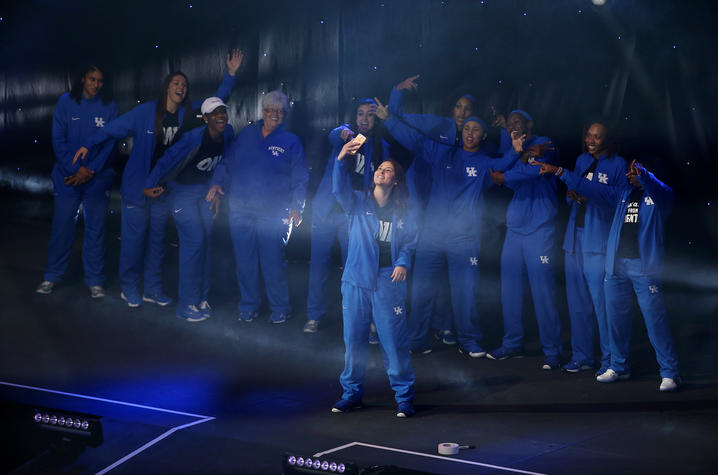 LEXINGTON, Ky. (March 21, 2019) – Athletics teaches discipline, commitment and perseverance. All of those skills are valuable on the court, in the classroom and in life. For first year medical student Rachel Potter, a lot of the discipline and time management she applies to her studies she learned while a member of the University of Kentucky Women's Basketball team.
Hard work, discipline, resilience – those are the core principles Coach Matthew Mitchell instills in his players. Those are the principles Potter applies to her medical studies and to life.
Originally from Pikeville, Ky., Potter has been a lifelong UK fan. When it came time to apply for undergrad, UK was at the top of her list. All of her life, Potter knew she wanted to become a doctor. Though she'd played sports since she was three years old, she decided that during college she would focus on academics. She accepted an academic scholarship to attend UK and decided to focus solely on school.
In 2014, she stepped on campus and began studying agricultural and medical biotechnology in the UK College of Agriculture, Food and Environment while also earning a minor in biology. During her junior year, "the stars aligned" and there was an opportunity for her to return to the thing she loved – basketball. Several spots opened up on the team, and she began talking with Coach Mitchell about the possibility of walking on to the team. She knew, however, that her academic performance would always be her top priority. After discussing this with the coaching staff, she joined the team for summer conditioning. The rest is history.
"Playing on the team was a dream come true," Potter said. "I went from a fan in the stands to a player."
That transition, from fan to division I student athlete wasn't always easy, but with the help of coaches, teammates and the tutors at CATS Potter was able to develop the skills necessary to reach all of her goals.
Now, Potter is a fan again. She started her medical education in the UK College of Medicine in Fall 2018. While she no longer balances practice, games and class, she does have to balance a host of other responsibilities and commitments. But she feels better prepared for that thanks to UK Women's Basketball.
Coach Mitchell is proud to see one of his players enter a field focused on giving and caring for others. 
"Rachel Potter is going to be very successful in life first of all because she genuinely and sincerely cares about people," Mitchell said. "She goes out of her way to care about people and let them know what they mean to her. She just stopped in my office recently and people feel better after they have had an interaction with her. She is a high-character person and holds herself to a high standard, which is a great quality to have when you are entering the medical field. I just think the kind of person she is is where you start when you talk about her. She is highly intelligent and has great intuitive powers. It all really adds up to her being extremely successful in life. I am fortunate that I have been a small part of her life and that she has shared so much with me and our program."
Potter never misses a UK basketball game – she's watched every game this season and plans to continue to do so during the tournament.  
"Even in medical school, you have to make time for fun," Potter said. "I'm not going to remember every score I get on a quiz or an exam, but I'm going to remember the Cats winning a national championship forever."