Backseat Driver: UK Student Works to Make Driverless Vehicles a Reality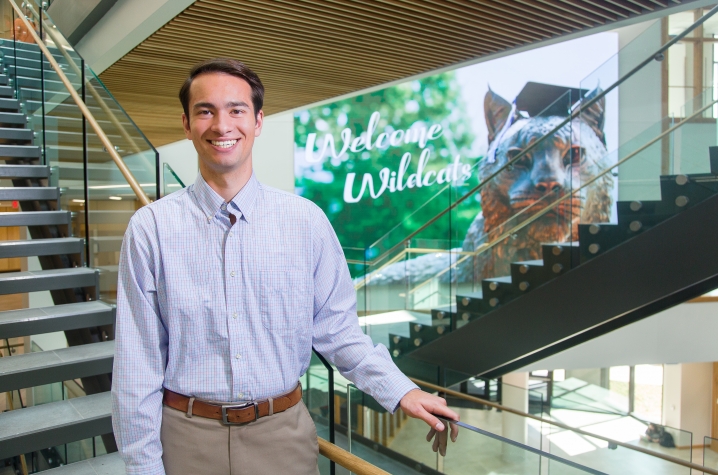 LEXINGTON, Ky. (Nov. 28, 2016) — Put Angelo Stekardis behind the wheel and he's one happy man. Instead of flying from Louisville to Southern California, where Stekardis would begin a summer-long internship, he and his father preferred to make the 31-hour cross-country drive. When the internship ended three months later, Stekardis and his girlfriend took a 48-hour "scenic route" home.
To make Stekardis — a senior computer engineering major at the University of Kentucky — even happier, put him behind the wheel of something sporty and muscular. Once, while in Bowling Green, Kentucky, to stand as a groomsman in his cousin's wedding, Stekardis found time to drive a Lamborghini at the National Corvette Museum. On an off-weekend during his internship, Stekardis and a friend rented a Honda S2000, cruised the Pacific Coast Highway and rambled about in the mountains.
Now, here's the punch line of the joke you didn't know was coming: Stekardis' engineering passion — what he thinks, talks and dreams about — is driverless vehicles. Yes, it seems that the Jekyll car enthusiast who test drives luxury cars and roadsters is also the Hyde striving to take the steering wheel out of his own hands.
"It's quite a paradox," Stekardis said with a laugh. "But the safety benefits make it worth it. My love for driving can take a backseat — literally — if it helps save lives."
After getting a brief taste of autonomous vehicle technology while working as a co-op student at Toyota Technical Center in Ann Arbor, Michigan, Stekardis wanted more. That is how he came to intern at Faraday Future, a young start-up company in Gardena, California, that specializes in intelligent electric vehicles. Stekardis arrived hoping to spend all of his time on driverless vehicle projects and he wasn't disappointed.
"I got to work — and I mean it when I say 'got to' — 10-hour days, devoting nearly all my time thinking about solutions to real engineering work related to driverless vehicle technology," Stekardis noted. "And I loved it."
As a member of the Perception Team, Stekardis primarily worked with sensors and cameras. His projects are strictly confidential, but the big questions behind his technical work acknowledge curiosities most of us have about driverless vehicles in general: How precisely can we determine the vehicle's location? How do we ensure that the vehicle can safely navigate a constantly changing environment? How do we effectively use all of the data collected by the sensors on the vehicle?
Overall, Stekardis' projects were part of a concentrated effort to ensure maximum safety of passengers within an autonomous vehicle.
"When it comes to driverless cars, 'close' isn't good enough," he said.
Stekardis was given more responsibility than he might have expected since he was the only undergraduate on the team. However, he believes he represented the University of Kentucky well through his contributions thanks to UK preparing him to learn on the fly.
"As I started my internship, I felt like UK gave me the logical thinking and the problem-solving mindset necessary to do independent research and quickly make significant contributions," he said. "Faraday Future has taken everything I worked on and is moving forward with it. During my evaluation they were impressed with my quality of work and how much I was able to accomplish as an undergraduate."
Those achievements were the culmination of Stekardis' induction to the engineering profession. Some experiences can't be simulated in a classroom. For one project, Stekardis spent three weeks using trial and error to solve a single, mission critical problem. Once he was certain his idea was sound, he persisted until he found a solution that worked. For that to happen, Stekardis had to learn the importance of doing whatever is necessary to avoid mental burnout.
"Most projects I get at UK take about 20 hours — part of a weekday and most of a weekend. At Faraday Future, I was working 10-hour days on just one project. When I was stuck, I had to convince myself to take a break and do something else," he explained.
For now, Stekardis can enjoy any sports car he can get his hands on; he has time before driving becomes a skill fewer people on the planet possess — but if you ask him, he believes that time is rapidly decreasing.
"Research in self-driving cars has been happening for a long time and progress is increasing exponentially. As a result, there will soon come a day when we look up and see a fleet of driverless cars on the road and think, the future is here!" 
UK is the University for Kentucky. At UK, we are educating more students, treating more patients with complex illnesses and conducting more research and service than at any time in our 150-year history. To read more about the UK story and how you can support continued investment in your university and the Commonwealth, go to: uky.edu/uk4ky. #uk4ky #seeblue