A Big Blue Legacy: ENS Junior is Fifth Generation to Choose UK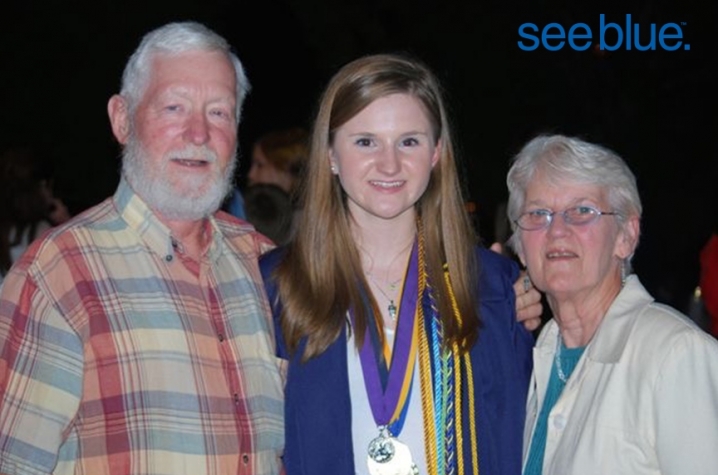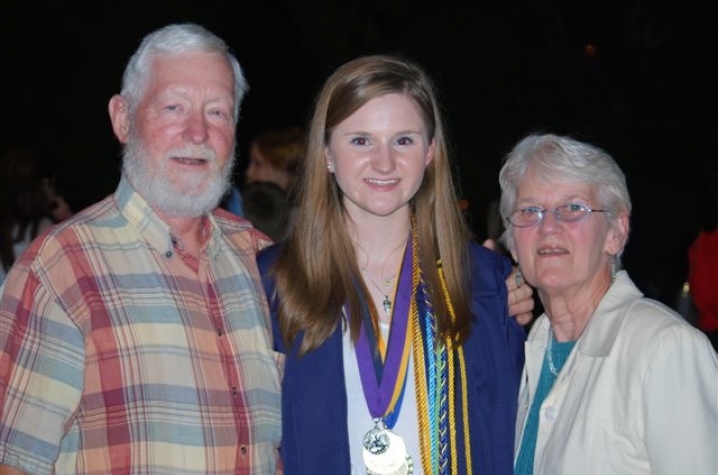 LEXINGTON, Ky. (June 1, 2016) — Because of its size, history and valuable role in education for the state, many know someone with a family legacy at the University of Kentucky.
Nevertheless, there aren't many whose connection to UK extends back more than two or three generations. Maryann Bandy is the exception. She transferred from Boston University in 2015, becoming the fifth generation in her family to attend UK.
"My dad's family grew up in Danville, so for them UK was local," Bandy said. "But even though I'm from Atlanta, I kind of grew up in Lexington. UK has always been home."
Hearing Bandy list her family members who have taken courses at UK — even from the two generations preceding hers — reveals a deep connection with UK.
"My dad went here, his youngest sister, both of his half siblings were here and both of his parents. My dad's stepfather and stepmother, as well as both of her parents — they came here also. Everyone's been here," she explained.
Bandy grew up in Dacula, Georgia, a small town east of Atlanta, but visited Kentucky regularly to reunite with family. But this homecoming was not the only thing that made UK attractive for Bandy.
In Bandy's words, one of the things UK does best is having the right programs at the right time.
"When I was little, I always saw myself coming to UK because of my family, but I was very interested once I heard about the environmental studies program. That's what brought me to UK," she said.
As expected, Bandy's interest in the environment comes from her family. Her father's stepfather studied dairy production at the UK College of Agriculture and still maintains a close relationship with animals and the earth. She was also introduced to hiking at age 7 by her aunt Joyce, which created consistent attachment to nature.
Bandy's first area of study in college was Latin, but she found the Environmental and Sustainability Studies (ENS) Program would bring together all her interests and offer more possibilities after graduating.
"ENS isn't just about the environment: it's also culture, anthropology, sociology, economics and more," she said. "That's appealing because it keeps the study of people that I really enjoyed about Latin, but I also get to learn more about biology and wildlife conservation."
ENS majors have to declare a concentration from the "three pillars of sustainability" — environments, society and economics. Bandy is specializing in environments, but added a minor in anthropology this year and is considering a certificate in peace studies.
"I've taken a lot of awesome and valuable classes, and I see a lot of overlap with anthropology and ENS. My goal is to explore the major and focus on conservation," she said.
In the future, Bandy sees herself working for the National Parks Service, National Forestry Service or Sierra Club. "Working as a ranger or something like that would be very enjoyable for me." 
As Bandy grows closer to fulfilling her legacy of working with the earth, so too will UK's College of Arts and Sciences continue to evolve and offer timely, valuable areas of study for future generations of the Bandy family.
UK is the University for Kentucky. At UK, we are educating more students, treating more patients with complex illnesses and conducting more research and service than at any time in our 150-year history. To read more about the UK story and how you can support continued investment in your university and the Commonwealth, go to: uky.edu/uk4ky. #uk4ky #seeblue
MEDIA CONTACT: Gail Hairston, 859-257-3302, gail.hairston@uky.edu