British Parliament Houses a Wildcat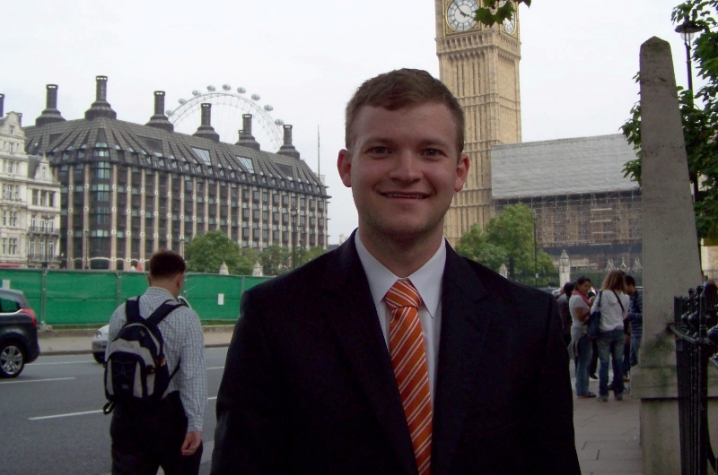 LEXINGTON, Ky. (Nov. 30, 2010) − University of Kentucky junior Chase Hieneman is like many upper class students in that a few days per week, he sits behind an office desk at his internship. However, unlike other students, Hieneman's desk is in the Palace of Westminster in London, England.
Hieneman, a Greenup, Ky., native, is currently interning with Parliament, specifically working for the Scottish Nationalist Party Westminster Group (SNP) in the House of Commons.
"It is actually quite coincidental that I would be placed with the SNP," explained Hieneman, "because as a middle school student, I discovered William Wallace and Scottish history and was firmly supportive of an independent Scotland, something that my employing party is currently striving for."
Hieneman spends his days researching issues and writing briefs for the six SNP Members of Parliament. Several of his briefs have formed the basis of constituent responses, and he has also written Parliamentary Questions, which are inquiries delivered to the Ministers of State. A former UK Visitor Center campus tour guide, he now occasionally gives tours of the Palace of Westminster.
"I am doing the most substantive work I've ever done in an internship," said Hieneman. "As soon as I arrived, they threw me right into the fire."
Hieneman is no stranger to the political realm. Prior to interning with Parliament, he worked in Kentucky State Senate President David Williams' office and U.S. Sen. Mitch McConnell's office.
"I hope to end this internship in the same way I've ended the others, with strengthened abilities, a larger professional network, and a better idea of exactly what I want to do with my life," said Hieneman.
With his substantial political background, it's no surprise that he is a political science major.
"Politics has been a longstanding passion of mine, so I knew that I wanted to spend some time expanding my knowledge on the subject," Hieneman explained.
In addition to political science, he is also majoring in finance because he believes that in order to know how political systems work, it is necessary to understand the mechanics of business and the economy.
Aside from politics, Hieneman also enjoys being active on campus. He completed the Honors Program last semester before leaving for London. He has also been involved with the UK Student Government Association (SGA) since his freshman year at UK, serving as a senator and as co-director of the Freshman Leadership Development Program. Recently, he partnered with fellow UK students Kelsey Sparrow and Stephanie Albracht to found the Safe Sun Skin Cancer Foundation, a nonprofit organization designed to raise awareness of skin cancer and support for skin cancer research.
As for his plans after graduation, Hieneman is keeping his options open and remains interested in several different career paths.
"Like most college students, my plan changes daily but I generally want to spend some time in the private sector," said Hieneman. "I don't have a particular field that I would like to go into, although management consulting really intrigues me."
He added that if the opportunity ever presented itself, he would enjoy spending more time in the public sector by working on a presidential campaign, particularly if Indiana Gov. Mitch Daniels should choose to run.
Hieneman, who will return to the U.S. in December, is grateful to have such a valuable internship opportunity and encourages other students to take advantage of it.
"It is a very enjoyable experience, and I hope that other students will consider applying," said Hieneman.