A Call to Join the Family at DanceBlue's Blitz Week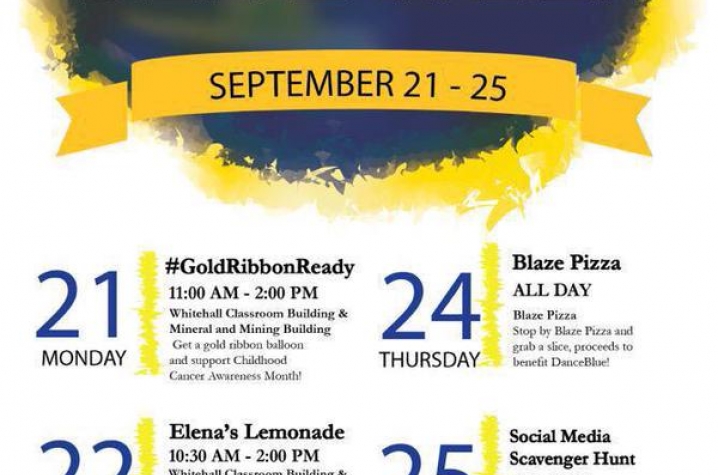 LEXINGTON, Ky. (Sept. 24, 2015) — During September, the University of Kentucky goes gold for the kids and supports National Childhood Cancer Awareness Month. DanceBlue leads this effort each year with its annual Blitz Week event! The event, which runs from Sept. 21-25, features fun, games and giveaways, but most importantly, this is the last week to register as a team or an individual to dance at the DanceBlue Marathon.
All Week: Gold Ribbon Ready
This week, make sure you are Gold Ribbon Ready! The national symbol for pediatric cancer awareness is the golden ribbon, so be sure to get your gold ribbon at the DanceBlue stations around White Hall and the Mining Engineering building from 10 a.m.-2 p.m. Then, share your location with the rest of campus by posting #GoldRibbonReady on social media!
Thursday, Sept. 24: DanceBlue Wants You!
As the registration deadline looms ahead, DanceBlue will be showcasing the best parts of the organization. Whether you want to dance independently, dance as a part of a team, or volunteer, swing by the stations on Thursday to see the line dance, hear the music, discover for yourself why people love to be for the kids!
Friday, Sept. 25: Join Our Family
The final day of Blitz Week will feature a reflection of sorts. The registration deadline will be a few hours away, but it will also be a time to recognize that those who will dance are now a member of the DanceBlue family. To celebrate, registration stations will have giant yellow ribbons on display, and you can bring out your inner kid as we cover them in colorful thumbprints! 
DanceBlue is one of the purest examples of a community on UK's campus. From supporting the families in the clinic to dancing, sweating, and laughing together during the marathon, the bonds the organization creates are unbreakable. In order to be part of this, though, you have to sign up, and during Blitz Week, you get that chance.
DanceBlue is the University of Kentucky's 24-hour no-sitting, no-sleeping dance marathon that benefits the Golden Matrix Fund and the DanceBlue Kentucky Children's Hospital Pediatric Hematology/Oncology Clinic. Now in its 11th year, DanceBlue has raised more than $8.1 million dollars for pediatric cancer research and child life efforts.
For more information about DanceBlue, registration information or to support its efforts, please visit danceblue.org. Connect with DanceBlue on Facebook at facebook.com/danceblue and on Twitter at twitter.com/UKDanceBlue.
DanceBlue is a program housed in the UK Center for Community Outreach. The CCO seeks to serve, connect and unite the University of Kentucky with the surrounding community in collaborative efforts to promote life-long community service.
MEDIA CONTACT: Katy Bennett, (859) 257-1909; katy.bennett@uky.edu; Rebecca Stratton, (859) 323-2395; rebecca.stratton@uky.edu
DANCEBLUE CONTACT: Allee Williams, UK DanceBlue public relations chair, PR@danceblue.org