Computer Science: Program for Student Success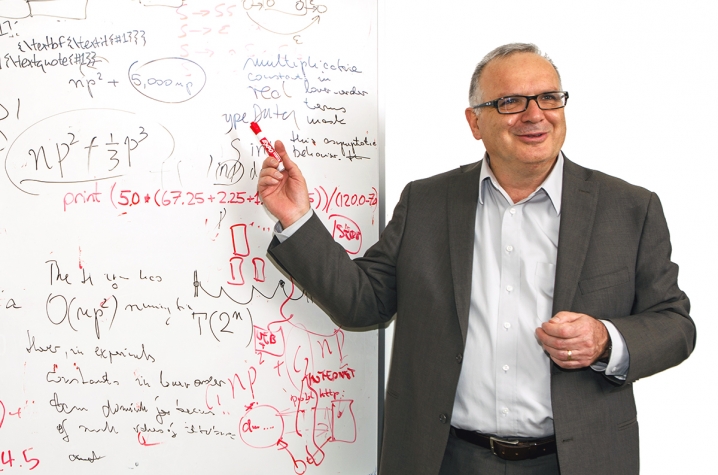 LEXINGTON, Ky. (April 1, 2013) — As director of undergraduate studies for the University of Kentucky's Department of Computer Science, Jurek (Jerzy) Jaromczyk encounters many aspiring computer scientists. 
While he is happy to talk about curriculum, career opportunities and facilities, he finds the best way to connect a potential student's interest in computer science to the UK College of Engineering's computer science program is to let the student become an active part of the recruitment process.
In other words, fire up a computer and let them do their thing.
"Often, prospective students like to tell me about programs they have written or other technical work they have done," he says. "I have a natural interest in seeing their work and talking about it, so we will go to a computer. The prospective students are often quite knowledgeable about existing technologies, and I find we are able to engage in conversation best when sitting together at the computer." 
Jaromczyk, who has been at UK since 1986, is also the faculty advisor to the student chapter of the Association for Computing Machinery. In 2010, he took a team to the world finals of the ACM International Collegiate Programming Contest — the oldest, largest and most prestigious programming contest in the world — held that year in Harbin, China. The three-person team was one of four teams he has taken to the world finals.
"Our students have a good history of participating in ACM competitions," he says with pride. "The fact that our teams have advanced a number of times to the world finals is a huge success and differentiates our students from many others. We try to expose our students to top competitions and have found that they can compete at that level."
Jaromczyk is the faculty advisor for a number of undergraduate research projects and student groups, for example the Video Game Developers student club, and he helps connect students with employment and internship opportunities.
"Computer science teaches technical skills that can be applied in countless diverse areas. In addition to connecting interested students with opportunities inside and outside UK, we are constantly developing new courses to keep the curriculum current and modern, to introduce recent and important trends and to use attractive topics such as mobile apps as a vehicle for talking about and teaching computer science."
Jaromczyk's 27 years of experience researching and teaching — as well as informing, mentoring and inspiring students interested in computer science careers — gives him a unique perspective on undergraduate education in computer science.
"We make every effort as a department to facilitate a broad range of opportunities for our students through relevant class offerings, undergraduate research possibilities, technical competitions, student organizations and professional societies," he says. "Any student who has a passion for computer science and wants to be a good professional will find UK to have a strong 21st-century computer science program."