Connecting to the Community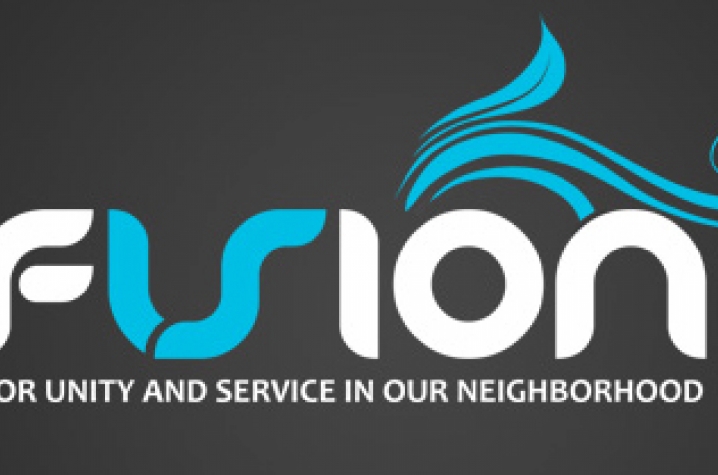 Being a Wildcat at the University of Kentucky is much more than just hitting the books, going to sporting events and generally bleeding blue. UK students have a dedication to giving back to the campus and the surrounding community through the philanthropic spirit that has taken hold of campus. K Week is the perfect time for students, new and old, to get involved in volunteering and exploring all that Lexington has to offer.
Today, UK FUSION (UK For Unity and Service In Our Neighborhoods) takes center stage as one of the premier philanthropy events in the state. More than 1,500 students, faculty and staff members will give over 5,000 hours of service to the Lexington community in a single day, making it the Commonwealth's largest single-day service project. Members of the University community work in small groups to complete projects at more than 90 sites across Fayette County. Students check in at 9:30 a.m. and then are bused to locations throughout Lexington. At 3 p.m., all the volunteers reunite to celebrate UK FUSION 2009.
"UK FUSION is a great opportunity to meet new people and begin volunteering on campus and throughout Lexington," Drew Trimble, a 2009 UK graduate, said. "During my first FUSION I mulched a trail, was given a tour of Henry Clay's home, began my involvement with the Center for Community Outreach and met my running partner for the rest of the semester; not bad for a couple hours of service!"
If you miss out on UK FUSION, there are other events during K Week (and after) that will help you connect to campus and the city of Lexington and help make UK feel like home. Here are just a few; for the complete K Week schedule, visit www.uky.edu/KWeek.
Connect to UK Libraries
The Hubbub
Monday, Aug. 24
5 p.m. – 7 p.m., The Hub @ WT's (basement of Young Library)
Drop by the Hub to celebrate the 10th birthday of the Young Library with free food, video games, dancing, prize drawings, music and much more. When else are you going to get to attend a party in the library?
Get to Know Lexington
So You Think You Know UK?
Monday, Aug. 24
5 p.m. – 5:50 p.m., 211 Student Center
Have you grown up thinking you know everything about UK? You may not know as much about UK as you think you do! Come learn from students who discovered that UK has a lot more to offer than they ever realized growing up in the area.
Check out an Area Businesses
Meijer Mania
Monday, Aug. 24
8 p.m. – Midnight
Catch a bus with other UK students and enjoy a late-night shopping excursion to the Meijer store at Hamburg Pavilion. Stock up on laundry detergent, things for your room, snacks and soft drinks or whatever else you need to make yourself at home at UK. You'll be able to buy all this and more while enjoying discounted shopping, free food, cool activities and prizes!
UK Lex-Mart
Tuesday, Aug. 25
11 a.m. – 2 p.m., Botanical Gardens – walkway between Student Center and POT
Don't know where to shop in town or just want free stuff? Stop by UK Lex-Mart, our community business fair! Local stores, restaurants and other businesses will be on hand to welcome you to Lexington, give away some free food and hand out coupons and giveaways.
Spin to Win at the UK Bookstore!
Monday, Aug. 24 – Saturday, Aug. 29
10 a.m. – 2 p.m., UK Bookstore
Stop by the UK Bookstore in the Student Center to spin the prize wheel for a chance to win great prizes and discounts!
Give Blood
Back to School Blood Drive Challenge
Tuesday, Aug. 25
Noon – 7 p.m., Johnson Center
UK Student Government and the Central Kentucky Blood Center are teaming up to host the first blood drive of the year. All donors are entered into a drawing for a Kentucky Blue Toyota Camry and will receive a free T-shirt!
Discover Your Town
Discover Downtown Lexington Biking Tour
Thursday, Aug. 27
5 p.m. – 7 p.m., departing from Wildcat Wheels Bike Shop – basement of Blazer Hall
Join us for a great bike tour of fun places in Lexington; bring your own bike and helmet, or borrow one from the Wildcat Wheels library. Bring a few bucks for dinner or ice cream!
Tour de Lexington (Bus Tour)
Saturday, Aug. 29
2 p.m. – 3 p.m., departing from flag plaza on Euclid Avenue (Avenue of Champions) across from Memorial Coliseum
Are you new to Lexington and need some help getting around? Join us for a guided bus tour of Lexington and learn about all this great city has to offer.