DanceBlue 2017 Team Fundraising Coming to a Close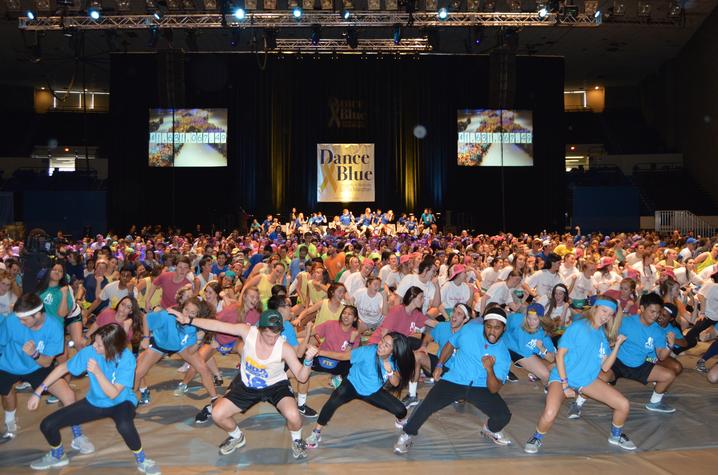 LEXINGTON, Ky. (Feb. 2, 2017) – A buzz of excitement makes its way through the pathways between classes as students in blue and yellow gear hand out information. Students across campus have been hosting fundraisers, contacting friends and family and donating out of their own pockets in preparation for one of the University of Kentucky's largest student run events – DanceBlue.
This week, DanceBlue Committee members are across campus to celebrate the upcoming fundraising deadline. At 4 p.m. tomorrow, Friday, Feb. 3, the ticket office in Bowman's Den will close and team fundraising will be finalized. Though DanceBlue accepts donations up until the last hours of the marathon, today's fundraising deadline is in place to aid in selecting a very important aspect of the marathon; the students who will be standing for 24 hours on the floor of Memorial Coliseum at DanceBlue 2017.
DanceBlue encourages all students, whether they met their fundraising goal or are just reading about DanceBlue for the first time now, to attend the marathon to see what this UK tradition is all about. Now in its 12th year, DanceBlue students are devoted to taking a stand against pediatric cancer.
All proceeds of DanceBlue go to the DanceBlue Kentucky Children's Hospital Hematology/Oncology Clinic.  Just recently a brand-new clinic opened "For The Kids."  The opening of this clinic will allow for a superior level of doctoral care, patient experience and work environment for nurses and clinic staff. 
To experience the power of DanceBlue, join the students dancing at 8 p.m. Saturday, Feb. 25, to 8 p.m. Sunday, Feb. 26, in Memorial Coliseum on UK's campus.
DanceBlue is the University of Kentucky's 24-hour no-sitting, no-sleeping dance marathon that benefits the Golden Matrix Fund and the DanceBlue Kentucky Children's Hospital Pediatric Hematology/Oncology Clinic. For more information about DanceBlue, registration information or to support its efforts, please visit www.danceblue.org. Connect with DanceBlue on Facebook at www.facebook.com/danceblue and on Twitter at http://twitter.com/UKDanceBlue.
DanceBlue is a program housed in the UK Center for Community Outreach. The CCO seeks to serve, connect and unite UK with the surrounding community in collaborative efforts to promote lifelong community service.
UK is the University for Kentucky. At UK, we are educating more students, treating more patients with complex illnesses and conducting more research and service than at any time in our 150-year history. To read more about the UK story and how you can support continued investment in your university and the Commonwealth, go to: uky.edu/uk4ky. #uk4ky #seeblue