Design the 2010-2011 Traditions T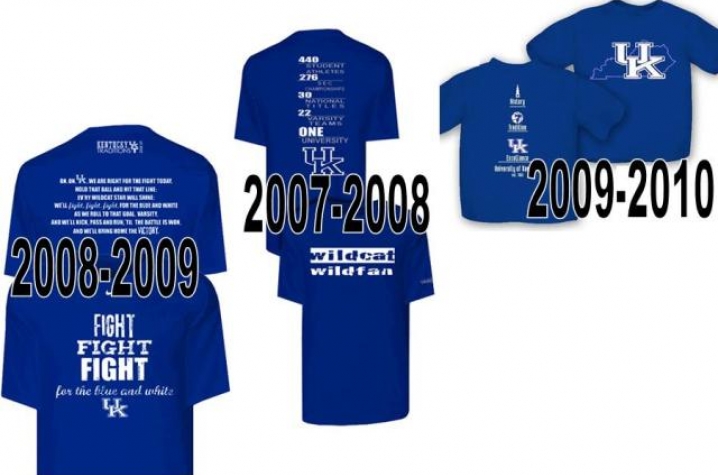 LEXINGTON, Ky. (March 2, 2010) - Two UK men's basketball student season tickets, $500 cash, five free t-shirts and the satisfaction of seeing people wearing your design - what more could a UK student ask for?
These fantastic prizes will be awarded to the student with the winning T-shirt design in the annual Traditions T Design contest, sponsored by the UK Alumni Association.
Currently enrolled UK students are encouraged to create and submit an original T-shirt design that will wow the judges and show them what it really means to bleed blue. Design submissions will be accepted until March 12.
Then, after sifting through the designs, the Traditions T selection committee will choose up to five finalists to compete in a voting round. From April 5 through May 7, UK students will have the opportunity to vote on their favorite Traditions T design. The winning design for the 2010-2011 Traditions T will be unveiled in August.
Students will be able to purchase the Traditions T at the UK Bookstore, online, at UK home football games and at UK men's home basketball games to create a unified look in the stands. Be sure to get yours and wear it to all UK sporting events.
Since starting this contest in 2007, three student-designed shirts have been created and worn by UK students and fans alike. It's more than just a T-shirt, it is a way to unite the fans, alumni and students at all types of UK athletic home games and events.
For more information on the Traditions T Design Contest, visit www.UKTraditionsT.com, email ukalumni@uky.edu or call (859) 257-8905.