How I Spent My Summer Vacation – Wildcat Style!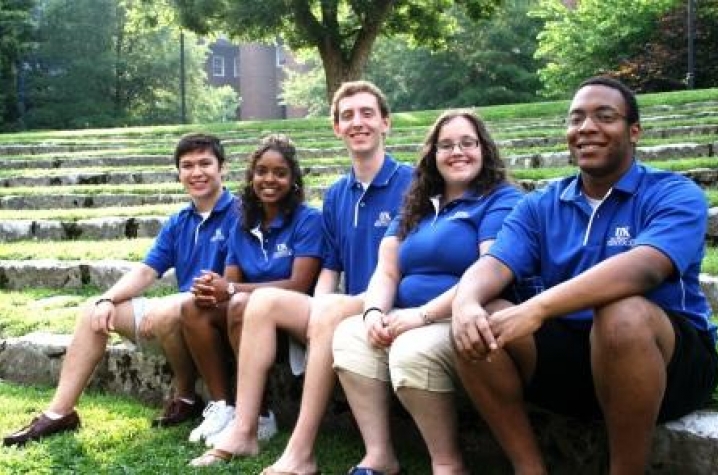 [IMAGE1]
LEXINGTON, Ky. (Aug. 20, 2009) – Spending time by a pool, hanging out with friends or maybe even taking a few classes – that's how many college students spend their summer break. But for UK's Wildcat Assistants, the summer is a time to show off their home away from home, the University of Kentucky, to incoming students.
Wildcat Assistant team leader Jason Bridges remembers vividly what it felt like to step on campus for the first time as a newly admitted UK student when he came for his Summer Advising Conference. "There were all these people, and at first, it seemed like a large campus, so it was a little intimidating," Bridges said.
But he quickly felt at ease with the campus and its people. "The student staff made me feel right at home," Bridges said, and he's excited he had the opportunity to do the same for this year's incoming class.
"I just want to make the new students feel at home because this is going to be where they live for the next four years," said fellow Wildcat Assistant team leader Joe Quinn.
Team leaders led a staff of fellow UK students, called Wildcat Assistants, who did everything from directing visitors to the right building to talking with new students in the evening hours about the best way to schedule their classes.
"We are lucky to have a wonderful staff of Wildcat Assistants to help ease our new students into college life," said Stephen Barnett, associate director of admissions and associate registrar. 
Summer Advising Conferences for the 2009-10 school year began Monday, June 22.
"It's wonderful to be on UK's campus during the conferences – you can see the enthusiasm in our new students and parents," said Don Witt, assistant provost for enrollment management.
"The experience is a great learning tool for both students and parents in helping make the transition from high school to college," Barnett said. 
 "The Summer Advising Conferences showcase what sets the University of Kentucky apart – from academics to student life along with traditions including everything from athletics to fine arts, we have much to be proud of at UK," Witt said.
"New students spent much of their time with their academic advisers to prepare for the fall 2009 semester," said Barnett. "However, they also learned about a variety of UK's many outstanding programs that they can take advantage of during their time at UK."
While new students spend time with advisers and other staff members, they also have the chance to informally chat with the Wildcat Assistants.
"I like meeting people who will be in my college or in the activities I am involved with at UK," said Jessica Stevens, Wildcat Assistant team leader. "When they arrive for classes in the fall, they recognize me and they instantly know someone, so I can continue to answer their questions and ease their transition into college life."
"When I arrived on campus for my advising conference I just felt really welcomed and immediately got the sense that I was going to be well taken care of, and now I want to do the same for new students," said Wildcat Assistant team leader Krystal Beatty "People have so many questions, and I like helping them. It's what this job is all about."
"I do this job because I just genuinely love UK," said Wildcat Assistant team leader Will Bickers. "I've had a great experience here, and it's pretty awesome to be able to give back to UK as a current student."