I Thought I Told Ya, I'm A Star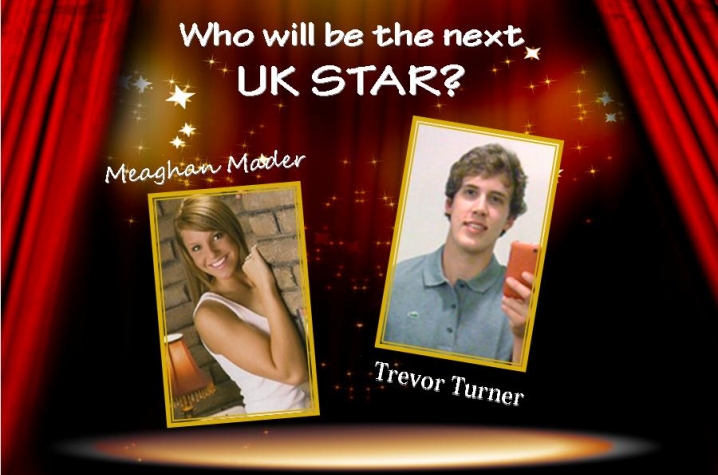 LEXINGTON, KY. (March 5, 2010) - For the second year, UK STAR will crown a new singing champion. The grand finale will be held at 10 p.m. tonight, Friday, March 5, during the UK STAR hour at DanceBlue in Memorial Coliseum. The two finalists, Meaghan Mader and Trevor Turner, will take the stage to each sing two songs and show the judges and fans that they deserve to be the next UK STAR.
UK students auditioned back in January where eight contestants were chosen to compete in this fun singing competition full of judges, online voting and prizes. Every week in February, contestants would sing at the Student Center Cat's Den in front of a live audience for a chance to move on to the next round, but with two people eliminated each week, the competition was fierce. All episodes aired live on Wildcat Student TV (channel 49) and are available to view on its Web site.
 
UK STAR judges, Brittany Benningfield, Sally Evans and James Davidson, along with online voters, have helped narrow the competition down to two finalists, Mader and Turner.
 
Meaghan Mader is a sophomore music major from Fort Mitchell, Ky., and has wowed the judges with her incredible talent. Mader is not only a singer but has been performing original songs which she wrote and composed.
Trevor Turner is a freshman business major from Dixon, Ky., and has continuously impressed the judges with his velvety voice, similar to the likes of Michael Buble and Jason Mraz.
The first UK STAR title went to freshman Erica Ficke. She amazed the judges with her performance of Aretha Franklin's "R-E-S-P-E-C-T" at DanceBlue last year and had the chance to sing the National Anthem at the UK men's basketball blue-white scrimmage game as part of her prize. This year's winner will also have the opportunity to sing the National Anthem at a UK Athletics event and will receive 150 flex dollars. The runner up will receive 75 flex dollars.
Watch the finale of UK STAR live at DanceBlue or via the live stream of the dance marathon at www.danceblue.org.
UK STAR is sponsored by Wildcat Student Television, the Student Center Cat's Den and UK Dining Services.