International Studies Student Travels to Siberia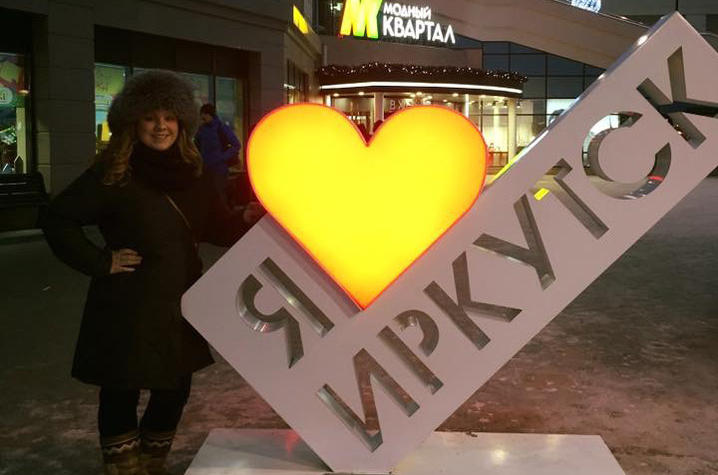 LEXINGTON, Ky. (May 9, 2017) -- Growing up in a small Appalachian town, Blake Dilynn Donithan dreamt of exploring the world. Looking at the mountains out of her bedroom window in Pikeville, Kentucky, she envisioned traveling first to Russia. She never thought that a few years later she would be in a small village near the Russian-Mongolian border in the Sayan Mountains.
"I had no connection to Russia or the Russian language, and people often questioned my decision to study Russian," Donithan said. "But I wanted to learn a challenging language that would be an asset in the future. From a young age, I was fascinated with Russian literature, history and culture."
Now a senior at the University of Kentucky majoring in international studies with a focus on comparative politics and societies in Russia and Eurasia and minoring in Russian studies, Donithan is not only mastering the Russian language, but has fulfilled a childhood dream and traveled to Siberia.
"Making the decision to study in Siberia was an easy one for me," she said. "I knew it would improve my Russian language skills, but I did not realize how much I would learn about myself in the process."
Living in a completely different culture brought many challenges and opportunities for Donithan. "I required patience and understanding in order to overcome barriers that I wouldn't have had in the U.S.," she said. "It taught me to be grateful for my life in the U.S. after seeing how tough life is for the average Russian citizen. I was able to expand my world view and hear the voices and opinions of Russians on topics of everyday life from music to politics."
Donithan credits her Russian professors for encouraging her to study abroad and experience complete immersion in a language and culture that cannot be taught in a classroom. Choosing Irkutsk because of its remote location was the easy part; learning to acclimate to the frigid temperatures was not as easy.
"I chose to study in Irkutsk because I wanted to experience how Russians live outside of Moscow or St. Petersburg," she said. "I was prepared to freeze while living in Siberia and experiencing temperatures below 30 degrees Fahrenheit was an adventure in itself."
The adventures were more than Donithan could have imagined and included visiting Lake Baikal, the world's largest and deepest freshwater lake in volume; watching nerpas, a fresh water seal found only in Lake Baikal; meeting local indigenous people and learning about their culture; and walking across parts of the Angara frozen solid from the subzero temperatures.
"I got to see things the majority of people will never have the opportunity to see," Donithan said. "It was one of the most incredible experiences of my life."
Looking back on these experiences, it is hard for her to imagine what her life had been like if she hadn't decided to come to UK, but attending UK wasn't always a given for Donithan. "UK was one of my top three choices, but I was completely torn," she said.
Ultimately, it was a UK College of Arts and Sciences student ambassador majoring in international studies that solidified her decision. "I met him at a 'see blue.' Preview Night in my hometown. He told me all about the major and the options I would have to explore my interests and customize the major to my passions. I was sold on UK at that moment."
Now as a College of Arts and Sciences ambassador herself, Donithan has the opportunity to meet students and answer their questions.
"I love talking with prospective students about all the opportunities A&S and UK offer," she said. "It is so encouraging to see students walking across campus that I met when they were in high school. It is so easy to share my passion for UK because the professors within A&S push all of us to pursue our passions, to strive for excellence and to become global citizens."
It is professors such as Cynthia Ruder in the Department of Modern and Classical Languages, Literatures and Cultures (MCLLC) who have had an overwhelming impact on Donithan.
"Being involved with the MCLLC-Russian department has been one of the main keys to my success at UK," she said. "The Russian studies students and faculty make up a tight knit community that is truly like a family. Professor Ruder's passion, enthusiasm and commitment to teaching Russian made it easy to study such a challenging language."
As she looks to graduation in December of this year, Donithan hopes to attend law school and seek a master's degree in international relations. "I want to pursue a career in the field of international law and use my knowledge of Russia and the Russian language," she said. "I hope to attend a law school with a strong focus on international law and with attractive opportunities to study abroad."
Growing up in a small town in Appalachia, Donithan had aspirations of exploring the world. She has now traveled from Pikeville to Irkutsk with no plans to slow down.
"I am so lucky to be learning about Russia in a time where understanding of this nation is increasingly important," she said. "I had big dreams as a small girl and those dreams are coming true."