From Military Life to College Life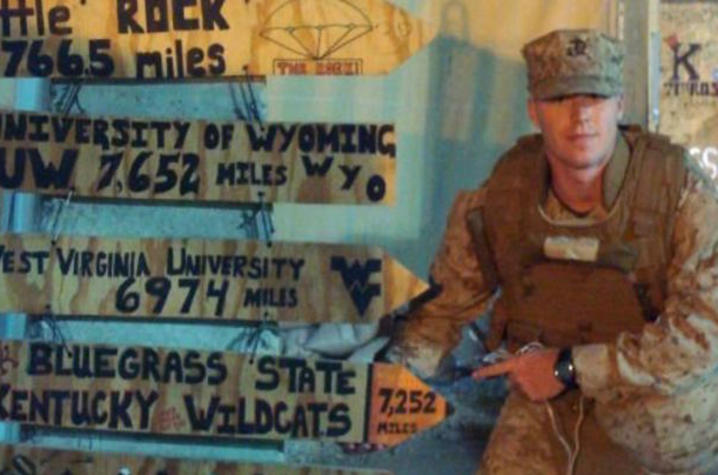 LEXINGTON, Ky. (Nov. 7, 2017) — Hundreds of Wildcats served in the military before becoming UK students. Here are a few of their stories in honor of Veterans Day this Saturday, Nov. 11. To all those who have served our country to preserve our freedom — thank you. 
Andrew Hatfield, Accounting
As a member of the U.S. Marine Corps, Andrew Hatfield, from Somerset, Kentucky, traveled to 13 different countries on various deployments.
"I really enjoyed it," Hatfield said. "I made some of the best friends I've ever had and it was just overall a wonderful experience."
But after several years of service, Hatfield had a new goal in mind — earning a degree in accounting from the Gatton College of Business and Economics. Since arriving on campus, he says UK's Veterans Resource Center (VRC) has helped him make the transition from military life to college life. 
"The fact UK actually does employ somebody to take care of us and ensure things go great for us really means a lot," Hatfield said.
But he says that support goes beyond the VRC.
"I am always proud to be a veteran and I'm grateful for the respect that I get from all the people around the nation," Hatfield said. "But at the University of Kentucky, it has really been noticeable. People truly do care for the veterans of the military … not just the student veterans, but everyone, and I just really appreciate that they treat us in such a good manner."
Zach Grills, Kinesiology
As an aviation rescue swimmer in the United States Navy, UK student Zach Grills had to put his fears aside the moment he began rescue swimming school.
"In a real life scenario, jumping into the water is crazy," said Grills, a native of London, Kentucky. "Stormy conditions is probably the most stressful environment you could ever put yourself in, so, that's what they wanted to recreate at the school."
While he admits the training was tough, he learned a lot about himself in the process.
"Even though it was difficult at a time, it was the most rewarding and gratifying experience of my military career," Grills said. 
Today he's busy working on trying to accomplish yet another goal by pursuing a kinesiology degree from the UK College of Education.  
"There's nothing you can't do when you put your mind to something," Grills said. "UK is special to me, I always wanted to come here."
Michael Chambers, Nursing
As a medic in the United States Army, Michael Chambers already accomplished a great deal before arriving at UK.
But he says completing the MedVet BSN program at the UK College of Nursing will mean the world to him.
"I just wanted to continue my experiences within the medical field and nursing is one of the best fields you can get into right now, and UK is one of the best schools to do that."
Since arriving at UK, the Clarksville, Tennessee, native says UK has been with him every step of the way.
"In the end it's going to be a big sense of accomplishment."
Jon Wuerzburger, Management
Jon Wuerzburger knew since the age of 8 that he wanted to serve in the United States Air Force.
"I was 8 years old and my step-dad worked in the aerospace industry," Wuerzburger said. "He used to take me to work, show me photos and it just sparked something inside me that made me want to join the Air Force."
But he also aspired to one day become a Wildcat because of family ties back in Kentucky. After graduating from high school, he put those aspirations on hold to fulfill his other dream.
"I originally joined as an aircraft mechanic," Wuerzburger said. "After my first deployment, I got back and got an opportunity to become a flying mechanic and at that point I was actually the youngest C-17 flying crew chief in the Air Force for a little bit of time."
As exciting as that was, he had yet another goal in mind he wanted to try to achieve.
"I loved the job I was in, but I've always had a dream of becoming a pilot in the Air Force and I knew that in order to become a pilot, I needed to focus all of my attention on my academics," Wuerzburger said. 
He came to UK to pursue his higher education goals as a management major in the Gatton College of Business and Economics. 
Matthew Ebert, Mechanical Engineering
As an aviation electronics technician in the United States Marine Corps, Matthew Ebert experienced two separate deployments to Iraq and the Persian Gulf.
After facing the challenge of serving his country, Ebert says he was ready for a new goal to achieve. That's why he chose to become a mechanical engineering major in the UK College of Engineering. 
"That's what I want — I want a challenge," said the Florence, Kentucky, native. "I don't want to walk through anything."