Student Helps Kids With Dogs, Daycare and Books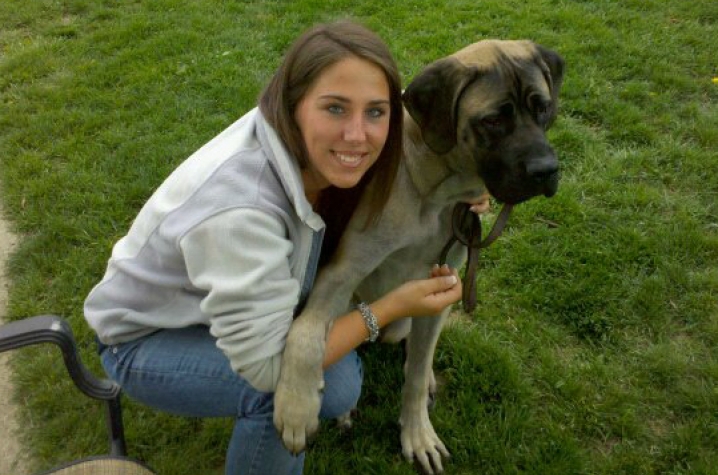 LEXINGTON, Ky. (Nov. 16, 2010) − As a junior, University of Kentucky student Logan Bright has already accomplished more than many people do after graduation. Bright, an early education major in the UK College of Education, has written six children's books, started a daycare center back in her hometown of Mason, Ohio, and most recently has started a 4 Paws For Ability chapter at UK.

Bright first learned about 4 Paws for Ability while attending Wittenberg University in Ohio for her freshman year before transferring to UK. 4 Paws for Ability is a program that trains and places service dogs to anyone with a disability, including hearing ear dogs, autism assistance dogs and mobility assistance dogs. The organization specializes in placements with people who have been turned away by other agencies, particularly children.

When Bright transferred to UK during the fall of 2009, she decided she wanted to bring the program with her. After her first semester, the organization had been established. There are nine student trainers and nine student co-trainers at UK. Each trainer is expected to take the dogs to as many places as possible — class, the movies, the mall — so that the service dog can be socialized. Trainers are required to come to two meetings a month for training sessions.

"This organization is important because it gives children in need a chance to live a fulfilling life," Bright said. "One of the dogs trained at UK went to a child with autism. The dog now goes to school with the child and helps him do everyday things such as socializing with his peers. Being part of a program that can help children that much means so much."

The 4 Paws for Ability national office is located in Xenia, Ohio, which is where the service dogs come from. After the dogs are trained and socialized by the students through the UK chapter, they go through one more training before they graduate as official service dogs and are placed with a family. The UK student trainer gets to meet the family and the child that the dog will be going to. 

Bright not only has a passion for helping children through community service, but for helping children learn as well. She loves children's books and had a dream of writing a book that she could one day read to her own class. One night while babysitting, Bright decided to jot down story ideas and within an hour and a half she had written her first book, "Ruby the Rabbit Goes Exploring," which was published and is currently available in major book retail stores. She has written five other "Ruby the Rabbit" books in addition to her first one, but wants to see how well the first book does before getting the others published.

Bright also enjoys taking care of children. During the summer of 2005, she started her own daycare program back in Mason. It started out as a small business with a few children in her neighborhood, which soon turned into 60 children, all in different age groups.

"The daycare has been something that has taught me so much and prepared me to become a teacher," said Bright. "Besides being a great learning experience, it is so much fun to work with children all summer."

So far, all that she has accomplished has helped her prepare for her career as an elementary school teacher. Bright chose elementary education because she has always loved working with kids by helping them learn and grow to become something great. 

Since publishing a children's book, many doors have opened for her. She frequently visits elementary schools to talk about her book and shares the process of publishing with the children. Being in classrooms so often this early in her teaching career has made her comfortable being in front of students, and the 4 Paws for Ability has helped her realize the needs of children and allowed her to continue to do what she loves, helping and teaching children. 

"Community service has always been a big part of my life," said Bright. "There is no greater feeling than knowing that you are helping someone. Many people think that community service involves boring work or something they 'have to do' while in a sorority or fraternity or other club. I wanted to show students here at UK that community service can be fun! Giving students the opportunity to train a service dog for a child in need is not only rewarding, but so much fun!"

For more information on 4 Paws for Ability at UK, contact Logan Bright at lmbrig2@uky.edu or visit www.wix.com/lmbrig2/4-paws-at-uk.