Students Bring New-school Optimization to an Old School Radio Station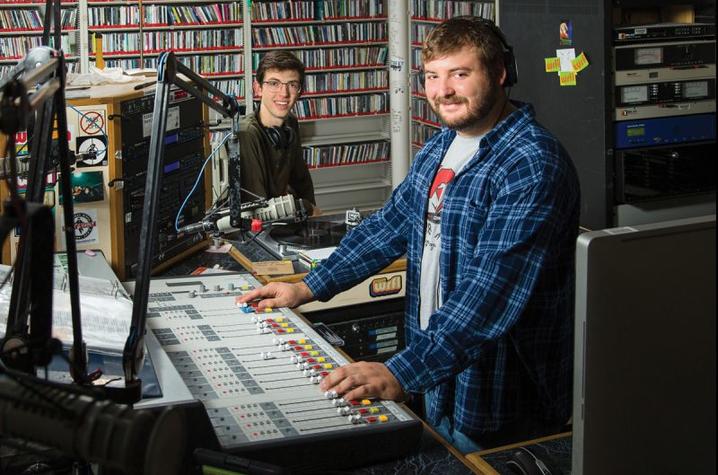 LEXINGTON, Ky. (July 6, 2017) — On March 7, 1988, WRFL ("Radio Free Lexington") began broadcasting on 88.1 FM from the University of Kentucky campus. Since that day, the station has put a live human being in the DJ's chair 24 hours a day, seven days a week, 365 days a year. No computers manning the overnight shift. No algorithm-curated playlists. If it's 2:30 a.m. and you want to hear Neutral Milk Hotel, contact the lord of the board for that time slot and they'll play it; likewise, if you can name half the bands on an hour's playlist, then you really know your music. As an "educational" radio station, WRFL's license frees it to expose the public to bands excluded from top 40 radio.
And sometimes you randomly get dogs barking over the air. Aware of the sound emanating from the "ON AIR" room, computer engineering senior Grant Sparks shakes his head and laughs.
"You hear a lot of oddball stuff here and that's some of the charm of it."
WRFL oozes charm. Temporarily housed in the basement of the White Hall Classroom Building due to the renovation of the Student Center, the 100+ staff and volunteers who bear the spirit of WRFL have not let relocation erase their mojo. Unsolicited artists have generously donated graffiti to suit every taste. The DJ's room is low-lit, crowded with stacks of vinyl and compact discs and perfectly suited to receiving one's euphonious muse. Posters old and new festoon the windowless walls.
"The Red Hot Chili Peppers played in the Student Center ballroom in 1988," said Mitch Mullins, a double major in computer engineering and computer science. "We've got the poster around here somewhere."
Two of 18 student directors on staff, Mullins oversees the website (wrfl.fm) while Sparks handles the ins and outs of production. About a year ago, the two decided to apply their computer engineering skills in ways that would optimize repetitive tasks within the DJ booth.
"The website hadn't been updated since 2011," recalled Mullins. "We really needed to improve the functionality for the DJs."
Music licensing requirements compel radio stations to report what they're playing. That means DJs must manually enter the artist, track and album for every single song they air — tens of thousands of entries each year. Using the old website, it took DJs about 45 seconds to complete the form for each song. Mullins and Sparks started thinking about how to streamline the process. In their new system, DJs enter an album's assigned number and instantly the form is pre-filled with the album title and artist. They merely type in the track title. Sparks says the average time has gone from 45 seconds to 10.
"We're not only shaving time, but hundreds of thousands of keystrokes per year."
Mullins and Sparks didn't just innovate; they developed a whole new self-sustaining system. Now, the music director can make judgments about which albums are getting stale and swap them out. It has also transformed reporting for national charts.
"Until recently, we paid a student to read through pages and pages of playlist data to tally all of the plays for the week. Now, since every album has a unique ID number, whenever someone enters a play, a counter adds a number to it. The charting process is fully automated," explained Mullins.
While feedback has been positive, Sparks and Mullins understand their gifts must operate within longstanding boundaries. According to Mullins, automation is a dirty word at WRFL.
"We've considered not having a live DJ during the overnight hours, but no one here really wants that to happen. So where we can't automate, we optimize," he said. "If the bike won't drive itself, how can we add training wheels by way of making forms easier to complete or improving other processes within the station?"
The only engineering majors at WRFL, Mullins and Sparks were quickly tagged "the IT guys"; however, the moniker serendipitously led to an invitation for the two of them to host a weekly show. TEKtalks, which airs from 6-8 p.m. on Thursdays, is a mixture of music and commentary on current events related to science and technology. Their shows have explored 3D printing, autonomous vehicles, video games and even sonic fire extinguishers. Occasionally, they invite College of Engineering faculty to join them as guests. On Jan. 12, they celebrated two years on the air. It is unclear what the future of the show will be after graduation.
For that matter, what is the future of radio? Can college radio stations compete with the conglomerates that are eating up smaller stations? Mullins thinks so.
"Radio today is heavily commercialized," he said. "The real radio spirit exists in your college and community radio stations. That's what the future of radio will be: die-hard stations seeking to keep radio not top 40, which is the grit of music."
Sparks agrees, but relays a different concern, one that takes into account growing interest in services like Spotify, Apple Music, Amazon Unlimited and others.
"Why should I turn on the radio when I can just pay $10 and listen to all the music I want?" he said. "We're not just up against the commercial stations but the new thing that will slay commercial stations — the ability to curate exactly what you want to hear."
So is radio an antiquated means for listening to music?
"WRFL can compete," Mullins said assuredly. "We're highly interactive. We stream over the internet. We have an app called RadioFX, which is similar to the iHeart Radio app, but with an exclusive focus on college radio stations. It lets the listeners interact with the DJs via a chat feature, make requests, save our broadcast schedule, set alerts for upcoming shows, follow our social media streams and more. And because we're not mainstream radio, our DJs will likely play something you've never heard before. That human touch will make all the difference."
Until it doesn't — and let's all hope that never happens — be assured that someone, around the clock, is piloting the airwaves just for you.