Take a Stand Against Injustice at Next #TrendingTopics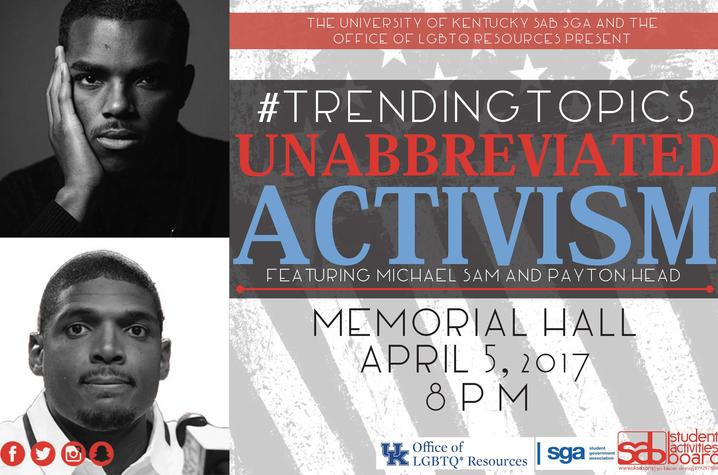 LEXINGTON, Ky. (April 3, 2017) — Join Student Activities Board's Engaging Issues Committee, Student Government Association and the Office of LGBTQ* Resources 8 p.m. Wednesday, April 5, in Memorial Hall. These groups will be collaborating on "#TrendingTopics: Unabbreviated Activism" to tackle the issues of discrimination and social injustice in the LGBTQ and African-American communities as part of Pride Week.
This #TrendingTopics will be a moderated discussion with Michael Sam and Payton Head. Both are graduates from the University of Missouri. Michael Sam was the first openly gay player drafted in the NFL and Payton Head was the president of the Student Government Association at Mizzou, where he gained notoriety after his anti-discrimination Facebook post went viral.
"This event is meant to bring together people affected by discrimination and people who are allies to those affected by it," said Naija Omari, director of Engaging Issues. "The more individuals on campus that understand these issues and work together in solving them the safer and more accepting this campus will become."
Be sure to bring an open mind and any questions you might have. Students will be able to join the conversation by tweeting any questions using #TrendingTopics. Come out and learn more about varying types of discrimination and social injustices from others' experiences.
The Office of LGBTQ* Resources is the centralized university unit that provides education, advocacy and community support for students, faculty and staff with diverse gender identities, expressions and sexual orientations. We work to highlight LGBTQ* experiences and create a campus where everyone can belong and thrive as their authentic selves.
The University of Kentucky Student Government Association (UKSGA) represents all undergraduate, graduate and professional students enrolled at the university. UKSGA exists to increase student influence over academic policy, to provide necessary student services, to protect and expand student substantive and procedural rights and to better represent the student body in relations with the faculty, administration, Board of Trustees and the Commonwealth of Kentucky. Connect with them on Twitter at www.twitter.com/uksga or online at www.uksga.org.
Student Activities Board (SAB) brings more than 60 entertaining, educational and enriching programs that are reflective of contemporary issues and trends to the University of Kentucky annually. These programs are designed to enhance the college experience for students, faculty, staff and the greater Lexington community. Connect with SAB at www.uksab.org, follow them on Twitter at http://twitter.com/UKSAB, or like them on Facebook at www.facebook.com/UKSAB/. For more information about SAB and events, email publicrelations@uksab.org.
SAB Contact: Kristen Smith, publicrelations@uksab.org, 859-257-8868