UK Law's Grace Greenwell Named Distinguished Law Student for Sixth Circuit for 2018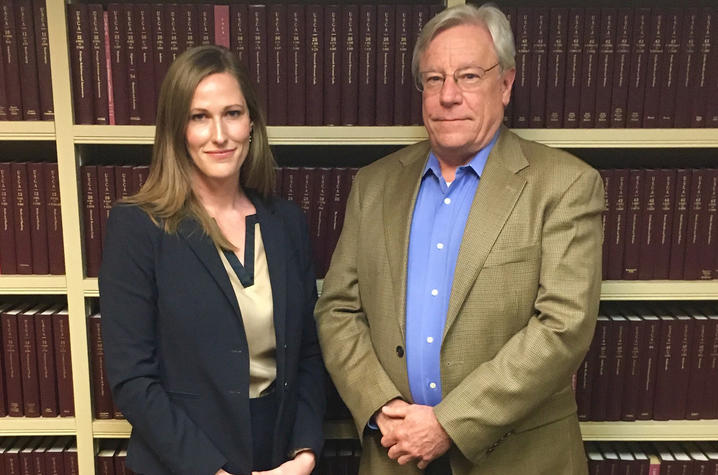 LEXINGTON, Ky. (March 1, 2018) — Grace Greenwell, a third-year law student at the University of Kentucky College of Law, has been selected as the American College of Bankruptcy's Distinguished Law Student for the Sixth Circuit for 2018.
The Distinguished Law Student program was established by the American College of Bankruptcy in order to identity and promote prospective leaders in the insolvency and bankruptcy profession. To qualify for this prestigious award, law students must be nominated by either a college member, professor or their law school dean. Greenwell was nominated by Christopher W. Frost, Everett H. Metcalf Professor of Law at UK Law.
The students undergo a rigorous evaluation process that includes interviews, submission of written materials and a review of the candidate's academic standing. All nominated students are considered by their circuit council, which selects the Distinguished Law Student. One student is selected from each circuit. The criteria for the selection of the Distinguished Law Student includes academic excellence, professional accomplishments (i.e., moot court, writing competitions, written submissions, law review articles, etc.), commitment to public service, pro bono efforts, extraordinary law school experience and familiarity with insolvency law.
While bankruptcy has become a focus for Greenwell, she had no interest in it before coming to law school. She enrolled in Professor Frost's bankruptcy class only because she enjoyed him as her first-year contracts professor.
"Professor Frost's bankruptcy class is the perfect balance between the philosophical and the practical, which is the same way he coaches our moot court team. His passion for the field — and investment in me as a student — led me to pursue what would have otherwise remained a foreign subject to me," Greenwell said.
Christopher G. Bradley, assistant professor of law at UK Law, also wrote a letter in support of Greenwell's nomination. He further developed her interest in bankruptcy by encouraging her to write about a novel application of the bankruptcy model as part of his seminar.
"I am thankful to both of these professors for adding bankruptcy to the skillset I hope to offer as a first year associate in corporate litigation," Greenwell said.
The honorees are awarded an all-expenses paid trip to the American College of Bankruptcy's annual Induction Ceremony and Events on March 15–17, in Washington D.C., where they have the opportunity to meet and get to know the most distinguished bankruptcy practitioners and judges in the country. The 2018 induction ceremony will take place at the Smithsonian Donald W. Reynolds Center for American Art and Portraiture Museum, and will be presided over by G. Christopher Meyer, chair of the college. Many of the Distinguished Law Students honored by the college have gone on to make important contributions to bankruptcy law and practice.
The American College of Bankruptcy is an honorary professional and educational association of bankruptcy and insolvency professionals. The college plays an important role in sustaining professional excellence and supports educational and pro bono activities in communities around the country. College fellows include commercial and consumer bankruptcy attorneys, insolvency accountants, turnaround and workout specialists, law professors, judges, government officials and others involved in the bankruptcy and insolvency community.