UK Phi Kappa Phi Chapter Welcomes Initiates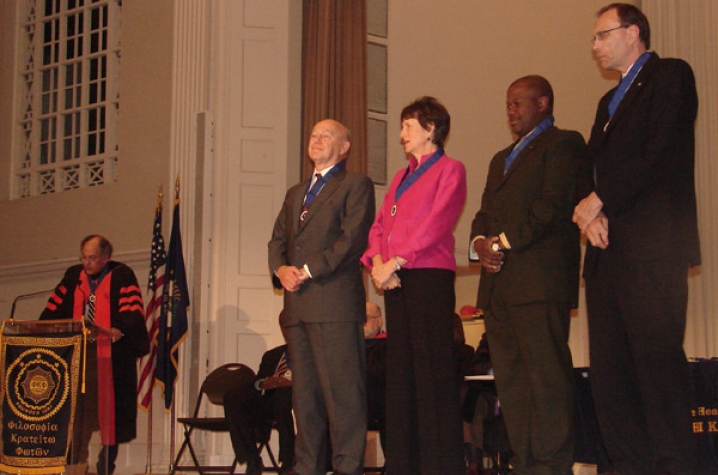 LEXINGTON, Ky. (Nov. 17, 2010) — A total of 66 new members were welcomed into the University of Kentucky's chapter of Phi Kappa Phi recently during the 2010 induction ceremony held in Memorial Hall.
62 undergraduate and graduate students, together with four honorees representing faculty, alumni, and community members, were initiated into the prestigious organization.
Founded in 1897 at the University of Maine, Phi Kappa Phi is the nation's oldest, largest, and most selective all-discipline honor society.  Each year, approximately 30,000 students, faculty, professional staff, and alumni are initiated into the organization. Its chapters are on more than 300 campuses in the United States, Puerto Rico and the Philippines.
For a list of the individual students who were inducted, please go to http://uknow.uky.edu/content/list-phi-kappa-phi-2010-inductees. 
The others who were honored by the UK Chapter of Phi Kappa Phi are:
·        Sharon P. Turner, Dean, UK College of Dentistry.
·        Paul W. Chellgren, UK Alumnus and Benefactor.
·        Stephen W. Wyatt, Dean of Public Health.
·        Everett McCorvey, Professor, UK School of Music and UK Faculty Trustee.

Membership is by invitation only to the top 10 percent of seniors and graduate students and 7.5 percent of juniors. Faculty, professional staff and alumni who have achieved scholarly distinction also qualify.

"This new class of inductees further strengthens the prestige of Phi Kappa Phi on this campus," said David W. Sogin, professor of music education and president of the UK chapter. "The induction ceremony serves as a celebration of our best academic efforts, as well as a commitment to lifelong learning and community service."

Phi Kappa Phi members have served in the White House, Congress, and the Supreme Court of the United States. They have won Nobel Prizes, Pulitzer Prizes, and numerous other national and international awards for service and achievement in their chosen fields.   The society is proud to include among its membership thousands of men and women who, for more than a century, have sought to make a difference in the communities where they live and work.

Phi Kappa Phi has bestowed approximately $12 million since the inception of its awards program in 1932. Today, more than $800,000 is awarded annually to qualifying members and non-members through graduate fellowships, undergraduate study abroad scholarships, member and chapter awards, and grants for local and national literacy initiatives.  The society's mission is "to recognize and promote academic excellence in all fields of higher education and to engage the community of scholars in service to others."

For more information on the UK Chapter of Phi Kappa Phi, call Lynn Hiler at (859) 257-6894, or e-mail: clynnhiler@uky.edu. To contact the national organization, call (800) 804-9880, or visit www.phikappaphi.org.