Wildcat Sculpture Needs a Name, but Please Not Fluffy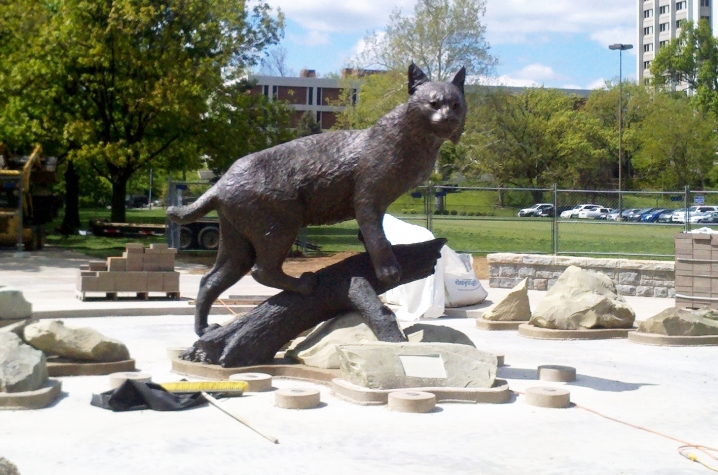 LEXINGTON, Ky. (Aug. 28, 2012) — Today's students can create a University of Kentucky tradition now that is certain to survive for decades.
Already a gathering place and popular landmark, the Wildcat sculpture is UK's newest celebrity. Dedicated in April 2012, just as March Madness was reaching its glorious conclusion, the bronze sculpture dominating Wildcat Alumni Plaza (across Avenue of Champions from Memorial Coliseum) represents what it means to be a Kentucky Wildcat. The Wildcat sculpture stands for students', alumni and employees' pride in blue and serves as a friendly ambassador to campus visitors. Not too many years from now, the statue will be a sentimental connection to today's students' college years.
The Wildcat sculpture has almost everything — an ideal location, celebrity status and a wonderful UK family.  All it lacks is a name. Wouldn't it be better if that name is official, rather than something random like "Fluffy?"
This fall, all UK students can help name the Wildcat sculpture through a very simple process.
First, visit http://www.ukalumni.net/dontcallmefluffy. Then, complete the name suggestion form by Sept. 7. Next, watch for the chance to vote for the Wildcat's name from Sept. 17–Oct. 8. The winner will be announced on Oct. 15 at the Homecoming Pep Rally in the Plaza. Visit www.wildcatalumniplaza.com for more information.