Athletics During the Todd Years: A Story of Integrity, Progress Toward Being Best in Country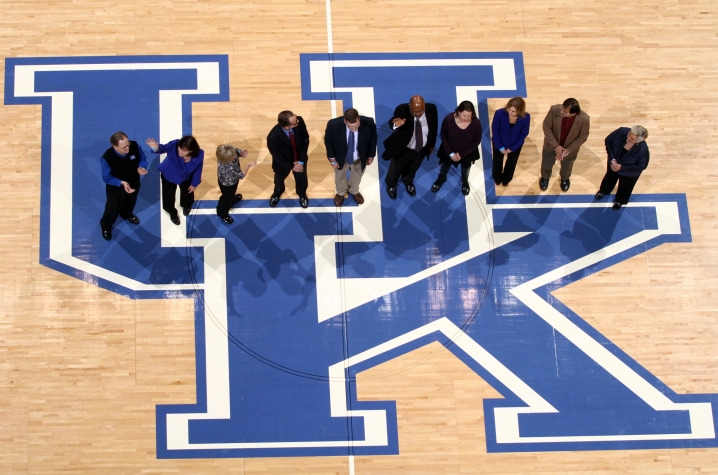 LEXINGTON, Ky. (April 7, 2011) --Nine hours. In the context of 10 years as president, it isn't that long a period of time for Lee T. Todd, Jr.
            But nine hours helped shape the course of the next 10 years, which have been among the most successful in the history of University of Kentucky athletics.
            In November 2001, Todd sat before the NCAA Infractions Committee for grueling testimony as part of allegations of infractions against the struggling UK football program. The program was later placed on probation with a 1-year ban on postseason play and was forced to forfeit 19 total scholarships over a 3-year time period as a result of the NCAA's findings of wrongdoing within the program.
            Todd vowed he wouldn't be in that position again, nor would the athletics program at his alma mater, where he was in his first few months as president.
            "I decided I was going to break that culture (that led to the infractions) and get it to where we didn't have to worry about athletics giving us a bad name," Todd said during a recent interview about his tenure as UK president. "What I learned in the beginning is we don't want this to happen again."
            Athletics looms large at any major American university. Sports can generate enthusiasm and great excitement for a university's brand, while galvanizing a campus around its teams. On the other hand, NCAA investigations and infractions can tarnish not only an athletics department but the image of an entire university.
            As Todd prepares to retire in June after 10 years as president, UK Public Relations and Marketing sat down with him for an extensive interview regarding the major issues and milestones of his tenure. Athletics is second in a series of stories regarding those memorable moments. The first story was on the Top 20 mission. Future stories will examine health care, research and students.
            For Todd and athletics, a defining moment was the decision to hire Mitch Barnhart, who had been athletics director at Oregon State and had worked in top administrative posts at other institutions, including the University of Tennessee.
            Barnhart made it clear from the beginning that the department would strengthen its commitment to athletes as students. Barnhart also quickly hired Rich Brooks as football coach, which led to five straight bowl appearances -- a first for the program – and an unwavering dedication to play by the rules.
           The close relationship and mutual trust between Todd and Barnhart helped solidify the program during a tenuous time and laid the foundation for years of progress in terms of success both on and off the field.
            "He allowed us, from the very beginning, to change culture and that has happened," Barnhart said during a recent interview about the Todd years. "Are we everything we want to be? Not quite. But have we made a lot of progress in a lot of ways? Absolutely."
            The progress of their mutual tenure began with a shared commitment to upgrading the investment in - and the performance of -- all of UK's 22 sports, not simply the revenue-generating giants of football and basketball.And Todd and Barnhart have done that while building a completely self-sufficient athletic program, one of the few in the U.S. Not one tuition or tax dollar goes to UK Athletics.
            "When (President Todd) came here, that was one of the things he embraced and embraced it pretty quickly," Barnhart said. "If you are going to wear Kentucky on your shirt, you're going to be representing us as best as we can possibly do, and we may not have the best of the best, but we'll give it a great shot.
           "We're going to try to put together things that give us an opportunity to compete in this league. He gave us the freedom to grow."
            That freedom has led to an unprecedented period of growth in the comprehensive success among a broad range of programs in the last 10 years.
            Milestones of progress include:
           ·         The UK Athletics Department is one of only 14 in the country that is truly financially self-sufficient and has remained free of major NCAA infractions during Barnhart's tenure.
           ·         The program has experienced annual improvement in the Directors' Cup standings with a finish of 29th place in 2009-10. It was the school's best showing in the last several years, its top finish since the 1997-98 season and only three slots away from the best mark in school history.
           ·         The primary academic target was met at the conclusion of the 2010 spring semester as UK's student-athletes notched a composite 3.04 GPA, the highest semester in the last several years.
           ·         In addition, UK has consistently posted strong numbers in the NCAA Academic Progress Rate as every one of UK's 22 varsity sports have avoided penalties in the APR's six-year existence. Graduation rates, which date back to classes that entered six years ago, are demonstrating improvement.
           ·         UK Athletics spends more than $1.5 million annually on its nationally renowned Center for Academic and Tutorial Services.
           ·         For the first time, all 22 varsity sports are funded with maximum number of scholarships and coaches.
           ·         The UK Athletics Hall of Fame was created and the program has begun significant upgrades to facilities with the construction of the Joe Craft Center, a $30 million facility that includes practice and administrative space for a variety of sports.
           ·         UK Athletics is donating directly to the academic mission of the campus. For several years, UK Athletics – in addition to funding all their athletics scholarships without central administrative support – also funded a $1.2-million annual contribution to the university's scholarship program.
           ·         That donation was increased to $1.7 million annually in 2009-10 and includes UK's most prestigious student scholarship – Singletary Scholarships. In fact, the program spends more than $21 million annually back on campus, including academic scholarships and institutional advertising.
           ·         The football team has now gone to five straight bowl games and the basketball team recently made it to the Final Fourforthe first time since 1998.
            The increasingly inextricable link between athletics and academics is a point of particular pride for Todd. "One of the strongest brands that UK's had is athletics … My feeling is if you have a strong brand, you ought to draft off of it; you ought to use that," he said. "We have some things to that end and athletics under Mitch Barnhart has been a fabulous partner."
           In addition to the nearly $2 million in academic scholarships, athletics -- through its multi-media partnership -- funds some $500,000 annually in advertising for UK. That advertising largely touts academic and research accomplishments. Moreover, Todd and First Lady Patsy Todd use timeouts at football and basketball games -- in front of tens of thousands of fans-- to shine a spotlight on star faculty, students and staff.
           "It lets the audience know what else is going on, but it also gives a chance for those people who get invited to come out on the floor to be recognized and for their department to be recognized," Todd said. "It's a perfect way to meld the athletics and the academics."
           Barnhart shares that commitment to using athletics to promote the entire university, saying that "I always tell him, we are the front porch to the university. A lot of people enter through that door and what it looks like on the inside is his responsibility once he gets in there.
          "It's my responsibility to keep the front porch painted and looking nice and really dressed up well. If we do that well, a lot of people come to the University of Kentucky and think differently of it. Conversely, if we mess that up -- and we don't handle that well -- it really paints a bad picture no matter what the inside of the house looks like. It's really, really difficult for people to get past the image of what athletics does." 
           But whether he is president or a private citizen, Todd says one thing won't change from when he was a young engineering student on the UK campus:
           He will continue to be a fan.
           Barnhart, in fact, said he often chuckles at the fact that he would call the president after a game and "I'll say, 'Just got back from this game' (and the president will have been traveling and he will say) 'Don't tell me how it ended. I DVRed it. I want to go home and watch it. Don't tell me what happened.' And he'd go home and watch it, and he'd call me a couple of hours later … It's enjoyable, because I know it means something to him." 
           For Todd, retirement will mean being able to go from a president watching games in a different way and for different reasons. Once again, he will be a fan like he was when he was a student at UK more than 40 years ago -- not a president worried about the stress associated with big-time college sports.
            "When we go to the games, we usually have people sitting with us that we invite, but I turn into a fan when the ball goes into the air and just use that as my time to relieve my stress," Todd said. "The relationship between athletics and academics is, really, a powerful one for this institution. I went here as an undergraduate, never missed a basketball game, a football game, and was a good student.
            "But I made sure I got to those games."
To view all of the videos about President Todd and Athletics, click here.
For transcripts of the videos embedded in this story, click here.