UK Men's Basketball Team to Play for National Championship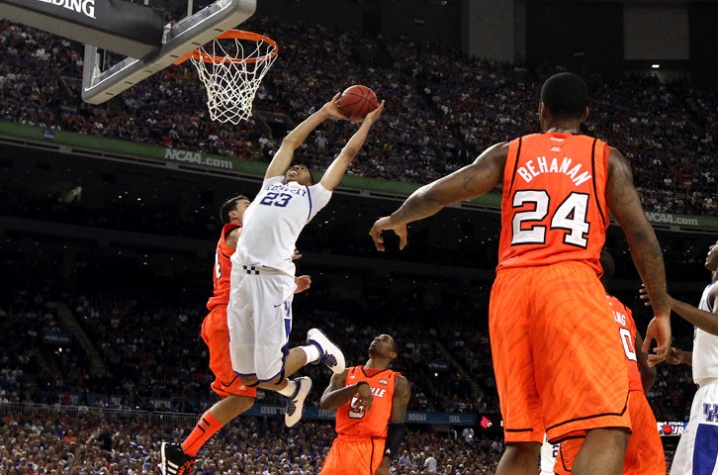 New Orleans, La. (March 31, 2012) — Kentucky wound up right where it expected to be all along. Even if it took a little work to get there. Anthony Davis and top-seeded Kentucky will play for the national title Monday night after finally putting away Louisville 69-61 in the Final Four on Saturday night.
It will be Kentucky's first appearance in the title game since winning a seventh NCAA crown back in 1998. The Wildcats (37-2) will face the winner of Kansas-Ohio State. As the final seconds ticked down, Davis screamed at the crowd and pointed to the court as if to say, "This is our house!"
Meanwhile, University of Kentucky Police and Lexington Police and Fire departments had a challenging evening following the UK-UL game as fans took to the streets in celebration.  Most fans were cooperative, however there were about three dozen reports of couch, trash or mattress fires; two reports of car fires; and multiple reports of bottles thrown at police and fire personnel as well as others.  Most of the incidents took place in the State Street, University Avenue area. Lexington Police reported making 27 arrests for disorderly conduct and alcohol intoxication.  UK Police reported making two arrests on campus for alcohol intoxication and one arrest for driving under the influence.  Lexington Police plan a news conference for Monday afternoon to release more information.
UK spokesman Jay Blanton issued this statement Saturday night:
"We appreciate the work of public safety officers at UK and Lexington in addressing the incidents this evening. It is unfortunate that a small number of people are using what should be a night of celebration as an excuse to attempt to tarnish the university and the community. To the extent that students are involved in any illegal activity or actions that violate the university's student code, they will be dealt with appropriately."