Wall Named SEC Player of the Year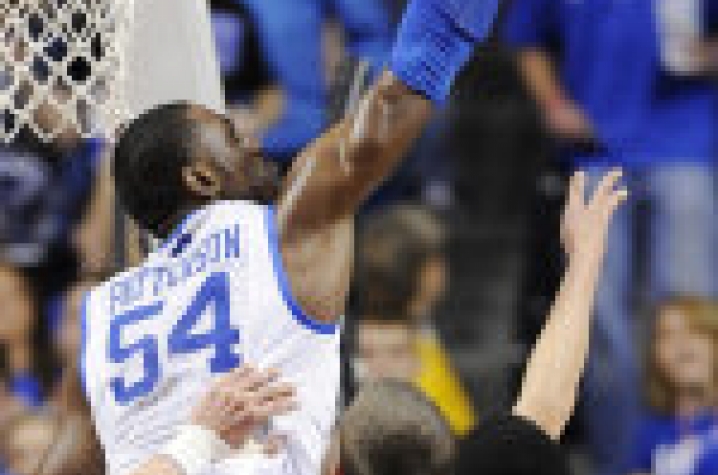 LEXINGTON, Ky. (March 9, 2010)  – UK freshman John Wall has been named SEC Player of the Year by league coaches as announced by the conference office on Tuesday.
Wall, a 6-4 guard from Raleigh, N.C., is UK's all-time leading freshman scorer and assist leader. He leads the Southeastern Conference and ranks fifth nationally in assists (6.2). He is also fifth in the league in scoring (16.8).
Wall is the first Wildcat to be named SEC Player of the Year since Keith Bogans received the honor in 2003 and is the 13th Wildcat to be named the league's Player of the Year. He is also the second freshman to be named the conference's Player of the Year. Chris Jackson won the award as a freshman in 1989.
Teammate and fellow freshman DeMarcus Cousins was named the SEC Freshman of the Year. He is the second Wildcat to receive the honor; however he is the first player in UK history to receive the award outright. Patrick Patterson was named the league's Co-Freshman of the Year in 2008.
Cousins has set all-time records for Wildcat freshmen in double-doubles with 18, and rebounds with 312, while averaging 10.0 boards a game, second best in the SEC. His 18 double-doubles is the most in the league this season and the most by a Wildcat since the 1973 season.
Cousins, Wall and Patterson were all voted First Team All-SEC by league coaches, while Cousins, Wall and Eric Bledsoe were all named to the SEC All-Freshman team.
Patterson was also selected to the league's All-Defensive team.
It is the first time in UK history the Wildcats have had three players named First Team All-SEC by the coaches and the second time in three years that UK has had three players named All-SEC by conference coaches.
This season also marks the first time in UK history the Wildcats have placed three players on the Freshman All-SEC team.
The 2010 SEC Champion Wildcats will be in action at noon CT on Friday in the quarterfinals of the SEC Tournament, taking on the winner of the Alabama-South Carolina game. The game will be televised live on the SEC Network.