Action-Packed UK Bike Week Set for April 8-12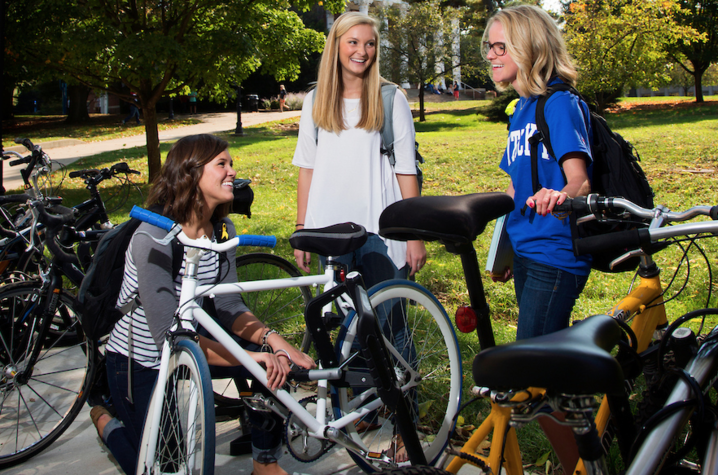 LEXINGTON, Ky. (April 2, 2019) — Are you prepared for fun on two wheels? The University of Kentucky's eighth annual Bike Week begins on Monday, April 8. This year's event is jam-packed with pedal-friendly activities, opportunities for free bike maintenance and giveaways.
"UK Bike Week is a time when we can dig into and enjoy the bicycling culture at UK," said Sandra Broadus, UK Transportation Services' alternative transportation manager. "It's early spring, so people are beginning to ride in force on campus and this week provides us a great opportunity to highlight the importance of bikes at UK and to celebrate cycling."
This year, each event attended earns the participant a chance to win one of three great raffle prizes — the more participation, the better the chances! Students and employees who would like to participate in Bike Week activities but who do not own a bicycle can check one out for free at the Wildcat Wheels Bicycle Library or can use an orange Spin bicycle for only $0.50 per half hour. 
Join in for some or all of these activities during UK Bike Week:
Monday, April 8: 10 a.m. to 2 p.m.
Start Bike Week off right by testing your cycling knowledge with Bike Trivia at UK Transportation Services' table in the Gatton Student Center. Enter for chances to win bike-related prizes!
Tuesday, April 9: 3 p.m. to 6 p.m.
It's Tune-Up Time during the annual spring maintenance workshop. This workshop is a perfect opportunity to get your bike in tip-top shape for spring riding and beyond. This free event will be held at Wildcat Wheels, located in the basement of Blazer Dining.
Wednesday, April 10: 10 a.m. to 2 p.m.
Pedal over to the Mining and Minerals Research Building Plaza during UK's Bike to Campus Day. Sample a pedal-powered smoothie and pick up bike-related giveaways. Get an on-the-spot safety check of your ride, courtesy of Wildcat Wheels Bicycle Library and their mobile bike shop.
Thursday, April 11: 6 p.m. to 8 p.m.
Take the scenic route during Tour de Downtown Art, led by Lexington artist and cyclist Brian Connors Manke. This outdoor art adventure starts at the Wildcat Alumni Plaza/Bowman Wildcat statue and will feature many murals on buildings throughout Lexington. 
Friday, April 12: 8 a.m. to 10 a.m.
UK Bike Week wraps up with Breakfast in the Bike Room. Sip coffee and enjoy donuts at the unveiling of the new Indoor Bike Room wall mural. Plus, participate in drawings for prizes; this event will be held in UK's Indoor Bike Room in the Healthy Kentucky Research Building.
UK Bike Week is presented yearly by the UK Bicycle Advisory Committee (BAC) and UK Transportation Services, and are part of the university's ongoing efforts to make campus more bicycle friendly. All Bike Week activities are free. For more information, visit www.uky.edu/transportation/bikeweek.