Summit Unites Educators Committed to Innovation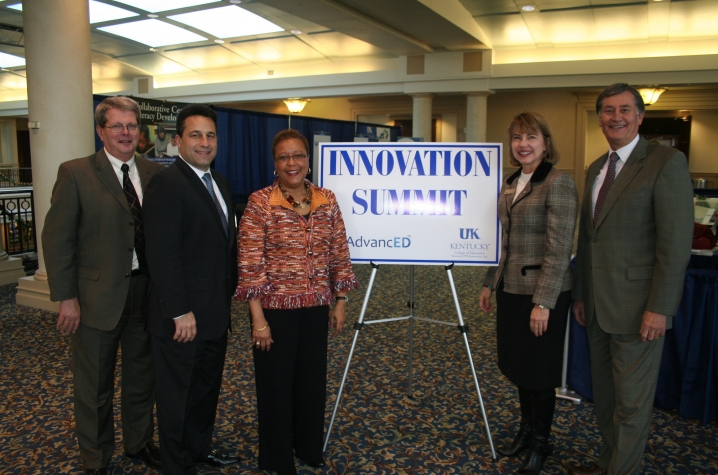 LEXINGTON, Ky. (Nov. 10, 2011) — The 2011 Innovation Summit, Dec. 1 and 2 at the Lexington Convention Center, will allow some of the state and nation's most forward-thinking education professionals to share ideas for creating powerful learning experiences through a strong commitment to excellence and innovation.  The summit will be attended by Kentucky teachers, school and system administrators, college and university faculty, superintendents and board members.
"Innovative frameworks, approaches and opportunities for collaboration from preschool through college are critically important to our educational institutions as well as the future vitality of our state," said Mary John O'Hair, University of Kentucky College of Education dean. "We hope that by bringing education innovators all together from preschool through college we can reduce barriers to preparing all students for success in 21st century careers and global citizenship."
Russell J. Quaglia — widely recognized as one of the nation's leading authorities on student aspirations, student voice, and student engagement — will headline the event. Other national education leaders such as Tom Guskey, highly celebrated for his research and publications in assessment, Scott McLeod, a leading authority on technology integration and leadership, Gene Wilhoit, executive director, Council of Chief State School Officers and a national leader in school and system innovation, as well as Mary John O'Hair, dean, UK College of Education, will present and help lead this year's Summit.  In addition, Robert l. Quick, president and CEO of Commerce Lexington, one of Kentucky's leading voices for quality education, will provide this year's Summit opening.  
The 2011 Innovation Summit is co-sponsored by AdvancED/Southern Association of Colleges and Schools and the University of Kentucky College of Education.
"The Innovation Summit targets the improvement of student achievement and degree completion in all Kentucky schools as well as building leadership capacity to use innovative technologies, knowledge and research to optimize learning and help educators meet the remarkable challenges we face now and in the future," said summit organizer Tom Jones, director of AdvancED/SACS Kentucky.
Breakout sessions will be presented by elementary, secondary and college practitioners who have developed innovative practices and approaches to improve student achievement as well as classroom, school and system effectiveness. The groundbreaking work of the Kentucky Next Generation Learning Projects will be highlighted.
This year's Summit will also feature two pre-Summit workshops on Wednesday, Nov. 30, 2011:
"Managing School and District Improvement and Accreditation Through AdvancED ASSIST."   Presenters: Heather Kinsey, project manager,  AdvancED – Kentucky Department of Education ASSIST Partnership

; Tom Jones, state director, AdvancED/Kentucky; Pamela Gray Prescott, director of quality assurance and review, AdvancED
"Design Thinking: Tools and Techniques to Lead Innovation and Creativity in Your Organization." Presenters: John Nash, director, Laboratory on Design Thinking, UK College of Education P20 Innovation Lab; Dan Gilbert, founder of Learning Innovations, Inc.
Additional information and registration is available by visiting www.advanc-ed.org/kentuckyevents.
MEDIA CONTACT: Jenny Wells; (859) 257-5343; Jenny.Wells@uky.edu