A Conversation With John Legend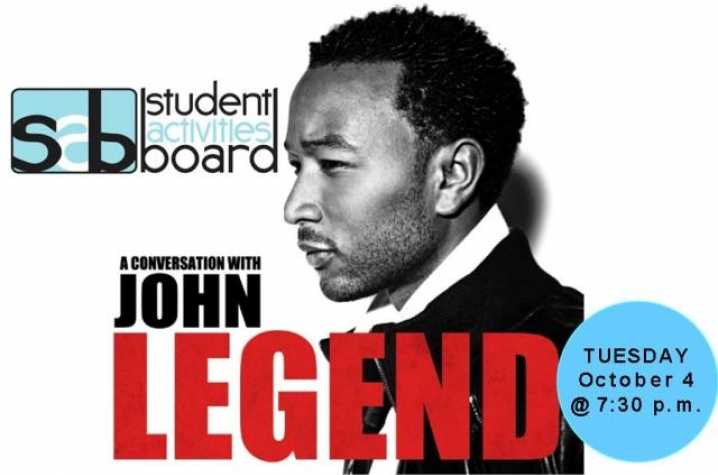 LEXINGTON, Ky. (Sept. 26, 2011) – Come join John Legend as he speaks about his journey to ignite social change around the world at 7:30 p.m. Tuesday, Oct. 4, in the Singletary Center For The Arts. This event is sponsored by the Student Activities Board.
Legend is a Grammy award-winning musician who speaks on social activism. His topics cover reforming public education in America to eradicating poverty, and he challenges students to make a positive impact in the world. After reading the book "The End of Poverty," Legend was inspired to visit Ghana to learn more about making life better for others. This is when his philanthropic mission began and when he started The Show Me Campaign in 2007, a campaign calling his fans to help him in his initiative for those who live in Bossaso Village, Somalia.
Since then, Legend has played a key role in Gap's (Product) Red campaign, GQ Magazine's The Gentlemen Fund and has been honored with many awards and recognition for his philanthropic work. Legend has been recognized several times for his activism; among his honors received are the 2010 BET Humanitarian of the Year award, the 2009 CARE Humanitarian Award for Global Change and the 2009 Africare's Bishop John T. Walker Distinguished Humanitarian Service Award.  
"It's not every day students get to spend time in an intimate setting with one of the most distinguished voices in music today," said Sarah Jones, director of SAB Engaging Issues Committee. "This is truly a once-in-a-lifetime opportunity. John Legend has such a heart for philanthropy; he is a stellar example for students to admire and to follow."
UK students, faculty and staff can pick up a free ticket with a valid UK ID at the Singletary Center ticket office weekdays 10 a.m. to 5 p.m.
  General public tickets are $10.  Contact the SCFA ticket office at (859) 257-4929 or email summer.gossett@uky.edu for more information. 
The Student Activities Board brings more than 100 entertaining, educational and enriching programs that are reflective of contemporary issues and trends to the University of Kentucky annually.  These programs are designed to enhance the college experience for students, faculty, staff and the greater Lexington community.
Connect with SAB at http://www.uksab.org, follow on Twitter at http://twitter.com/UKSAB or like SAB on Facebook at http://www.facebook.com/UKSAB. For more information about SAB and SAB events, contact publicrelations@uksab.org or text a question beginning with SABQ, followed by your question or comment, to 411-247.
MEDIA CONTACT: Katy Bennett, katy.bennett@uky.edu or (859) 257-1909