King Library Press Fall Book Arts Weekend to Showcase Work of Victor Hammer, Larkspur Press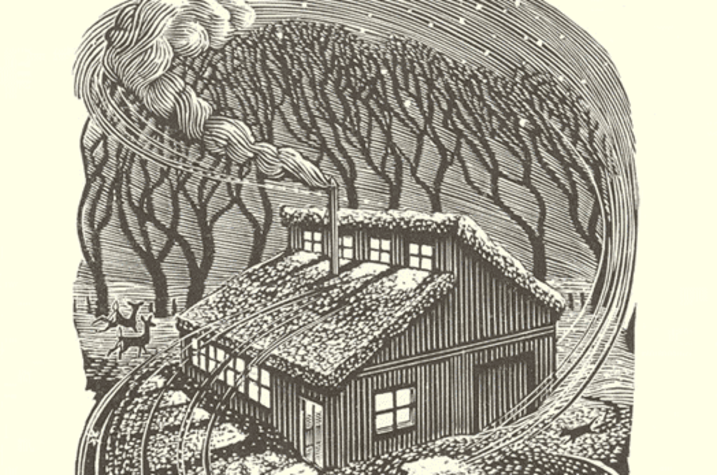 LEXINGTON, Ky. (Sept. 27, 2019) — Join the King Library Press for its 2019 Fall Book Arts Weekend featuring Larkspur Press and the typefaces of Victor Hammer. Paul Evans Holbrook, director of the press and author of an upcoming biography on Hammer, will present the free public lecture "The Uncial Typefaces of Victor Hammer" beginning 7 p.m. Friday, Oct. 4, in the Great Hall of Margaret I. King Library Building. The following morning, Gray Zeitz, of Larkspur Press, will give a workshop beginning 8:30 a.m. Saturday, Oct. 5.
Victor Hammer (1882-1967) was an artist and craftsman of exceptional range and abilities, a master of every medium in which he chose to work. Although primarily a portrait painter, Hammer drew in silverpoint and excelled in the arts of metal engraving, woodcut and the art of the mezzotint. As a master artisan, he crafted furniture, including two clavichords and worked in gold and other metals. As an architect he built and appointed a small stone chapel in Alsace, France, while writing about aesthetics, art theory and architecture.
Born in Vienna, Hammer emigrated to the United States after World War II, teaching for a decade at Wells College in Aurora, New York, and then at Transylvania College (now University) in Lexington. In the Bluegrass, he continued to work as an artist, typographer and teacher. His Florentine wooden common press is still in use today at King Library Press, which was founded in 1956 by his wife Carolyn, a librarian at the University of Kentucky.
Paul Evans Holbrook has taught philosophy and comparative religion at the University of Kentucky and ethics at Midway College (now University). He was an apprentice in the mid-1970s at King Library Press under Carolyn Hammer's direction, as well as at the Stamperia del Santuccio ("The Press of the Little Saint") and The Anvil Press. Holbrook, bibliographer to the Hammer estate, has directed King Library Press since 1988.
Holbrook's talk is the second lecture about Hammer's work as a typographer, completing a yearlong celebration of the 70th anniversary of his arrival in Lexington and his subsequent impact on the book arts in the Bluegrass and beyond.
Festivities continue the following day at King Library Press with a Larkspur Press Workshop with its founder, Gray Zeitz. Participants will collaborate with Zeitz, working at several presses to produce a portfolio of wood engravings by Wesley Bates, Laura Lee Cundiff, John Lackey and Joanne Price, chosen from Larkspur Press publications. Zeitz will also conduct a tour of an exhibition honoring his work at Larkspur Press on display in King's Great Hall through December.
Advance registration is required for the workshop with Zeitz. Cost for the workshop is $45, with a discount for students. The number of participants is limited. Call 859-608-9623 to reserve a space, and for further information about the workshop.
For 45 years, Zeitz has been printing books and broadsides at Larkspur Press in Monterey, located in Owen County, Kentucky. He began Larkspur in 1974 by editing and designing a volume of poems by future Kentucky Poet Laureate Richard Taylor. This publishing effort culminated in 1975 in the appearance of the first Larkspur Press book, "Bluegrass."
Zeitz began working with typography as an apprentice at King Library Press. Working there with Carolyn Hammer, he learned the skills of fine hand work and typographic design.
King Library Press is devoted to the tradition of fine printing and produces books and broadsides. Typesetting, printing and binding are all done at the press and there are opportunities for apprentices. The press, part of UK Libraries Special Collections Research Center, is located in the basement of the King Library Building.
The Special Collections Research Center at UK Libraries sustains the Commonwealth's memory and serves as the essential bridge between past, present and future. By preserving materials documenting the social, cultural, economic and political history of Kentucky, the center provides rich opportunities for students to expand their worldview and enhance their critical thinking skills. Special Collections Research Center materials are used by scholars worldwide to advance original research and pioneer creative approaches to scholarship. UK Libraries Special Collections Research Center is the Archives, the Louie B. Nunn Center for Oral History, the King Library Press, the Wendell H. Ford Public Policy Research Center, the Bert T. Combs Appalachian Collection, the John G. Heyburn Initiative and ExploreUK.