Listen to Renowned Kentucky Authors While Giving Back to Big Blue Pantry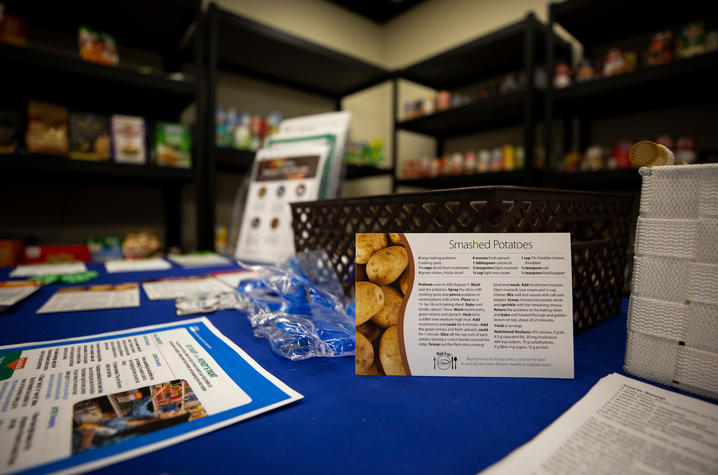 LEXINGTON, Ky. (Nov. 18, 2019) — Tis' the season of giving. If you're looking to support a worthy cause, you can help restock the Big Blue Pantry ahead of Thanksgiving. And, you can do so while enjoying an evening with some of Kentucky's most renowned authors.
On Thursday, Nov. 21, the Department of English in the UK College of Arts and Sciences, will host Wildcats Read for Food. Students, faculty, staff and community members are invited to listen as notable authors with strong ties to the UK community read aloud from their work.
"There's a long history nationally of creative writing programs holding benefit readings, and so I thought we should have one at UK — especially since Big Blue Pantry offers a much-needed service during this time of year," Julia Johnson, English professor, poet and organizer of Wildcats Read for Food, said. "We're providing a bit of entertainment, while encouraging everyone to give to a worthy cause."
The benefit will feature the presenters listed below.
Jonathan Allison
Devine Carama
Michael Carter
Ansel Elkins
Julia Johnson
Bobbie Ann Mason
Andrew Milward
Gurney Norman
Hannah Pittard
Richard Taylor
Mary Ann Taylor-Hall
Frank X Walker
The event is free, but attendees are encouraged to bring a $5 donation or a food item.
Due to limited access to food, many students fight hunger at the expense of their health and grades. According to their mission statement, the Big Blue Pantry strives to provide awareness and support for food insecure students on UK's campus.
"At a university who strives to open new opportunities for students from all backgrounds, Big Blue Pantry is proud to serve as a link for those who would otherwise not be able to follow their passions," Izzy Thomas, student director of the pantry, said. "We are able to do this because of amazing donors like the English department and are so excited to be able to co-host this event."
"Student activists made it abundantly clear last year that hunger was one of the real problems at UK. The president responded to their real needs and demands, but this is a way the faculty and the entire UK family can also pitch in to help," Frank X Walker, English professor and poet, added.
Wildcats Read for Food is open to the public and will begin at 6 p.m. in the Worsham Theater in the Gatton Student Center. Immediately following the readings, talented MFA students will host an open mic event on the Social Staircase.
For more information on how to donate to the Big Blue Pantry, you can visit their website.