NYT Best-selling Author Beth Macy to Speak at UK on Opioid Addiction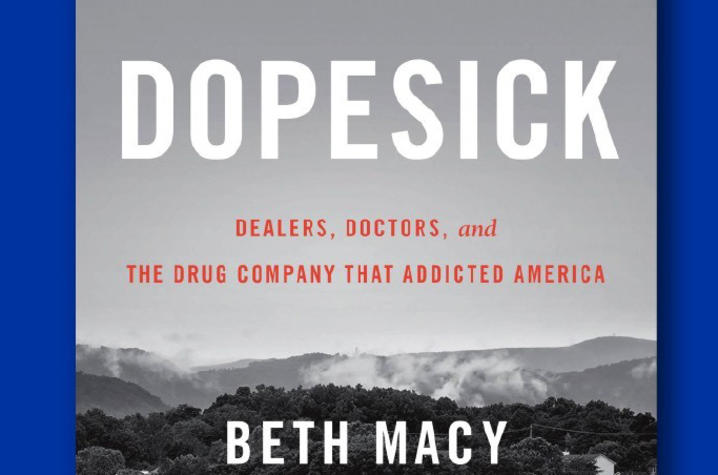 Lexington, Ky. (March 14, 2019) — The University of Kentucky will welcome Beth Macy, an American journalist and New York Times best-selling author, to campus later this month. She is the author of "Dopesick," her widely recognized book that follows the devastating opioid crisis in America, specifically in central Appalachia.
Macy will give the keynote address during the Fulbright Visiting Scholar Enrichment Seminar: Combating Addiction, March 20-23. Macy's presentation is open to the public and will take place at 8:30 a.m. Thursday, March 21, in the Gatton Student Center's Worsham Cinema.
From large cities to small towns, "Dopesick" tells a heartbreaking trajectory that illustrates how this national opioid epidemic has persisted. The book was shortlisted for the 2019 Andrew Carnegie Medal for Excellence in Nonfiction. UK has become a national leader in battling the opioid crisis, and Macy's visit as well as the entire seminar reinforces the university's efforts in this critical area.
Macy also writes essays and op-eds for the New York Times. She has written for magazines, radio and online journals from various locations, including a mobile home in Bassett, Virginia and a crowded cholera ward in Limbe, Haiti.
The International Center, in cooperation with the Institute of International Education (IIE) and the U.S. Department of State's Bureau of Educational and Cultural Affairs, is hosting the prestigious seminar, which will bring 90 scholars from around the world to UK for a holistic intensive program. The goal is to address various aspects of addiction including interdisciplinary research, education, clinical and community outreach practices relating to substance use disorders and recovery.
UK is increasingly recognized as a center for innovative multidisciplinary approaches to treatment. Addiction is not simply a local, regional or national problem — it is a global issue — and the U.S. Department of State and IIE recognize that UK, as a globally engaged research institution with a land-grant mission, is uniquely positioned to host the event.
Fulbright visitors will exchange ideas with key researchers and other experts, bringing a comparative context to the cutting-edge work being done at UK and in Kentucky. 
Beth Barnes, professor in the UK College of Communication and Information and co-organizer of this event, believes the seminar will sharpen Fulbright Scholars' ability to examine the crisis of addiction "through the lenses of medicine, social constructs, policy, government and the legal system and NGO interventions."
"UK has a number of research, intervention and treatment programs in place and in development seeking to address varied aspects of addiction," Barnes continued. "Visiting scholars will have the opportunity to learn more about the programs UK has to offer and consider how they can apply aspects of these back at their home institutions."
"This program gives Fulbrights from all over the world and currently visiting and working in universities all across the U.S., an opportunity to network with one another, see a different part of the U.S. and experience a different regional culture and learn about a critical current issue in a uniquely interdisciplinary context," Tim Barnes, executive director of international partnerships and research in the UK International Center, added.
Scholars will also visit several locations around Lexington such as the Mayor's office, Chrysalis House, Keeneland Race Track, Kentucky Horse Park and the Healthy Kentucky Research Building. These visits will provide an immersive experience for better understanding the context of research.
The seminar events listed below are open to the public:
8:30 a.m., March 21, Gatton Student Center Worsham Cinema: Keynote Plenary Address by Beth Macy, journalist and bestselling author, who addressed America's 20-plus year struggle with opioid addiction in her latest book, "Dopesick: Dealers, Doctors, and the Drug Company that Addicted America."  
Following the keynote, attendees will be given the opportunity to purchase the book and meet Macy.
 ​11 a.m.-noon, March 21, Gatton Student Center Worsham Cinema: Screening of the documentary: "The Narcotic Farm"
In this award-winning documentary, former inmates at America's first prison for drug addicts tell a fascinating and untold story of jazz, human drug testing and secret CIA research. From 1935 until 1975, almost every American junkie busted for dope went to the United States Narcotic Farm in Lexington, Kentucky, an ambitious government center dedicated to finding a cure for addiction. This film tells the story of this fascinating institution through rare photographs and film, forgotten press clippings, revealing government documents and historically significant new interviews with prisoners, doctors and guards who were there.
  9-10:30 a.m., March 22, Gatton Student Center Worsham Cinema: Plenary Session by John C. Tilley, secretary of the Kentucky Justice and Public Safety Cabinet, who will be speaking on "Public Policy, State and Federal Intervention Approaches to Combating Addiction."
The Fulbright Program is the flagship international educational exchange program sponsored by the U.S. government and is designed to build lasting connections between the people of the United States and the people of other countries. Over the past decade, more than 50 UK faculty members have been awarded Fulbright grants to teach and conduct research in 33 different countries and more than 30 visiting Fulbright scholars from around the world have chosen the University of Kentucky and Lexington as their home away from home.
For more information on Fulbright opportunities click here.
On March 28, the Office for Institutional Diversity will also host a related talk on the issue of opioid addiction in America by Sam Quinones, journalist and author of the book, "Dreamland."  This event is open to the public and will begin at 10 a.m. in the Gatton College of Business and Economics.