Third Annual Boomslang: A Celebration of Sound and Art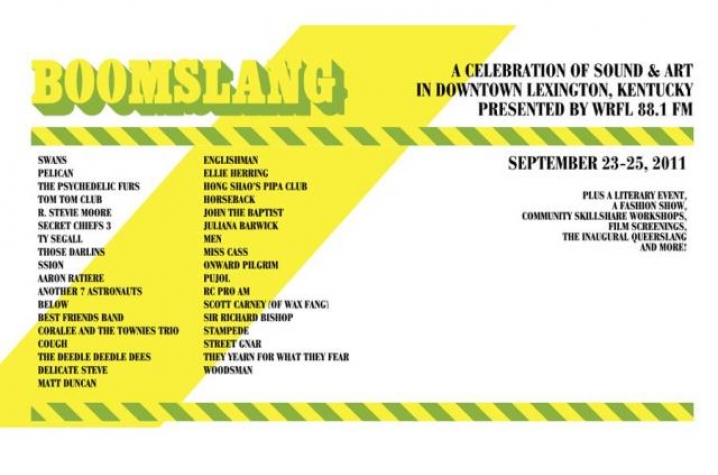 LEXINGTON, Ky. (Sept. 22, 2011) – Tickets are now on sale for WRFL's third annual Boomslang Festival, a three-day, multi-venue music and arts extravaganza scheduled for Sept. 23-25, 2011, at various Lexington venues. Weekend passes are available for $40 for University of Kentucky students and $50 for the general public. Single day passes are also available for each of the three days. Tickets are available in person at the UK Student Center ticket office, by phone at (859) 257-TICS or online at www.boomslangfest.com.
The weekend pass provides admission to all of the weekend's festivities, including concerts from New York avant-rock legends Swans, Chicago instrumental rockers Pelican, San Francisco garage-rocker Ty Segall and the British new wave group The Psychedelic Furs. Other artists confirmed for this year's lineup include Secret Chiefs 3, Tom Tom Club, Sir Richard Bishop, Julianna Barwick, Cough, Horseback, SSION and Woodsman, as well as local and regional talent. The final line-up can be found here.
Additional Boomslang events include the Lexington Fashion Collaborative's haute couture art installation; community "skill share" workshops; Stars with Accents: A Literary Celebration, in conjunction with the Kentucky Women Writer's Conference; and the inaugural Queerslang Festival, a series of concerts, film screenings, presentations and other events.
WRFL, University of Kentucky's student-run radio station, celebrates 23 years of independent music in 2011. With our recent power upgrade to 7,900 watts, our coverage area now includes Georgetown, Frankfort, Versailles and Stamping Ground, as well as Lexington. WRFL broadcasts live 24 hours a day, 365 days a year, managed by a student-run staff and a host of community volunteers. For those outside our listening area, listen online at wrfl.fm.
For more information about Boomslang, contact Jon Finnie at pr@boomslangfest.com or by phone at (859) 317-0080.