UK Advising Network Hosts Winter Breakfast and Honors Local Nonprofit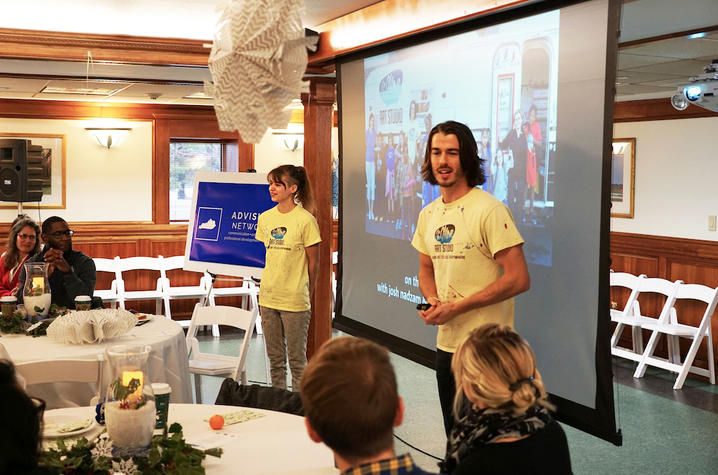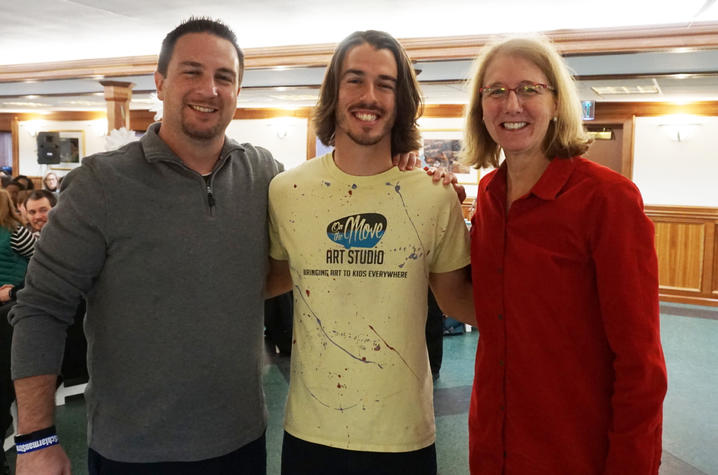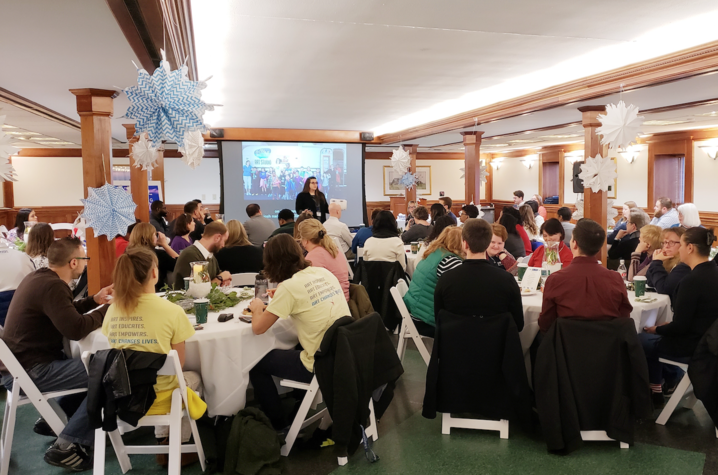 LEXINGTON, Ky. (Dec. 18, 2018) — Last week, the University of Kentucky Advising Network hosted its annual Winter Breakfast and Social. This event allows members of the network to come together to recognize outstanding achievements in advising, connect with colleagues across the campus and give back to the local community.  
"The Winter Breakfast is a highly anticipated event that plays an important role in building bonds and strengthening the advising community at UK," said Alycia Tidrick, Advising Network communications coordinator. "The Advising Network Winter Breakfast is an annual event that fosters a sense of camaraderie and presents an opportunity for networking among advising professionals on UK's campus."
Each year, the Advising Network honors a local nonprofit organization at the Winter Breakfast to highlight its impact and importance in the community. This year, they chose to celebrate the work of Josh Nadzam, co-founder and director of On the Move Art Studio, an organization that is making an immense impact in the Central Kentucky area. 
"As advising professionals we recognize the value and importance of connection, advocacy, and support both on-campus and in the larger Central Kentucky community," Tidrick said. "The UK Advising Network relies on donations and the generosity of others to acquire the resources necessary to achieve our goals. In that spirit, attendees at the Winter Breakfast are encouraged to donate art supplies or make a monetary donation to benefit On the Move Art Studio. We want to promote and support other organizations that are committed to service and community development."
Not only is Nadzam an avid member of the local community, he is also a part of the Big Blue family. UK alumnus and faculty member, Nadzam worked closely with UK advisors during his undergraduate studies, crediting his advisors with his scholarly achievements, truly bringing his life full circle.
"The advisors I had at UK were so astounding and so vital to my success as a student and as a young adult. Specifically, Amy Luchsinger and Mike Pirrman," Nadzam said. "It sounds cliché to say but with their efforts they were planting the seeds in me that later allowed me to blossom into a successful UK graduate. I'll always be grateful for their benevolent souls."
Inspired by his childhood, his time spent at UK and his career, at an early age he knew that he wanted to make a difference in the community and in the lives of children. Through his life experiences, Nadzam discovered how we could make it happen and put his dreams into motion. 
"I grew up in a really bad neighborhood that was full of drugs, crime and poverty. I experienced a lot of terrible things as a child and as a result, a dream of mine was to start a nonprofit to help kids who grew up like me," he continued. "As a social worker, I started to understand the impact art could have on at-risk youth and then I met Kathy Werking, the other co-founder of On The Move Art Studio, and we shared the same vision of using the arts to connect with low-income children."
Realizing that transportation can often be a barrier for those in need of resources, Nadzam and his co-founder had the idea of bringing the resources directly to the children. In 2013, the two purchased a vintage trailer named Arthur and launched a Kickstarter to raise donations to renovate the trailer and make it into a mobile art studio. With over 140 volunteers and thousands of dollars raised, the team was able to transform the trailer into the studio that they dreamed of. On Sept. 10, 2015, Arthur was officially up and running and ready to serve the community.
"At the very least, we hope to give kids something to do," Nadzam said. "At the very most, we hope to use the arts to engage, empower and unlock the creativity of the children we serve. We hope to create safe spaces for them to try different things, be exposed to many more different outlets and possible careers, and have something fun to do right in their neighborhood."
Since 2015, the organization has served over 20,000 children throughout Central Kentucky. By identifying the potential in children living in low-income communities, giving them a creative outlet and bringing the opportunities to them, On The Move Art Studio is changing the outcome in the lives of children across the state. With events planned through the year and a second trailer purchased, Nadzam and his team hope to broaden their ability to serve the community. 
Seats in the new trailer can be sponsored by individuals or groups for $250. Moved by Nadzam's story, the UK Advising Network has created a donation drive to sponsor one (or more!) seats. Anyone interested in donating can contact Aaron Vaught, UK Advising Network member services coordinator, at aaron.vaught@uky.edu.
To learn more about On the Move Art Studio, visit their website here.