UK Celebrates National Campus Fire Safety Month With Blazing Demonstration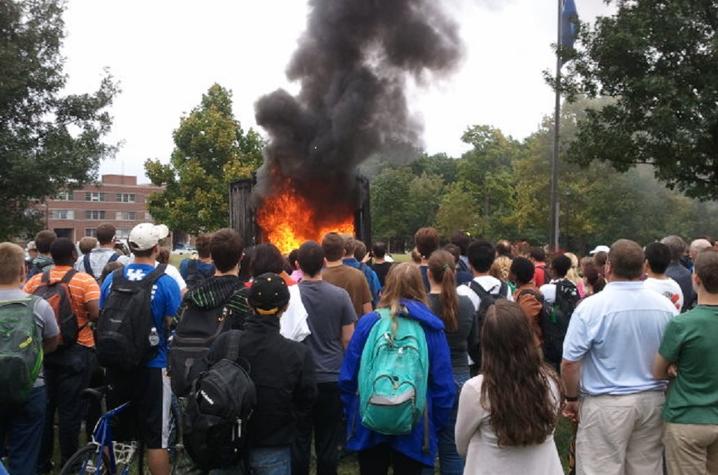 LEXINGTON, Ky. (Sept. 8, 2017) — The University of Kentucky Fire Marshal's Office kicks off its annual fire safety campaign during the month of September with several events planned including a dramatic demonstration of how quickly a fire can start in a residence hall room.
Now in its 14th year, National Campus Fire Safety Month is recognized during September at college campuses throughout the country. This year's theme is "Don't Wait Around When The Fire Alarm Sounds!".   
"Fires double in size every 30 seconds to one minute," says University of Kentucky Fire Marshal Greg Williamson.  "Reaction is critical for survival in a fire situation.  The fire alarm is your first line of defense against a deadly situation, and your quick response to an alarm sounding can mean the difference between life and death." 
Although fire safety is highlighted during September, the UK Fire Marshal's Office is responsible for maintaining a fire safe campus and actively engaging in fire prevention and life safety throughout the year.
"Higher education has lost 126 people in campus-related fires across the nation (Center for Campus Fire Safety) since January 2000," said UK Assistant Fire Marshal Jason Ellis. "September Campus Fire Safety Month is the springboard for which our office introduces new fire prevention training and fire safety programs throughout campus in an effort to prevent a fire incident from occurring."
"Lessons taught are lifelong lessons," Williamson said. "They apply to everyday situations and not just here on our campus."
The UK Fire Marshal's Office will conduct several events on campus throughout September, including an event from 10 a.m. to 2 p.m. Thursday, Sept. 21 (NOTE:  This is a different date than when the story first published.  Event date changed due to expected rain), at the Woodland Glen/Hilltop area across from The 90.  In addition to offering fire extinguisher training, cooking safety advice, fire safety tips and a free T-shirt giveaway, the Fire Marshal's Office will conduct a fire demonstration around 11:45 a.m.
"We literally build a room to the same specifications of a typical resident hall found on our campus using the same building construction materials and furniture.  We introduce a small flame to it and let students watch it develop until it is free burning," Ellis said.  "It shows how quickly a dangerous situation can develop and stresses the importance of reacting immediately and evacuating a building if a smoke detector or fire alarm sounds.
"The room is completely involved in fire in about three minutes, but the smoke produced from the fire makes the room untenable in about one minute.  Even with two fire stations on either side of our campus and an average response time in 4-5 minutes from, you are looking at a dangerous fire situation if you do not respond and evacuate the building."
Wednesday's event will also include the UK Police Department's division of Crisis Management and Preparedness in recognition of September also being National Preparedness Month.
The UK Fire Marshal's office conducts fire safety training, evacuation and fire drills, and offers free fire extinguisher training for all UK and community constituents.  They are also responsible for fire and life safety inspections for all UK facilities, code enforcement, and plan review for all construction projects up to $1 million. 
For more information about UK's schedule of fire safety events, upcoming fire drills and classes, fire safety tips, and fire extinguisher training throughout the year, visit the UK Fire Marshal's website at http://ehs.uky.edu/fire; follow them on Facebook and twitter @ukfiremarshal; or contact Jason Ellis at jasomellis@uky.edu and at 257-6326.