UK Equine Farm and Facilities Expo to be Held May 30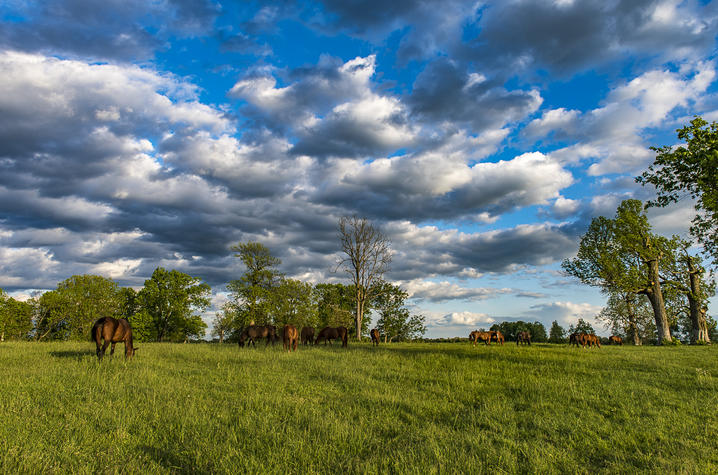 LEXINGTON, Ky. (May 7, 2019) — University of Kentucky Ag Equine Programs will host its annual Farm and Facilities Expo from 3:30 - 8 p.m. EDT Thursday, May 30, at Olive Hill Sporthorses, located at 4746 Huffman Mill Pike, in Lexington. The event is free and open to the public. A meal will be provided for those in attendance.
Farm managers and horse owners alike will have the opportunity to explore visitor booths and see displays for every aspect of horse farm management. Speakers will provide educational talks about harnessing on-farm solar potential, overseeding damaged pasture, weed control on horse farms and utilizing hay feeders to reduce waste.
"With all of the rain in 2018, pastures are likely to be thin and damaged. Part of this program will be focused on what horse owners and managers can do to help pastures recover and prevent that type of damage in the future," said Ray Smith, forage extension specialist with UK's College of Agriculture, Food and Environment.
Olive Hill Sporthorses offers a sales and training program and is owned and operated by UK College of Agriculture, Food and Environment alumni Brian and Diana Conlon. The facility also hosts the UK Equestrian Team, hunt seat division.
"Brian and Diana have a unique facility that horse owners of all types will enjoy seeing," said Krista Lea, research analyst and coordinator of the UK Horse Pasture Evaluation Program. "It's the perfect setting for this program, which draws an excellent crowd every year."
While not required, an RSVP is appreciated for food planning purposes. Please email DL_CES_Fayette@email.uky.edu or call the Fayette County Extension office at 859-257-5582 to register.