UK Health and Wellness Hosts 5K for All: Faculty, Staff, Students, Families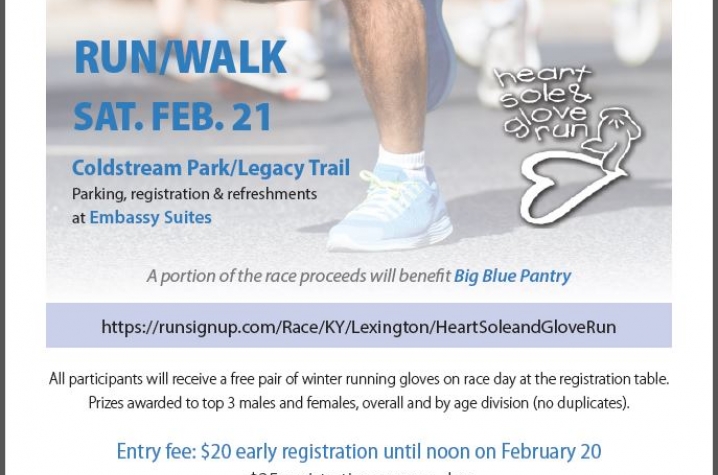 LEXINGTON, Ky. (Feb. 2, 2015) — UK Health and Wellness' upcoming community-wide 5K may be in chilly February, but participants feel the warmth through "heart, sole and gloves."
All participants receive a free pair of winter gloves.
This annual event is scheduled to take place at 10 a.m. Saturday, Feb. 21, on a paved part of the Legacy Trail at Coldstream Park.
"It's easy to see the 'heart' inspired by the Heart Sole and Glove Run/Walk when you've got a 30 or 40 degree day and there's still hundreds of people pumped and ready to go at the starting line," said Jody Ensman, program manager for UK's employee-dedicated Health and Wellness Program. "Every year it's heartwarming to see so many people out there with a desire to get moving and support our community."
A portion of the race proceeds will go to Big Blue Pantry, an organization dedicated to supporting UK students who may be experiencing food insecurity and hunger.
"Everything about this race, including choosing a beneficiary, is first and foremost about supporting health and well-being," said wellness specialist Mario Hughley who coordinates the 5K. "I'm glad this 5K allows us an opportunity to extend our health promotion efforts, which primarily target faculty and staff, to include students and the Lexington community. Through this event, we'll positively impact students who will use Big Blue Pantry and those who will run or walk in the 5K."
Designated as a community-wide event, this 5K is open for anyone to participate including, but not limited to, UK faculty, staff, students, families and retirees.
Unlike other races with a stronger focus on finish times, UK Health and Wellness emphasizes the main goal of this family-friendly 5K is purely about physical activity of any intensity.
"Just being out there and moving is most important – you can choose to run and compete if you want, but many people also opt to walk the whole way or switch between running and walking," Hughley said. "The course is paved and closed to traffic which also makes this a great 5K for first-timers. For seasoned runners, it's perfect for inviting your friends and family to participate in alongside you."
Prizes are awarded for overall top finishers, male and female. Awards are also given to male and female winners by age division, with no duplicates from overall winners. Additionally, all participants will be entered in a post-race drawing to win door prizes.
Registrants will sign in at Embassy Suites, which is where the Legacy Trail course begins and ends. The same-day registration fee is $25 and will be available from 8:30-9:30 a.m. at Embassy Suites. Early bird registration at $20 is available through noon Friday, Feb. 20. Children 10 and under are free. Register here.
For more information, please visit UK Health & Wellness' 5K web page or the 5K event page on Facebook.
MEDIA CONTACT: Sarah Geegan, (859) 257-5365; sarah.geegan@uky.edu