UK, UPK Authors Showcased at Kentucky's Premier Literary Event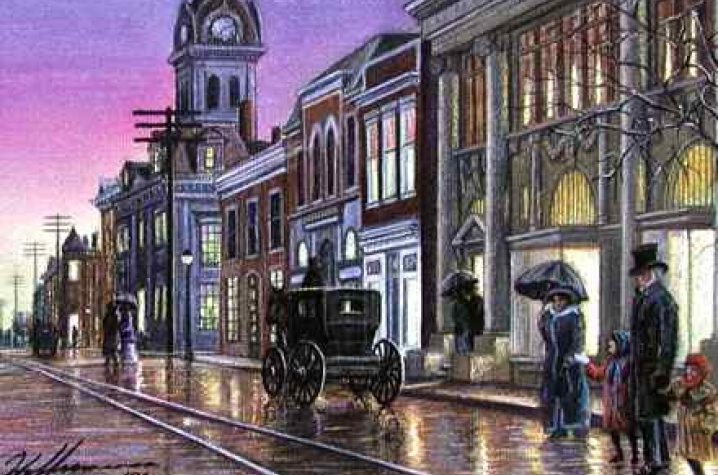 LEXINGTON, Ky. (Nov. 12, 2014) — Now in its 33rd year, the Kentucky Book Fair will be held from 9 a.m. to 4 p.m. Saturday, Nov. 15, at the Frankfort Convention Center. This year's fair will feature around 200 authors showcasing their most recent books including several authors from the University of Kentucky and University Press of Kentucky (UPK).
Sponsored by The State Journal, and co-sponsored by the Kentucky Department for Libraries and Archives, Joseph-Beth Booksellers and UPK, the Kentucky Book Fair attracts thousands of avid readers and patrons from across the country. With many books ranging from regional cookbooks to wartime histories, the fair has a book for everyone with a passion for reading. This year's fair is expected to attract an attendance of between 4,000 to 5,000 patrons.
Founded in 1981, the Kentucky Book Fair is the state's leading literary event. Since its inception, the fair has recognized outstanding Kentucky authors and editors. The largest and oldest event of its kind in the state, the Kentucky Book Fair has three key goals:
· to honor the profession of writing in the form of a one-day celebration;
· to provide a format for authors to meet their reading public; and
· to raise money through the sale of books and donate all profits to mostly school and public libraries throughout Kentucky.
The proceeds benefit libraries which have few resources to expand collections, replace old books or fund literacy-related causes. Those contributions to date total more than $375,000.
Several University of Kentucky faculty, staff and alumni will take part in the fair. The UK authors and their corresponding publications are:
· former College of Agriculture faculty member Valerie Askren and former College of Engineering faculty member J. Thomas Schrodt, "Fly Fishing in Kentucky";
· Professor of Psychology Ruth Baer, "The Practicing Happiness Workbook"; and
· Horticulture Technician Walt Reichert, of Shelby County Cooperative Extension, "Walt's Wisdom: A Kentucky Cornucopia Of Gardening Miscellany."
UK authors published by UPK participating in the Kentucky Book Fair include:
· alumnus and former College of Arts and Sciences faculty member Wendell Berry, "Harlan Hubbard: Life and Work";
· former director of Office of International Programs David J. Bettez, "Kentucky Marine: Major General Logan Feland and the Making of the Modern USMC";
· Patterson School of Diplomacy and International Commerce Senior Lecturer Robert M. Farley, "Grounded: The Case for Abolishing the United States Air Force";  
· Office of Graduate Student Development Assistant Dean Morris Grubbs and co-author Mary Ellen Miller, editors of "Every Leaf a Mirror: A Jim Wayne Miller Reader";  
· Office for Policy Studies on Violence Against Women Executive Director Carol E. Jordan, "Violence against Women in Kentucky: A History of U.S. and State Legislative Reform"; 
· alumna and former College of Arts and Sciences faculty member Bobbie Ann Mason, "Shiloh and Other Stories"; 
· anthropologist and former College of Arts and Sciences faculty member John van Willigan, "Kentucky's Cookbook Heritage: Two Hundred Years of Southern Cuisine and Culture"; 
· Assistant Professor of English Frank X Walker, "When Winter Come: The Ascension of York"; and
· alumna and part-time history instructor Maryjean Wall, "Madam Belle: Sex, Money, and Influence in a Southern Brothel."
As well as being available for signing, Maryjean Wall will participate in a symposium during the book fair to discuss "Madam Belle." She will discuss the life of infamous Lexington madam, Belle Brezing, whose wealth and fame grew alongside the booming popularity of horse racing. Wall uses the story of the Southern madam credited with inspiring the character Belle Watling in Margaret Mitchell's "Gone with the Wind" to explore a wider world of sex, business, politics, and power. The symposium will take place at 12:30 p.m. at Fountain Place, adjacent to the Frankfort Convention Center.
Other authors and editors with recent publications from UPK participating in the fair and their corresponding books are:
· James Archambeault, "Kentucky Horse Country: Images of the Bluegrass"; 
· Doug Brunk, "Wildcat Memories: Inside Stories from Kentucky Basketball Greats"; 
· Berry Craig, "Kentucky Confederates: Secession, Civil War, and the Jackson Purchase"; 
· Louis Hatchett, author of "Duncan Hines: How a Traveling Salesman Became the Most Trusted Name in Food," and editor of Duncan Hines' books "Adventures in Good Cooking" and "The Dessert Book";
· Jane Hicks, "Driving with the Dead: Poems"; 
· Lynn Marie Hulsman, "Bourbon Desserts";
· George Ella Lyon, "Many-Storied House: Poems" and "A Kentucky Christmas";
· William Lynwood Montelll, "Haunted Houses and Family Ghosts of Kentucky";
· Alan Sullivan and Joe Cox, "Voice of the Wildcats: Claude Sullivan and the Rise of Modern Sportscasting";
· Joe Survant, "The Land We Dreamed: Poems";
· Richard Taylor, "Sue Mundy: A Novel of the Civil War"; and
· David Zurick, "Land of Pure Vision: The Sacred Geography of Tibet and the Himalaya."
To hear more about UPK's participation in the Kentucky Book Fair, play the "UK At the Half" interview on the fair at the end of this story. 
In addition to Doug Brunk, Alan Sullivan and Joe Cox, several other authors will be on hand representing books related to UK Athletics. Other authors and books on UK sports are:
· Ryan Clark, "Fightin' Words: Kentucky vs. Louisville";
· Peggy Cullen and Judy Halasek, "Built Blue";
· Dale Due, "You Are a Kentucky Wildcat"; and
· Nathaniel Northington, "Still Running."
UPK is the scholarly publisher for the Commonwealth of Kentucky, representing a consortium that now includes all of the state universities, five private colleges and two historical societies. Led by Director Stephen Wrinn, its editorial program focuses on the humanities and the social sciences. Offices for the administrative, editorial, production and marketing departments of the press are found at UK, which provides financial support toward the operating expenses of the publishing operation.
For more information on the book fair and the featured authors, visit the fair's website, www.kybookfair.blogspot.com. 
MEDIA CONTACT: Whitney Hale, 859-257-8716; whitney.hale@uky.edu