Barnstable Brown Pediatric Diabetes Patients Encouraged by Rising Country Musician
LEXINGTON, Ky. (Dec. 14, 2016) — In his latest hit "Country Cloth," Nashville country music recording artist Ben Rue sings about people from different places finding common ground. The song offers reassurance that everyone experiences similar trials and challenges in life.
"We're all the same 'round here," Rue sings in the chorus. "Just a bunch of kids raised on different blocks but cut from the same country cloth."  
Rue's lyrics rang true to a group of newly diagnosed type I diabetes (T1D) patients and family members who attended his private pop-up concert at the UK Chandler Hospital Dec. 6. With his humble demeanor and welcoming smile, the rising country music star revealed he wasn't so different from the children in his audience.
Diagnosed with T1D at 14, Rue related to the confusion, frustration and lifestyle modification that followed a diabetes diagnosis at a young age. Through music, laughter and storytelling, he encouraged children and families participating in the Barnstable Brown Diabetes Center pediatric diabetes education class to stay positive. Keeping a positive mindset helped Rue overcome insecurity when he was first diagnosed.
"My secret to life is how you look at things," Rue said. "I've learned (diabetes) made me eat healthier and be stronger and fitter and opened a lot of doors as far as partnerships."
Rue told the families that diabetes — although inconvenient at times — wouldn't prevent their children from thriving in life. His diagnosis didn't prevent him from moving to Nashville and pursuing his dream to become a country music artist.
"You can be normal — you can do whatever you want," Rue said. "It's not something that can hold you back."
Rue grew up on an Oregon seed farm as the youngest of three brothers. His mom, a nurse, brought home a diabetes testing kit one night to find out Rue had alarmingly high blood sugar levels. His life took a dramatic turn overnight. Rue said the diagnosis and lifestyle transformation to manage the condition made his transition from middle to high school more difficult. He hid the condition from his peers as much as possible and learned to test his blood sugar in bathroom stalls.
"I just wanted to be normal at the time," Rue said, referring to being diagnosed before high school. "I was joining sports and trying to make friends, and I was already a skinny twig."
Rue visited the new patient group on his way to perform at the Acoustic Jam concert-benefit for Kentucky Children's Hospital. JDRF, formerly known as the Juvenile Diabetes Research Fund (JDRF), partnered with the UK Barnstable Brown Kentucky Diabetes and Obesity Research Center to coordinate the special guest as part of an introductory class for new pediatric diabetes patients. Patients and families attend the class to learn about lifestyle adjustments and resources available to monitor their child's diabetes.
Diabetes is a group of metabolic diseases where the body's pancreas does not produce enough insulin or does not properly respond to insulin produced, resulting in high blood sugar levels over a prolonged period. With T1D, which is often diagnosed in infancy or childhood, the pancreas produces little to no insulin. Patients manage the disease through dietary modification and exercise.
Four-year-old Kellen Sandlin and his family, including multiple sets of grandparents, attended the class and pop-up concert on Dec. 6. Much like Rue's mom discovered his condition by chance, Kellen's mom Heather Schuerman found out about Kellen's T1D diagnosis during a check-up for her 6-month-old. Kellen was lethargic, which was not akin to his personality, and drinking large volumes of water. Her pediatrician took a diabetes test, which showed levels that were "off the charts." Kellen spent time in the KCH pediatric intensive care unit to reduce his blood sugar to safe levels.
Schuerman said her family is committed to the lifestyle adjustments required to ensure Kellen's safety and health. She has eliminated sugary foods like cereal and Pop-tarts from Kellen's living spaces. The entire family shares a diabetes management application on their smartphones so they can check on Kellen's levels at the same time.
While every child's struggle with diabetes is different, Schuerman believes seeing role models, such as Ben Rue, alleviates some of the anxiety caused by a new diabetes diagnosis. She is also grateful for the medical staff and dieticians at Kentucky Children's Hospital who provide resources and knowledge to the family unit, which must adapt with the child who received the diagnosis.
"It's good to look and see what other people are saying," Schuerman said. "It feels devastating at first, but this is easily manageable with knowledge and care."
Roche Diabetes Care is a presenting sponsor of the JDRF Bag of Hope Program, which provides new pediatric T1D patients and their families with management resources. Rue partners with Roche Diabetes Care as an Accu-Chek Advocate.
JDRF is the leading global organization funding type 1 diabetes (T1D) research. Its mission is to accelerate life-changing breakthroughs to cure, prevent and treat T1D and its complications. To accomplish this, JDRF has invested more than $2 billion in research funding since its inception. For more information, visit jdrf.org.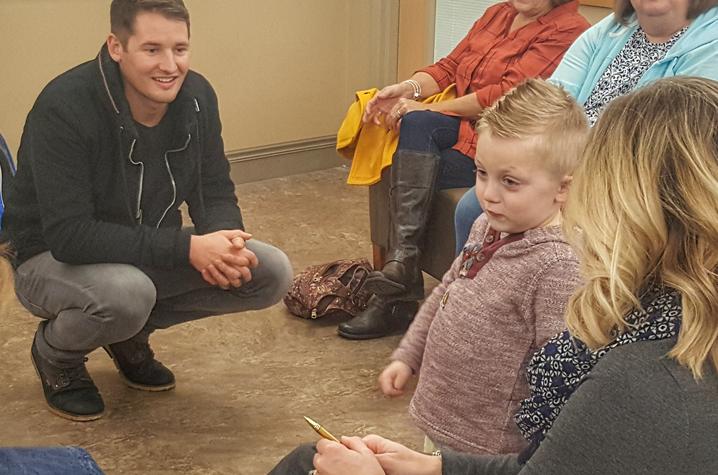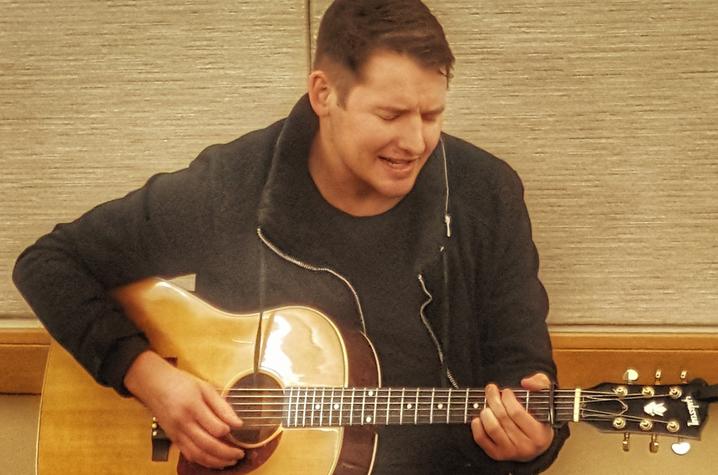 UK is the University for Kentucky. At UK, we are educating more students, treating more patients with complex illnesses and conducting more research and service than at any time in our 150-year history. To read more about the UK story and how you can support continued investment in your university and the Commonwealth, go to: uky.edu/uk4ky. #uk4ky #seeblue