Cancer, COVID and the Kentucky Economy: How 'Sweet Annie' Could Make an Impact
LEXINGTON, Ky. (Aug. 11, 2020) — With the morning sun rising in the sky at the University of Kentucky's sprawling Spindletop Farm, Patrick Perry is in high spirits, smiling behind his reflective shades as his tractor roars to life. His student workers, UK seniors Chris Bankes and Tyler Miles, take Styrofoam float beds loaded with tiny seedlings of the plant Artemisia annua and attach them to a mechanical transplanter hitched to the tractor. It's just another day at the farm for the crew, taking these freshly sprouted baby plants from the greenhouse to their new home out in the fields.
With its wispy, feathery leaves, the Artemisia annua seedling resembles one of the more lanky herbs you'd find in a backyard garden, like parsley or cilantro. Gently rub its leaves between your fingers, and the aroma it produces would be at home in any candle-making factory – "like a really sweet, minty Christmas Tree," says Perry, research coordinator for the Kentucky Tobacco Research and Development Center (KTRDC), part of  UK's College of Agriculture, Food and Environment. Originating in southeast Asia, Artemisia annua has been used as a medicinal herb for centuries and is commonly brewed as a drink.
But beneath its unassuming appearance, this plant – more commonly known as Sweet Wormwood or even "Sweet Annie" – biosynthesizes two potent malaria-fighting compounds called artemisinin and dihydroartemisinin, discovered in 1970 by Chinese scientist Tu Youyou. The popular malaria drug artesunate was developed from those compounds and is still used as a first-line treatment for the disease today. It was a blockbuster discovery, one that earned Youyou a partial Nobel Prize in Physiology or Medicine in 2015.
Now, researchers in Kentucky and across the world are hoping to build on that once-in-a-lifetime breakthrough: could this little plant also hold the key to treating not only several types of cancer, but the devastating disease that's swept across the globe for the past eight months: COVID-19?
Bringing "Sweet Annie" to Kentucky
Chemists Peter Seeberger and Kerry Gilmore with the Max Planck Institute of Colloids and Interfaces in Germany have worked with Artemisia annua for years, and the team developed an industrial photochemical process to help maximize the amount of artemisinin that can be derived from the plant. This work gave rise to the start-up company ArtemiFlow, which focuses on the production and sale of artemisinin, its derivatives, and medications based on these derivatives.
Using connections through ArtemiFlow USA CEO Adam Maust, Seeberger and Gilmore came to Kentucky in 2017 to meet with tobacco farmers and the KTRDC to explore the possibility of growing Artemisia annua in the state, due to the plants' remarkably similar production processes.
"It became quite clear that they had a lot of experience growing tobacco and were a perfect fit for how we would be using the Artemisia annua plants as drug developers," said Seeberger, who also serves as managing director of the Max-Planck Institute of Colloids and Interfaces. "The KTRDC has gone through the optimization with tobacco, so the optimization of Artemesia annua was in good hands, in my opinion."
As a researcher within the KTRDC, Perry describes his role as the "exploratory guy," looking for both new ways to repurpose tobacco for other uses and to investigate options for potential tobacco replacement crops. He designs, executes and reports back on agronomic field trials for KTRDC, taking his experimental crops from seed to harvest.
"Everything you can imagine we can do with a plant, we can do it here," Perry said.
Artemisia annua was of great interest to Perry, and previous research on the plant showed that it grew well in the states that neighbor Kentucky. Raw seed is planted in a traditional tobacco float bed and grown in a greenhouse for 30 to 35 days. When ready, the seedlings are taken to the field with the mechanical transplanter – the same machine used by tobacco farmers.
The crops grow for an average of 115-120 days, eventually reaching a height of six feet or more before being harvested. Once the plants are cut, they're hung up until completely dried, and the leaves are separated from the stems. From there, the dried leaves may be taken to a lab for extraction and purification to create the drug artesunate, or it may be blended with coffee or tea into a consumable beverage.
In addition to the plot of Artemisia annua at Spindletop Farm, the plant is being grown in larger quantities by two local farmers in nearby Georgetown and Lancaster. Spindletop's harvest is used primarily for research purposes at UK, both within the College of Ag and College of Pharmacy; the farm plots send their yield to the company ArtemiLife, Inc. (an offshoot of ArtemiFlow), where the leaves are used in a line of coffee and tea supplements.  
In other parts of the world, Artemisia annua is grown commercially, but the overall process is relatively primitive, Perry says, and "very labor-intensive." Over the past three years, Perry and the KTDRC have honed the production method, taking care to keep it as close to the process for growing tobacco or hemp as possible. This would allow production to scale up quickly and efficiently should demand for the plant increase. And as the only state currently growing substantial quantities of Artemisia annua, it also means Kentucky could be poised to become the new epicenter for growing the plant worldwide.
"That was really key for us," Perry said. "Because we want our farmers who already have the existing equipment and expertise to be able to take this plant and already feel familiarized with it, so they could successfully grow it themselves using the refined protocols we put together here."
And with a number of new clinical trials using Artemisia annua now underway at UK HealthCare, Perry isn't the only one who's hoping to see a marked need to grow more of the plant.
Fighting cancer with… coffee and tea?
While in Lexington to discuss the collaboration around growing Artemisia annua with the KTRDC, Seeberger also met with Jill Kolesar, Pharm.D., professor in the UK College of Pharmacy and administrative director of the Precision Medicine Clinic at the UK Markey Cancer Center.
"Before this collaboration, I'd never heard of it or knew anything about it," Kolesar said. "My laboratory has a number of anticancer models, and we were able to get the plant extracts from the KTRDC and try them out in our lab. We saw some pretty impressive anticancer activity."
Basic science research showed some of the strongest promise for ovarian cancer, so Kolesar worked with Markey gynecologic oncologist Dr. Frederick Ueland and ArtemiLife to develop a new phase 1 clinical trial for these patients – the first human trial in the world to test Artemisia annua on this disease. Roughly one in every 75 women will develop ovarian cancer, which often isn't discovered until it has spread beyond the ovary. According to 2020 data estimates from the American Cancer Society, the predicted death rate for ovarian cancer is about 64%.
"Ovarian cancer is a difficult disease to treat," Ueland said. "It typically presents in an advanced stage, where survival rates are lower. Our research is focused on early detection, preventing cancer recurrence, and overcoming cancer resistance to standard chemotherapy agents."
The trial will focus on patients who have completed their primary therapy for ovarian cancer, which is surgery and cytotoxic chemotherapy. Participants will spend a month recovering from this initial treatment; then, for the next five months, they'll drink an ArtemiLife coffee or tea up to four times daily – the drinks come in K-cup form – to see if the extracts help prevent recurrence of the cancer. When ovarian cancer recurs, it tends to come back within the first six months, so the trial was designed to try to cover that entire window.
"[The Artemisia annua extract] shows a pretty significant cell kill in the lab against ovarian cancer," Ueland said. "And not just the chemo-naïve cells – which are cells that haven't been treated yet – but also cells that have become resistant to standard chemotherapy. That's the exciting part."
In addition to using the blended drinks for cancer research, Kolesar and UK pediatric hematologist/oncologist Dr. Tom Badgett will lead another upcoming clinical trial for pediatric acute myeloid leukemia (AML) using artesunate given in pill form. Survival rates for pediatric leukemias have substantially improved over the decades, but there is a 10-20% chance of recurrence of the disease, which tends to occur within a year or two of the patient achieving remission. Currently, standard of care dictates that these patients are monitored closely for signs of recurrence, but are given no active therapy to help prevent it.
"AML is a similar situation," Kolesar said. "Once a child is treated for AML, they're followed over time to see if their disease recurs. There's no active treatment. But because the adverse effects of artesunate in children taking it for malaria are mild, and basic science work in the lab showed anticancer activity against childhood AML, we had the idea of seeing if it could help prevent a recurrence of that disease."
These two initial studies could be just the tip of the iceberg, Kolesar says. Elsewhere in the U.S., there are other clinical trials looking at cervical cancer treatment using a topical cream made with Artemisia annua. In the lab setting, the plant extract also shows promise against a number of other cancers, including breast, colon and lung – all cancers with higher-than-average incidence and mortality rates in Kentucky versus the rest of the country. With Kentucky ranking first in the nation for both lung cancer incidence and mortality – a disease largely caused by the use of tobacco – a lung cancer trial would be high on the priority list for a next step.
"New drug development is a fascinating part of oncology care; there's no doubt about it," Ueland said. "But to find an agent that could potentially work against cancer, and to have it grown right here in the state as a tobacco replacement crop? That's a really, really exciting possibility."
A potential new tool in the ongoing battle against COVID-19
In 2005, Chinese scientists published findings from their lab studies indicating that Artemisia annua was one of four herbal extracts that showed strong antiviral activity against SARS-CoV, the coronavirus responsible for the SARS outbreak of 2003. Building on that work, Seeberger and Gilmore began lab studies with Kentucky-grown Artemisia annua plants to assess the effects of both its extracts and artesunate against the novel coronavirus, SARS-CoV-2 (the virus that causes COVID-19).
"I was already familiar with the interesting activities of the plants against many different diseases, including a range of viruses," Seeberger said. "We felt that exploring the activity of this plant against COVID-19 was worth the undertaking."
Surprisingly, results showed that the plant's leaves, when extracted with absolute ethanol or distilled water, provided more antiviral activity than the actual drug itself – meaning that an Artemisia annua-blended coffee or tea could possibly be more effective than taking the drug.
"Based on those findings – and that it has a good tolerability profile – we decided to bring it forward for testing in patients who have COVID-19," Kolesar said.
UK HealthCare is launching the first human studies on the efficacy of Artemisia annua against COVID-19 by adding two new arms to its existing innovative "pick-the-winner" clinical trial for experimental COVID-19 therapies, led by faculty from UK's Markey Cancer Center, College of Medicine and College of Pharmacy. Building on the existing partnership with ArtemiLife, the new arms of the clinical trial will test the effectiveness of the plant extract (with blended coffees and teas) and the drug artesunate.
But as the world clamors for any positive news regarding COVID-19 treatments, the researchers exercise caution. While the lab results are promising, Kolesar says that as with any of the potential COVID-19 medications being tested, there's much more work to be done before researchers and physicians could start making recommendations on using the extract or drug derivative.  
"We know it works in the lab, but we don't know if it will work in people with a COVID-19 infection yet," she said. "A lab is very different than a person. That's why it's really important to do these trials."
"One step in a many-step journey"
For those working with Artemisia annua at UK, the excitement around its potential is palpable. The phrase "it's our dream" comes up frequently in regards to the best-case scenario: taking the Kentucky-grown plants from our fields to our labs and then to our patients, all while boosting the state's economy.
"It's still very early in the process, and this is just one step in a many-step journey," Ueland said. "But we're hopeful."
"Hopefully, with the work that we put into this project, we'll be able to offer tobacco producers another alternative to tobacco," Perry said. "And we would like to offer them something that not only could help with their profit margins, but also really make a difference in our community and the world."
For Perry, the project is also personal. As a sixth-generation Kentuckian, the Versailles native is well-versed in tobacco farming, as his father's family grew tobacco for most of their lives. He earned both his degrees from UK – a bachelor's in agriculture biotechnology and master's in integrated plant and soil sciences –  and has used his personal experience and education to carve out a career that continues his family's legacy by "thinking outside the box" when it comes to the Kentucky tobacco industry.
"It's my dream to make this work," he said. "And to be honest with you, I haven't really believed in something as much as I believe in this in a very long time."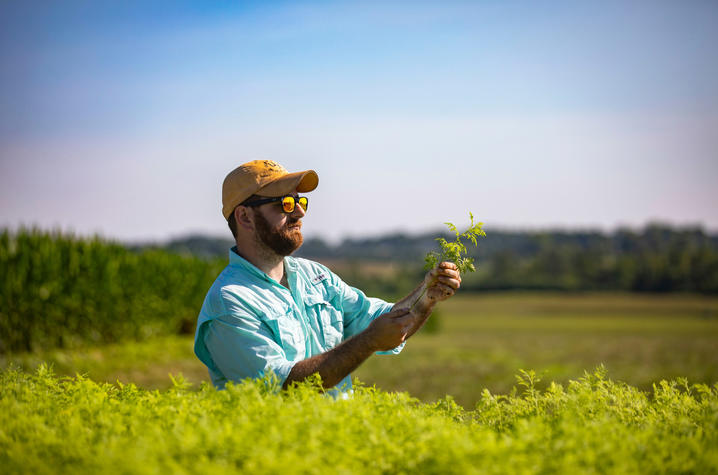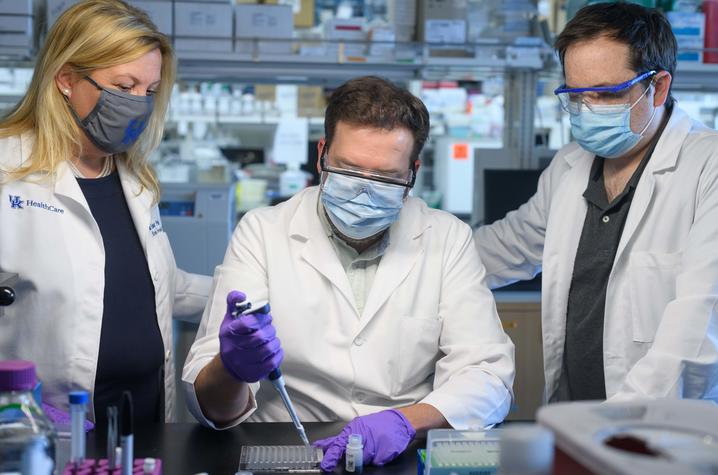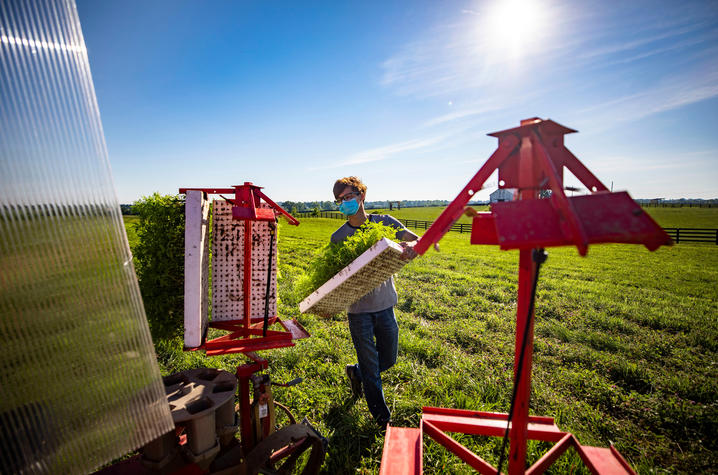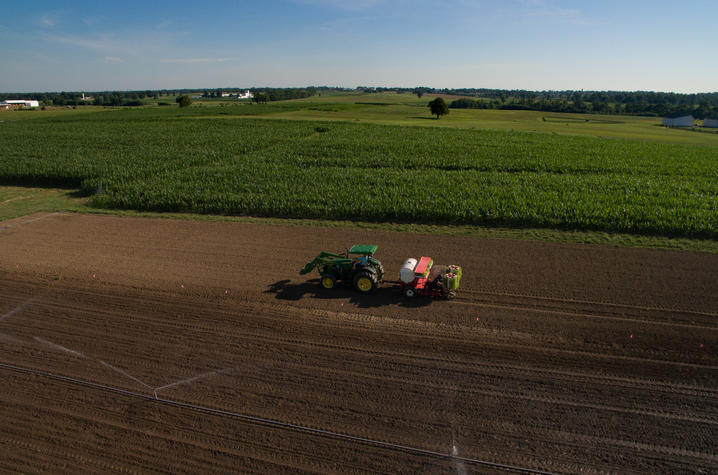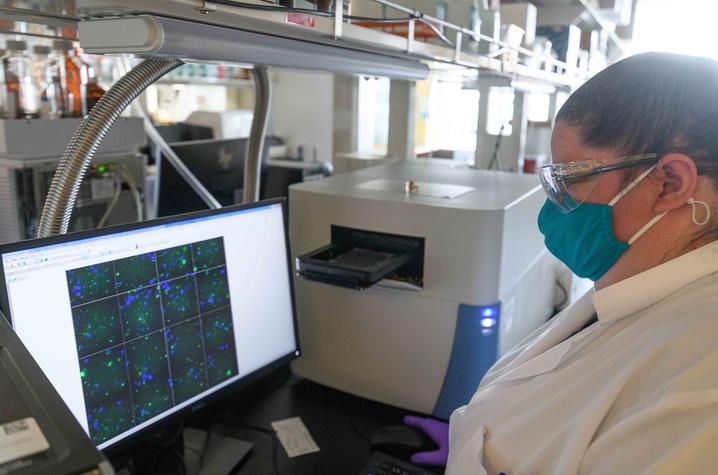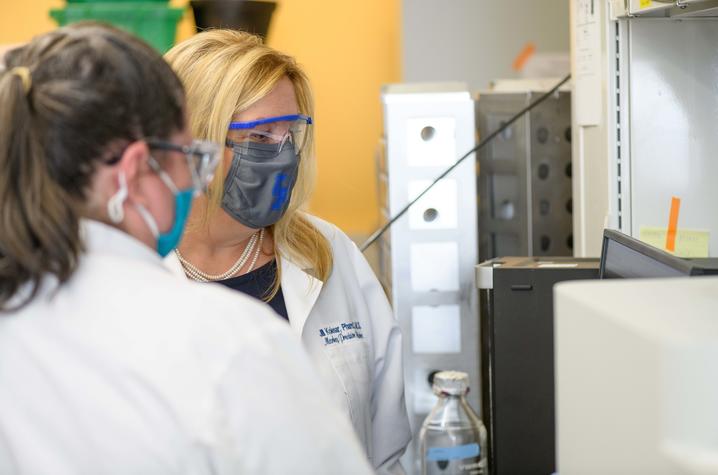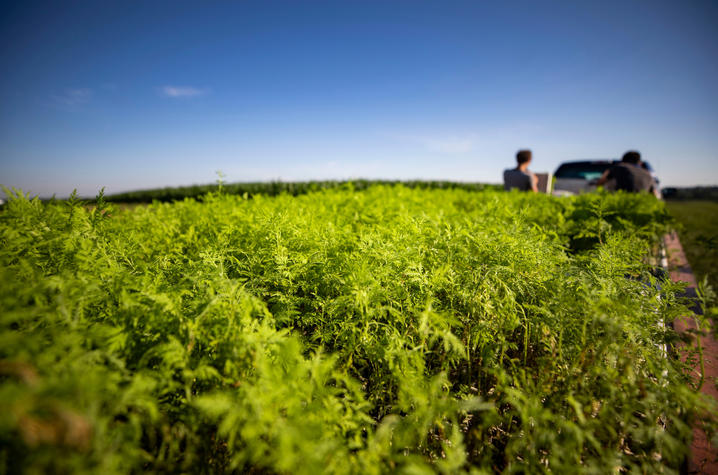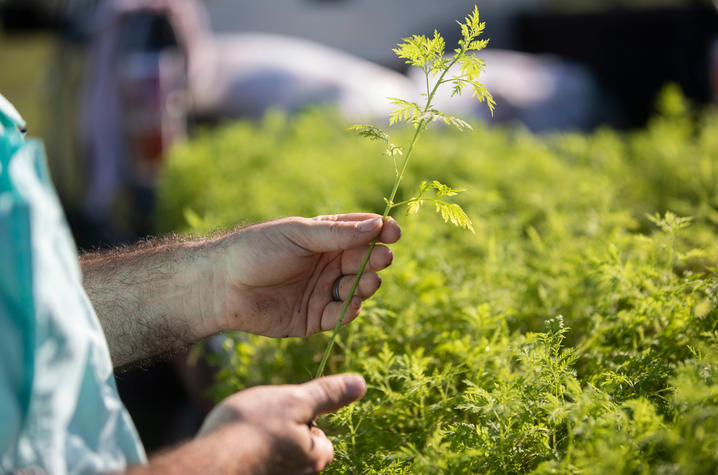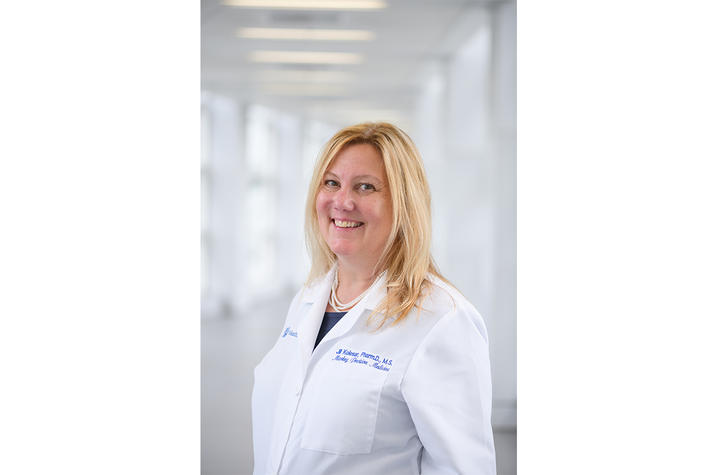 As the state's flagship, land-grant institution, the University of Kentucky exists to advance the Commonwealth. We do that by preparing the next generation of leaders — placing students at the heart of everything we do — and transforming the lives of Kentuckians through education, research and creative work, service and health care. We pride ourselves on being a catalyst for breakthroughs and a force for healing, a place where ingenuity unfolds. It's all made possible by our people — visionaries, disruptors and pioneers — who make up 200 academic programs, a $476.5 million research and development enterprise and a world-class medical center, all on one campus.   
In 2022, UK was ranked by Forbes as one of the "Best Employers for New Grads" and named a "Diversity Champion" by INSIGHT into Diversity, a testament to our commitment to advance Kentucky and create a community of belonging for everyone. While our mission looks different in many ways than it did in 1865, the vision of service to our Commonwealth and the world remains the same. We are the University for Kentucky.