Child Development Center of Bluegrass Monitors Progress of Children in Partnership with Parents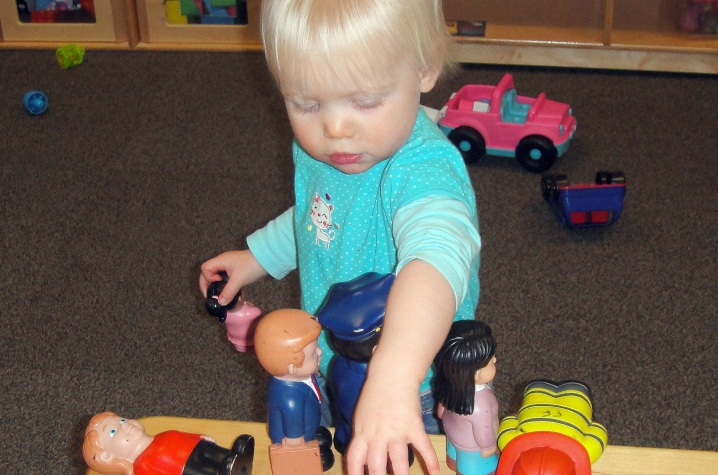 LEXINGTON, Ky. (Feb. 21, 2014) - Summer Davies thought her baby Kate's frequent falls meant the early walker was just a bit clumsy. Little did she know, Kate's recent growth spurt had left her core muscles too weak to support her movements.  
Kate's classroom teachers at the Child Development Center of the Bluegrass noticed the pattern of falls, and consulted a staff physical therapist, who quickly identified the root of the problem and introduced daily exercises to strengthen Kate's core. Within a matter of weeks, Kate was back on target in her physical development. Davies said she might never have detected her child's developmental hitch without the oversight of the staff at the childcare center on Alumni Drive.
"It might not have been caught," Davies said. "We certainly didn't realize it - they caught something that had totally escaped our attention, and we were very surprised."
With a small teacher-to-child ratio and a team of 10 physical, occupational and speech therapists on-staff, the Child Development Center of the Bluegrass provides early childhood education for children with special needs and typically developing children. In the integrative learning environment, typically developing children serve as peer models to those with developmental delays, who make up about one-third of the center's population.
Davies, a social worker for UK HealthCare, and her partner Sarah chose the center for three reasons: its proximity to their workplaces, its reputation for quality care and the comfort of knowing that Kate can receive intervention as part of her normal school day if needed. The Center's staff works closely with parents to provide ongoing assessments of each child's development.
A member of the Teacher Appreciation Committee and the Parent's Club, Davies also appreciates the Center's openness to parent involvement. Teachers send out weekly e-mail invitations for parents to participate in the classroom. Parents can also monitor classroom activities through the Center's online system Teaching Strategies Gold, which posts daily projects and teaching techniques in accordance with each child's level of comprehension.
The Child Development Center offers full-day childcare for children ages six weeks to pre-kindergarten. The Center has attained the highest levels of state and national accreditation levels with Kentucky STARS for KIDS NOW and the National Association for the Education of Young Children. The facility includes 15 classrooms, three therapy gyms, three breakout rooms, a nursing room, a full kitchen and separate toddler and preschool playgrounds, as well as an observation room where parents can monitor their child's behavior from one of six computers.
UK employees are given priority for openings at the center, which accepts the UK employee HMO insurance plan for therapy services. The Center is a year-round program, and to establish continuity of care, children typically stay with the same teacher and peer group for a full year. For more information about the UK Child Development Center of the Bluegrass, visit www.cdcbg.org.
MEDIA CONTACT: Elizabeth Adams, elizabethadams@uky.edu