Distinguished Medical Alumni Honored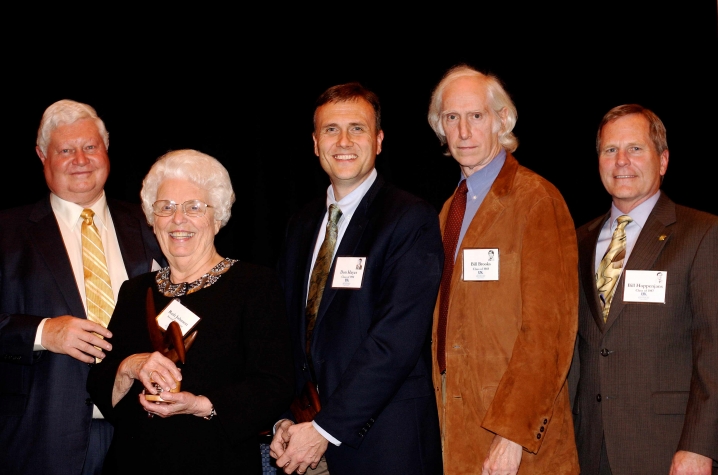 LEXINGTON, Ky. (Nov. 8, 2011) — To celebrate and honor the accomplishments of University of Kentucky College of Medicine alumni, awards were presented to notable graduates at the UK Medical Alumni Association's Leadership Circle Reception on Friday, Oct.28, at the Hilton Lexington/Downtown as part of Alumni Reunion and Family Weekend. These esteemed alumni have demonstrated exemplary service and leadership in areas related to the field of medicine.
Dr. William H. Brooks, a 1969 UK College of Medicine graduate and a 1974 graduate of UK's neurosurgery residency training program, received the Distinguished Alumni Award for his accomplishments in and commitment to medical practice, education and research. Created in 1991, the Distinguished Alumni Award recognizes medical school,  residency/fellowship training alumni for significant contributions in one or more of the following areas: education, practice, community and public service, research, and advocacy.
A Lexington native, Brooks completed his pre-medical and medical training at UK. After completing a one-year surgery internship at New York University's Bellevue Hospital, as well as a one-year elective residency program in neuropathology/immunology at the University of Virginia, Brooks returned to UK to complete his neurosurgery residency in 1974. He has since held positions as the chief of neurosurgery at the Lexington VA Hospital; faculty positions as an assistant professor and clinical associate professor of neurosurgery at UK; team physician for the UK Athletic Department; and chief of surgery for Central Baptist Hospital. Brooks currently serves as a clinical professor of neurosurgery at University of Pikeville College of Osteopathic Medicine; chairman of the Neuroscience Center at Central Baptist Hospital; as well as a partner at Neurosurgical Associates in Lexington.
Brooks has more than 100 published papers and book chapters and has several interests in clinical and basic science research including research in immunobiology of primary intracranial tumors, the treatment of stroke, and clinical cerebrovascular disease. Brooks has remained active in graduate and postgraduate education and mentoring of students. As a testament to his excellence as an educator, physician and researcher, Brooks has garnered awards such as a prestigious Teacher Investigator Award from the National Institute of Neurological Disorders and Stroke and the MED-STAR Physician of the Year in 2008.
Dr. Don Hayes Jr., a 1998 UK College of Medicine graduate, received the Distinguished Young Alumni Award. Created in 2010, the Distinguished Young Alumni Award recognizes alumni 40 and younger for their outstanding professional accomplishments at an early age.
Hayes resides in Columbus, Ohio, and completed his medical training at UK College of Medicine. He completed a residency at the East Carolina University in Greenville, N.C., and a fellowship at the University of Wisconsin in Madison, Wis. He is certified or has received special training in pediatrics, internal medicine, adult and pediatric pulmonary medicine, and sleep medicine. He previously served as an assistant professor of pediatrics, with joint appointments in surgery and internal medicine, at UK. Currently, he serves as an associate professor at The Ohio State University and medical director of the Lung and Heart-Lung Transplant Programs at the Nationwide Children's Hospital at The Ohio State University Medical Center.
An accomplished clinician, educator and researcher, he has been recognized numerous times with the UK College of Medicine's Abraham Flexner Master Educator Award and the Teachers Who Made a Difference Award through the UK College of Education. He is frequently called upon to serve as a visiting professor by other institutes and organizations. From a clinical perspective, Hayes served UK HealthCare with his expertise in asthma, cystic fibrosis, end-stage lung disease, sleep medicine and lung transplantation. He also developed a pediatric sleep program. Hayes has been an active volunteer in the community traveling the state to increase awareness of secondhand smoke exposure and asthma. He has also been active with the UK College of Medicine's Salvation Army Clinic developing service projects in an effort to reduce the smoking rates of those that seek care at the clinic. Hayes is active in research studying asthma. For his research efforts, he was awarded a UK Wethington Award and was a UK nominee for the 2011 Doris Duke Clinical Scientist Development Award.  
Ruth Johnson received the Honorary Alumni Award. This award recognizes outstanding individuals, though not graduates of the College of Medicine, for significant contributions to the educational mission of UK and the College of Medicine. Honorees demonstrate support of medical education and residency/fellowship training; the desire to leave their own legacy at UK and the College of Medicine; and serve as models of physician responsibility to patients, students, colleagues and community members.
Johnson became a registered nurse in her hometown of Cortland, N.Y. She has moved to Lexington not once, but twice. The first time in 1960, when her husband Bob Johnson, was recruited to join the management team of the new A.B. Chandler Hospital, and again in 1978, after living in Berkeley, Calif.
While raising four children, Johnson always managed to give a generous share of her time and considerable talents to the YWCA, UK Woman's Club and UK Hospital Volunteer Association, where she has logged countless hours serving as treasurer, helping patients and working in the gift shop.
After her husband's death in 1999, Johnson made a substantial donation to establish the Robert L. Johnson Endowed Scholarship at UK College of Medicine. She currently serves on the financial aid committee of the UK College of Medicine. This demanding role reflects Ruth and Bob Johnson's concern for the escalating cost of medical education. 
The mission of the University of Kentucky Medical Alumni Association is to foster an active, lifelong fellowship among alumni through mutual service and support with the University of Kentucky College of Medicine. Since its establishment in 1969, the Medical Alumni Association has been a strong advocate for the programs and people of the College of Medicine.