Fates of Future Doctors Revealed as Medical School Culminates With UK Match Day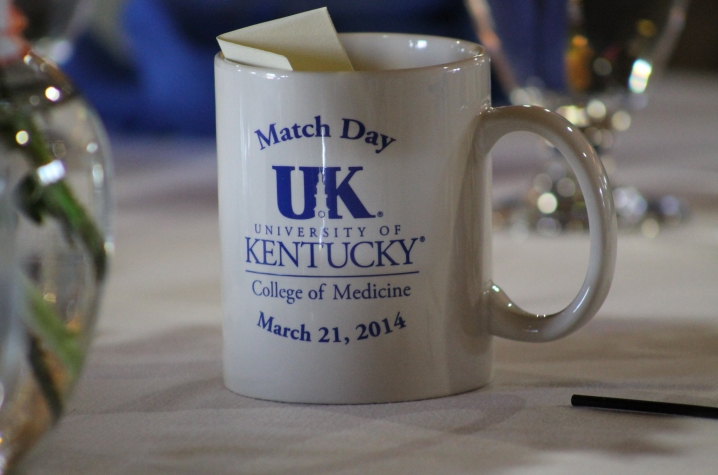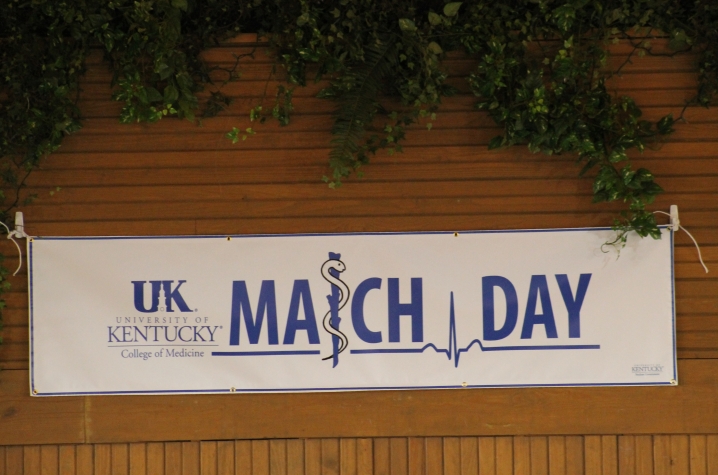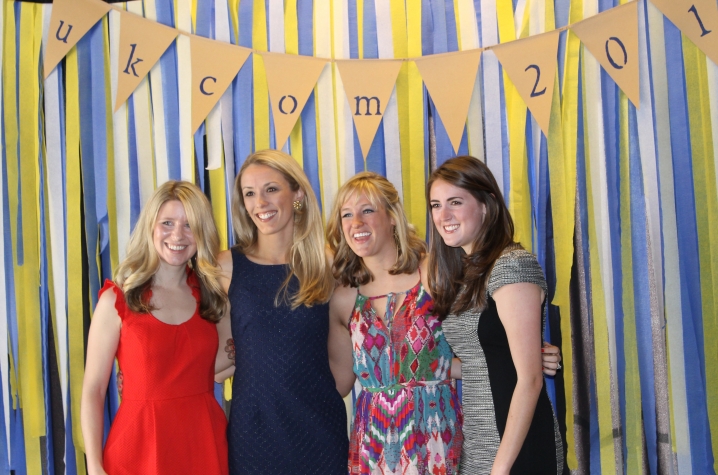 LEXINGTON, Ky. (March 25, 2014) — Some University of Kentucky medical students pumped their fists while others unleashed tears of relief. Some took the opportunity to thank professors, parents, spouses and friends. A few pulled baseball caps out of bags as if they were selected in the NBA draft. And one bold student danced his way to the podium, taking a "selfie" with his camera phone upon arrival.
The fourth-year medical students who were matched with a residency program last week accepted the news in different ways. Dr. Chipper Griffith senior associate dean for medical education, said on this anticipated day, most students relate to a feeling of being overwhelmed — with appreciation, with satisfaction and with excitement for the future.
"It's one of the exciting days of your life," Griffith said of Match Day. "The reason I'm in academics is I like teaching, and I like the relationships — I like sharing this joy with students."
Every year, outgoing medical students participate in a process of interviewing and being matched at their first job — a three- to seven-year residency program. Students rank their top choices, and interested residency programs rank the students, too. Based on a computer algorithm taking into account both rankings, students are matched with a residency program. On Match Day, students have the option to open the letter revealing their "match" on stage before an audience of family members, fellow students and instructors.
Students pegged their residency location on a poster board map after they announced their location on-stage. Match programs ranged from University of California-Berkeley to New York University to the Mayo Clinic. A total of 109 UK medical students were matched, and one-third of those students will stay at the University of Kentucky.
A residency match made in heaven 
Matching bath towels and champagne glasses are typical items on the wish lists of newlywed couples. University of Kentucky medical student Laura McGill Blum and Evan Blum, a medical student at Indiana University, hoped for matching residency programs just five months after tying the knot.
The couple met during their undergraduate senior year at IU. After keeping up a long-distance relationship through four years of medical school in different states, they married in October 2013. During UK's Match Day ceremony at Keeneland's Keene Barn March 21, the pair approached the stage hand-in-hand and simultaneously tore open envelopes that determined their futures.
It wasn't a perfect match — but close enough for Laura, who will be completing a residency in orthopedic surgery at the University of Michigan. Evan was matched at a nearby program in emergency medicine.
"He was much cooler than I was," Laura Blum, who is originally from Fort Wayne, Ind., said of the lead-up to Match Day. She decided she wanted to become an orthopedic surgeon after she had two knee surgeries in high school and followed the doctor who performed those surgeries during an internship program.
The couple agreed that knowing where they'll begin their respective medical careers is a relief. Practicing the marital necessity of compromise, the two have resolved to split the distance when they find a home together.
"We wouldn't wish this on anyone," Evan Blum said. "But from here on out, it will be a lot easier."
Kentuckian bound for neurology program at the Mayo Clinic 
Swapping out his everyday glasses for a pair of shades, UK student Derek Stitt coolly confronted his fate in medicine to the theme song of the movie "Men in Black."
Though his approach to the podium was light-hearted, his words before revealing his residency match were heartfelt. The Mt. Olive, Ky., native thanked his grandmother, who predicted he'd become a doctor when he was a boy. She recently pulled through a high-risk aortic valve replacement surgery to see her grandson fulfill that destiny.
Stitt received a resounding cheer from his fellow students when he revealed his match pursuing neurology at the prestigious Mayo Clinic — his first-choice program. He became interested in attending medical school at the University of Kentucky in the fourth grade. Later, when his uncle passed away of Lou Gehrig's disease while Stitt was in high school, he decided he'd dedicate his career to clinical neurology.
"Kentucky will always be my home; it was great to get my foundational training here in Kentucky," Stitt said. "Now I'm looking forward to branching out and spending my life somewhere else for four years."
Seven-year journey to medical profession begins and ends at UK 
Nontraditional medical student Joey Calder worked at the YMCA before realizing medicine was his true calling. He started the long process of medical school seven years ago and said the journey has been a "roller coaster ride."
Calder, who carried his youngest daughter on stage to announce his residency match at the University of Kentucky, will be entering a combined internal medicine and pediatrics program. He interviewed at five residency programs, but said he had to take his family into account through the matching process. 
"Having a family it's been a bit of a challenge, at times trying to juggle both," Calder said. "However, such is life — we learn to balance medicine and family as we go through this process."
At this point in his life, Calder said he couldn't imagine being in any other profession. 
MEDIA CONTACT: Elizabeth Adams, elizabethadams@uky.edu; Allison Perry, allison.perry@uky.edu